EDXR8 wrote:
Obviously if you spin the wheels the reading won't be accurate at that point, it only reads the power that is actually getting to the ground. I dont actually run the power mode on mine, I just use the 1/4 mile and 0-100 functions as I think they are a better indication of overall power.
yeah I found the max I could get out of dads was 356hp and a 12.5 1/4
but after tuning it a bit the 1/4 figures dropped to 11.89 but HP figures would only read up to 313hp, so great point to use the distance modes for gain measurements!
you should see how easy this thing lights em up ,its like being on wet grass or oil, but the ol' fella don't want to f**k with a genuine GT
_________________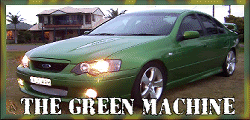 IF YOU HAVE IT UNDER CONTROL
YOU SIMPLY DON'T HAVE ENOUGH POWER!!!
Detroit 8V71 for sale, taking offers