Price of gearbox conversion is
$400 for the bellhousing
$280 for a decent flywheel, be sure to use late model 50oz version
$300 for a clutch kit
$200-500 for the EA-B box
$180 to have the input shaft lengthened from 167mm to 193mm, this involves cutting & shutting from a single rail shaft.
$50 for clutch cable
you must also either use a manual computer ,or fool the auto ECU into calculating the car is in Drive, then run a seperate starter motor wiring circuit, I haven't yet done my conversion but this was the way I was told how to tackle the job!
apparently you can also use heavy duty bearings to strengthen the box,
and be sure to pick a tight box with little backlash in the gears.
Finally DONT use transmission fluid as per factory, you must use a thin engine oil. diesel oils are the thinnest.
Anyhow ,have fun! its a big job
kenny
_________________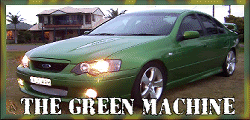 IF YOU HAVE IT UNDER CONTROL
YOU SIMPLY DON'T HAVE ENOUGH POWER!!!
Detroit 8V71 for sale, taking offers