xr8ute wrote:
Who did your tune Kenny?
I have edited a tune that was given to me ,not needing too much fine tuning was required as the car that got the tune done on the dyno was with almost identical mods too mine.
And you are probably right prydey, it may take a few more funds to achive a flat 13 sec 1/4, as I had an experience against a fairly stock looking BA XR8 ute last week, it seemed like a bit of a dog for low down power, and by the time it got going ,I was miles in front, even enough to give him a car or 2 head start just to see his face
!
at the moment there is a kit available for the 260 to blow it and aprox 360kw with high 12's- low 13's for $4000
no offence was taken either champ, kenny
_________________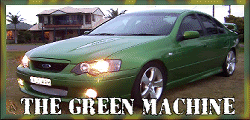 IF YOU HAVE IT UNDER CONTROL
YOU SIMPLY DON'T HAVE ENOUGH POWER!!!
Detroit 8V71 for sale, taking offers