A two post update to this...What a very strange, but very cool system the Fox VR is.. It's just the 8000 plips per mile, early EECIV compatibale 8 pulse per speedo cable revolution VRS system, with a variable voltage sqaure wave form from 20 mph onwards. It does have some funny features on sub 20 mph voltage polling, technically able to poll back down to 7 mph in some circumstances.
Certain versions of the EEC III, EEC IV and most EEC V's require an 8000 pulse per mile vehicle speed sensor signal from the PSOM (speedo module), which is just like all other EEC-IV equipped vehicles
Other later EEC V applications use a 16000 or 40000 pulse per mile VSS signal.
I'm told that some of the CFI or Speed Density AOD Fox varaints poll down to 7 mph, and allow idle speed conditioning.
Sadly, the periodic zero moh to 19.9 mph null readings won't do what I need it to do, as like some ABS circuits, it has no reliable squarewave below 20 mph to log distance travelled. Its circumstantial, and as such, presnts a Major Bummmer.....
I could probably use a prescaler to create a digital sqaure wave form from an SN95 Mustang hub, but I can get another Proximity sensor tommorw in the post for 115 NZ dollars.
I jacked up my car, and ran the standard Hetz, A/C Voltage and Ohms resistance checks from zero to 62 mph, with my metric speedo registering in KM/H. Note that there is no voltage going up to 32 km/h or 20 mph, but once invoked, the voltage can be recorded right donw to zero, so there is an interesting voltage speed, Hertz resolution
0 km/h, 0 mph 0 Hz, zero volts AC
12 km/h, 7.4 mph, but 0.016 volts AC on over run
See picture
20 km/h, 12.4 mph 0 Hz, zero volts AC
30 km/h, 18.6 mph 0 Hz, zero volts AC, but 0.033 volts AC on overun
See picture
32 km/h, 19.9 mph 0 Hz, 0.00 volts AC
32.2 km/h, 20.0 mph, 0 Hz, 0.019 volts AC
40 km/h, 24.9 mph 0.056 volts AC
50 km/h, 31.1 mph, 0.083 volts AC
60 km/h, 37.3 mph 102 Hz, 0.109 volts AC
70 km/h, 43.5 mph, 0.149 volts AC
80 km/h, 49.7 mph 0.186 volts AC
88 km/h, 54.7 mph 125 Hz, 0.223 volts AC
See picture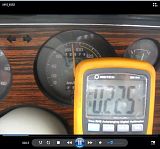 100 km/h 62.1 mph, 0.273 volts AC
See picture
The square wave form kicks in after 19.9 mph on the upward rise, with zero Hertz cycles per second on my Cat IV multimetervoltage and the voltage increasing steadily from 20 mph on upwards.
The on the decilne after 20 mph, it records right down to 7 mph, assumably for the one Speed Desnity AOD car that needed idle speed control...
Now,
If you want to create an EECIV XF- EECV AU style 8000 pulse per mile and proporotional to 102Hz at 60km/h sensor, you can use the Bernstein three wire sensor.
Bernstein D-32457 Porta Westfallca
Part number 6932303001 K1B-M12NS_002-KL2 10-30VDC 200mA IP67
I've used it with considerable sucess for situations where I don't have a VSS sensor.
For Aussie cars that don't use the dopey Cortina/Escort/Capri/ early Mustang 4.25" four bolt hubs, a really good 8000 pulser per mile, a standard 5 stud brake disc can have five additional bolt heads driiled/tapped and epoxied to the back, making a square wave form out put of 2 to 4.2 volts per bolt head.
A standard 660 mm tyre will become a 3% smaller tyre under load, and at 641 mm, 10 bolt heads is a reading of 8000 pulses per mile, or a pulse every 201.3 mm. One mile is 1609.34 meters, and thats 7995 pulses per mile, or about 102 cycles per second at 16.666 meters a second or 60 km/h.
I use a 6575 pulse per mile 4 stud hub on my 190/65 390 TRX tyred Mustang with an extra four bolts epoxied to the hub, and that gives a pulse every 244.75 mm.
I've destroyed a few sesnors by mounting them too close to the ball joints, and smacked em up over speed humps, and they don't like reverse polarity. The brown and blue wires are pulse, the black wire is for 12 volt feed.
It's the best way of making a continous square wave form I know. Its been used for years in rally cars and network drive over vehicles.