cobraR heads are factory fitted, I was lucky enough to have an FPV engine fitted from the factory, along with a 6 speed manual.
The injectors are of no benefit until later stages of the project, but allow plenty of headroom when tuning.
But believe it or not, I am still running factory headers (with a bit of grinding/re-welding).
The boss 260-290 has a lot of modern improvement over the pushrod type V8, but from the factory leaves o bit to be desired!
I'm gonna get my a** kicked over this but check out the link!
P.S this testing was performed in a controlled environment, off public roads and 100% legal!!!!
http://s138.photobucket.com/albums/q271 ... 7_1704.flv
_________________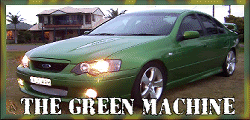 IF YOU HAVE IT UNDER CONTROL
YOU SIMPLY DON'T HAVE ENOUGH POWER!!!
Detroit 8V71 for sale, taking offers