Vic wrote:
That's a mighty amount of duration Kenny. I'd be guessing that you have an aftermarket computer that deals with that? What is the lift at the valves because I can't quite convert the lift at the cam to lift at the valves.
no computer, it was in a 416'' clevo stroker, but the lift is calculated by cam lift x rocker ratio , .333x1.8 =.5994'' then take away the tappet clearance .020'' , which is basicaly .580'' int and around .600'' exhaust
the BETTER cam has .690'' int with and .735exh, and yeah that is BIG, acctually too big (for the street)
but the old cam now runs in the ol' fella's GT, and has decent drivability from 2000rpm and has 380 hp at the treads, but even better it gets better economy than the XR8?!
_________________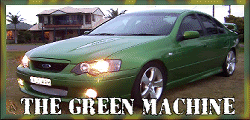 IF YOU HAVE IT UNDER CONTROL
YOU SIMPLY DON'T HAVE ENOUGH POWER!!!
Detroit 8V71 for sale, taking offers