I installed a brand new timing cover, water pump and timing chain on my windsor recently,
Here is the Timing Chain part for anyone (like me) who needs pictures of how to.
This is how the chain looks inside the engine, you need to put the balancer bolt back on and turn the crank clockwise until the red circled parts line up (6 o'clock for top and 12 o'clock for bottom = DOT to DOT) will take a few turns to line up. Then tap ur ratchet to crack the bolt off (if you dont have access to a rattle gun) if the marks move dont worry retighten and line it up a again but stop just before it is dead on and re tap the bolt, (took me 3 goes to unloosen the bolt lined up)
then remove the camshaft bolt, now gripping the top chain lever it out slowly towards you with your hands, it will slowly start moving and once it is far enough grab the bottom chain and do the same, its not too difficult.
This my new chain, it has multiple keyways for cam adjustment, i bought it cause it was $5 difference than the single keyway chain $130
There is a gold washer on the rear (pictured) I placed this on the cam with oil and it stayed put while I slipped the new timing chain on.
Firstly holding the top sprocket in one hand I lined up the bottom sprocket dot to dot (at 6 o'clock and 12 o'clock = DOT to 0) for stock application, you can adjust or retard with the different keyways, keep the top half of the chain tensioned from here as you dont want to slip a tooth while fitting.
First oil both shafts on the engine, Start at the bottom and it should slide onto the key way, wiggle it through then the top half will be ready to slide on. Once it wont go no more get a punch and tap it lightly around till it is flush and same on the bottom.
torque camshaft bolt to 50nm and let fresh oil pour over the top of the chain and run down on both sides, dont splash it on just ease it out.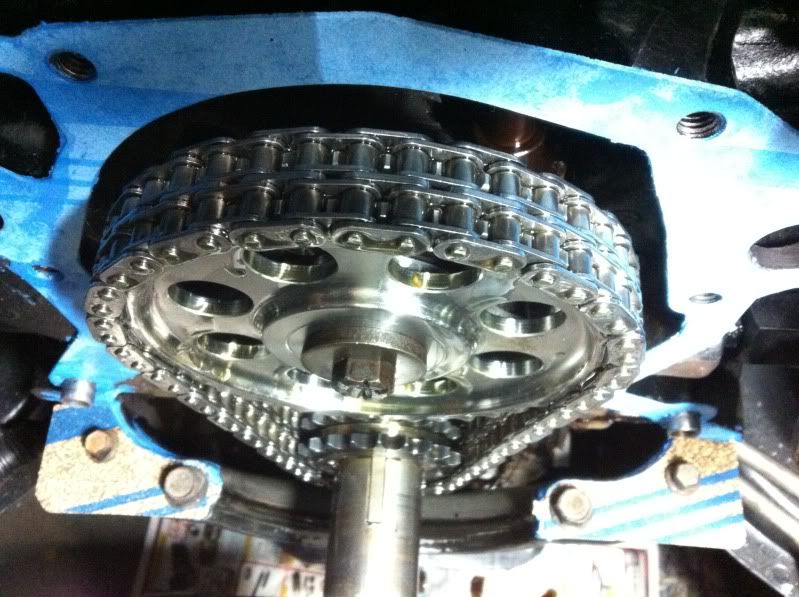 Hopefully I havent fuked anything up,
_________________
Black ED Ghia
V8 with lpg
Full leather
waitng on sunroof..


Last edited by lethal EA on Fri Sep 21, 2012 2:05 pm, edited 1 time in total.