Neal-50 wrote:
Dyno is Mainline 500kw chasis Dyno, 2 months old.
Operator is me, My dyno, my workshop. see www on my profile.
Hey there, its not a problem with the dyno or the guy! its simply the engine itself, I expected a lot more out of my EL XR8 too ,but its quite clear now :these engines have the sophistication of a house brick and are not a cheap option to extract "decent" power.
Why didn't ford base an engine for the later models off a proven performer? atleast meeting halfway with a clevo
$3,000 clevo-Around 380hp
$3,000 windsor- waste of time! maybe 250hp ,if you are lucky.
any one wanna buy an XR8? going cheap!
_________________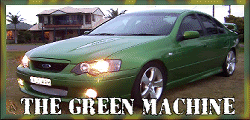 IF YOU HAVE IT UNDER CONTROL
YOU SIMPLY DON'T HAVE ENOUGH POWER!!!
Detroit 8V71 for sale, taking offers