downingj wrote:
Fordpwr wrote:
Help me out
???Question time????
0-100kms?
0-400m?
is it faster then the new HSV?
Im getn 1 VERY soon BF XR8 manual...
XR8 = 0-100 in 6.16 and 0-400 in 14.40
VY SS = 0-100 in 5.82 and 0-400 in 13.97
VY Clubsport = 0-100 in 5.78 and 0-400 in 14.06
XR6T = 0-100 in 5.91 and 0-400 in 14.14
All these times were taken from an Aussie car shootout in Motor mag.
No chance of any Ford product being
faster
than the 6.0 litre Clubbies. The Tyhpoon has the best chance of beating that thing, and has done in one comparo I've read.
By the way, you are one lucky bastard to be able to afford a BF XR8.
The best recorded time for the BA XR8 mkII is actually 13.99, at eastern creek and was the only car to break the 14 sec barrier, but the same car was 2.4 sec slower around the circuit than the VY SS, which was a one lap wonder due to the brakes, tyres, engine and susspension becoming too unpredictable after 3 laps. This was done by Motor magazine early 2005, BTW, the GT was the slowest up the 1/4, same lap time as XR8 but had the second best top speed around the creek, with the 6 litre being the top car, but for the price the least value car. The XR6t was a huge dissapointment on the day?
Motor magazine have put it down to the abuse mode in the ecu (torque control) being a bit overexcited.
when it comes to the lights I think it could be anyones victory/loss, coming down to the drivers exp/state of mind.
_________________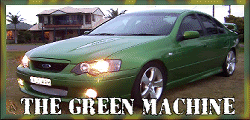 IF YOU HAVE IT UNDER CONTROL
YOU SIMPLY DON'T HAVE ENOUGH POWER!!!
Detroit 8V71 for sale, taking offers