Yeah I found that out the hard way! (I took the plunge in the dark )
but still the ol' girl wanders all over the road.
I don't know if it means anything, but the wandering has only come back since I put my 17x8.5'' wheels back on , I was running 15x7''s till I could afford more rubber to leave on the highway.
I have a feeling that being a V/low profile tyre exagerates the problem
By the way the tyres are Eagle F1's by goodyear and are only 225/40/17 on 8.5'' rims ,does this mean anything to anyone? so far I don't think a great deal of these tyres.
_________________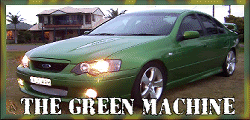 IF YOU HAVE IT UNDER CONTROL
YOU SIMPLY DON'T HAVE ENOUGH POWER!!!
Detroit 8V71 for sale, taking offers