I was looking through a car accessory catalogue a few months ago and saw an advert for a Tyredog tyre pressure monitoring system (TPMS). Besides appealing to my geek accessory instincts, I also figured that such a thing could also actually be useful for letting a driver know if a tyre is going flat or is low on pressure.
A couple of weeks ago my girlfriend's day driver managed to hit something (possibly a pothole) and kept driving. Sure enough, the tyre went flat, and by the time he stopped the tyre was stuffed. I had already done some homework on buying something like this for myself but after hearing Deb's frustration about having to buy a new replacement tyre, I ordered two of these - one for each of our taxis.
They both arrived yesterday from China, 11 days after I placed the order. I fitted them to each car this afternoon, and can see the merit in having them.
You can set the Tyredog to alert you when either a tyre pressure or temperature reaches a certain point. This is very useful - if it beeps then you know to stop as soon as possible and either put more air in the tyre or replace the wheel. I put new tyres on my taxi yesterday and will run pressures at the upper end of the manufacturer's recommendation, and will set the Tyredog notification to 30psi so that I get plenty of warning before a tyre gets too flat.
Close up of what comes in the box:
Overview of box and contents:
For each sensor, unscrew the lid and put in the supplied CR1632 Lithium battery:
Put the supplied 2 x AAA batteries in the remote display, and it will alternately flash between LoP (ie low pressure) and 0.0:
Put the sensors on the wheel valves:
The display will then show the pressure for each sensor: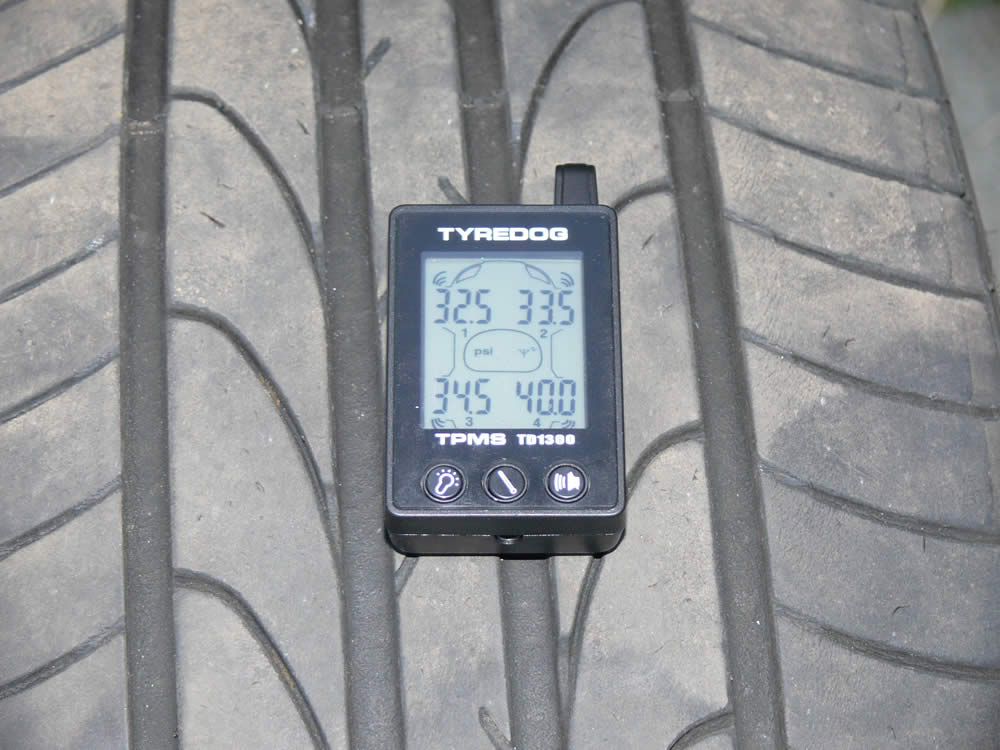 Press the thermometer button and the temperatures then display for a few seconds:
Working out where to fit it in the car takes some thinking. Somewhere in the dashboard area is probably best, but I wanted to have it in line of sight for now so that I can see if the pressure readings are consistent. Top right corner of the windscreen is a possibility, but it does poke out towards the driver's head quite a bit:
Overview of how it looks in the top corner of the windscreen, showing how much it protrudes:
Close-up of the mounting bracket and suction cup. It sticks to the windscreen very well:
In the lower middle of the windscreen is a good option:
I tried mounting it up by the rear vision mirror. That way it would be easy for the driver to see, but not in the way. The mounting bracket makes it poke out too much:
Another view of mounting it on the top of the windscreen. For a tall driver, it would obscure part of the rear vision mirror:
Having it sit on top of the mirror would be a good option, but would require some creative thinking to make up a custom bracket, and then there would be issues if you wanted to use the supplied cigarette lighter power cable. You would have to run a power cable up to the top of the windscreen (ie around the outside):
For now, I'm going to leave them on the lower middle of the windscreen in each taxi and run them on batteries. Once these ones go flat then I'll try some Sony Eneloop rechargeable batteries and see how long they last. If I get lucky and they last for weeks then I'll just use batteries. But, I'm expecting that I'm probably going to have to fit a power cable in somewhere.
As we all know, if you drive on a tyre that's flat or going flat then you're going to wreck the tyre. My main objective for buying and fitting this stuff was to get a warning before the tyre gets too flat.
The Tyredog makes a beeping alarm when the pressure drops to a pressure that you have preset. Four times this year I have had screws get stuck in my tyres. I became aware of each one before the tyre went flat because I could hear the clicking sound of the screw hitting the bitumen, but I was lucky. If any of those had have happened on a wet night when the windows were kept up all night, then I could easily have wrecked a tyre. And been forced to change it on the roadside, in the rain. Stuff that.
After looking around on eBay, I did a search on
http://www.alibaba.com
and found them there for $174.74 each, for a total cost of $349.48 for the pair. If you want to play it safe then you can buy them from local retailers for around $350-$400, which will also give you a local warranty.
This is the TD1300 kit, which provides for four wheels. You can also get kits for motorbikes and trucks. There is plenty of info on the Tyredog web site, at Tyredog.com There are also plenty of videos on YouTube -
http://www.youtube.com/results?search_query=tyredog
The Australian Tyredog web site is at
http://www.tyredog.com.au
and the local distributor is
http://www.zylux.com.au
This is a fairly specialised thing, and excessive for a car that's driven for general personal use. But, for a vehicle that is doing a lot of driving then it's worth having one. Even if you get a puncture and have enough warning to get your car parked somewhere safe to change the wheel then it's going to pay off. If you can stop before the tyre gets too flat and gets wrecked then that's even better.
I'm not expecting that the sensors will be 100% accurate. I'll compare each tyre pressure with its relevant sensor and a couple of different tyre pressure gauges and see how close they are. The main thing is that if one tyre starts to deviate much from its normal pressure then I'll know about it pretty quick.