"Caveat emptor" (buyer beware) after months and months of searching i finally found what i thought was a bargain! "F100 4x4 conversion project - rust free mostly completed" was the add. well it was rust free because he cut all the rust out, however he failed to mention that he didnt put any metal back in & simply fiber glassed over the top!, he fiber glassed over brake lines (after cutting the brake lines), hoses, connections, holes for connections, he took out the windscreen wiper motor and fiber glassed over the hole (wtf?) the funny thing is though that there is no signs of it being in an accident or excessive rust he's just gone on a mad fiber glassing spree for some reason! the rest of the truck is 100% it's just that the engine bay has a few simple fixes but the former owner has stripped it bare and fiber glassed it up ???
anyway, the bodywork won't pose a problem i'm very confident with that, but i will have to run new wires for the engine, i also need to replace the ignition and electrical work is not my thing!
pics so far!
How it looked in the add
they turned up from South Australia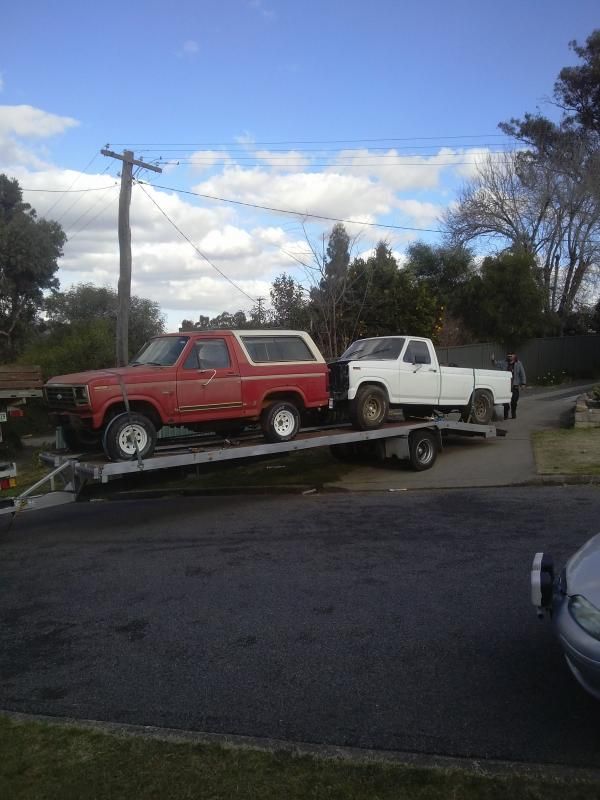 Prep work; uncovering dodgy rust repair!
with that last pic, this was after i got rid of all the fiber glass from the top and got rid of the stuffed windshield wiper grill thing, i got the spares from the bronco which were in good order.
next on the
short
term list is to;
strip the rest of the engine bay, so i can find out the extent of the "repairs"
remove dash so i can actually weld the holes up instead of fiber glassing over them (then fiber glassing the rest of the engine bay to conceal it)
run new engine bay wires for engine and accessories (will need mucho help!)
swap in new brake lines
btw the Bronco is a lot worst then what it looks, only good for spares and it's 4x4 parts!
_________________
why are women like clouds? eventually they f**k off and its a really nice day.

telling the truth is just lack of imagination