I have my car back, from retune.
my first thought; yep I still love the shape. After chatting with the tuner for a while I got to hear it and straight away it sounds cleaner, hard to describe but smooth, like it wanted to be revved.
My tuner had never used the QH or BE before so he was learning as he went, I knew this up front as I popped in a few times before I booked it in to show him the program and QH and he said it should be fine as long as I could wait as he nutted it out. NO PROB'S.
I believe he was taking a while getting BE to work so he jumped straight onto TunerPro to get something happening, all was good, than for no reason it was jumping in closed loop mode and running really rich, all through the rev range.
Im not sure how but he gave BE another go from scratch and got it working good, he really liked the program and will use it again.
Throughout tuning it was discovered that my MAF would max out at 3500 rpm approx., after that was replaced, my coils would die at 3700rpm, and also the TFI from the new dizzy was replaced with the stock unit which cleaned up everything else( I've heard there are different types and need to be matched correctly). So, If I did try to tune this thing, I think it would be a pile at the bottom of a mountain somewhere, as I would of lost it.
First thoughts driving; (remember, I'd been driving a barina for three weeks)
My god this clutch is heavy, Wow, suspension is solid, holy hell, this has power.
It definitely feels smoother, I havn't hit WOT yet as, well It was raining, but it will come.
PICS.
Dyno before retune
New tune, new exhaust fitted in between this time aswell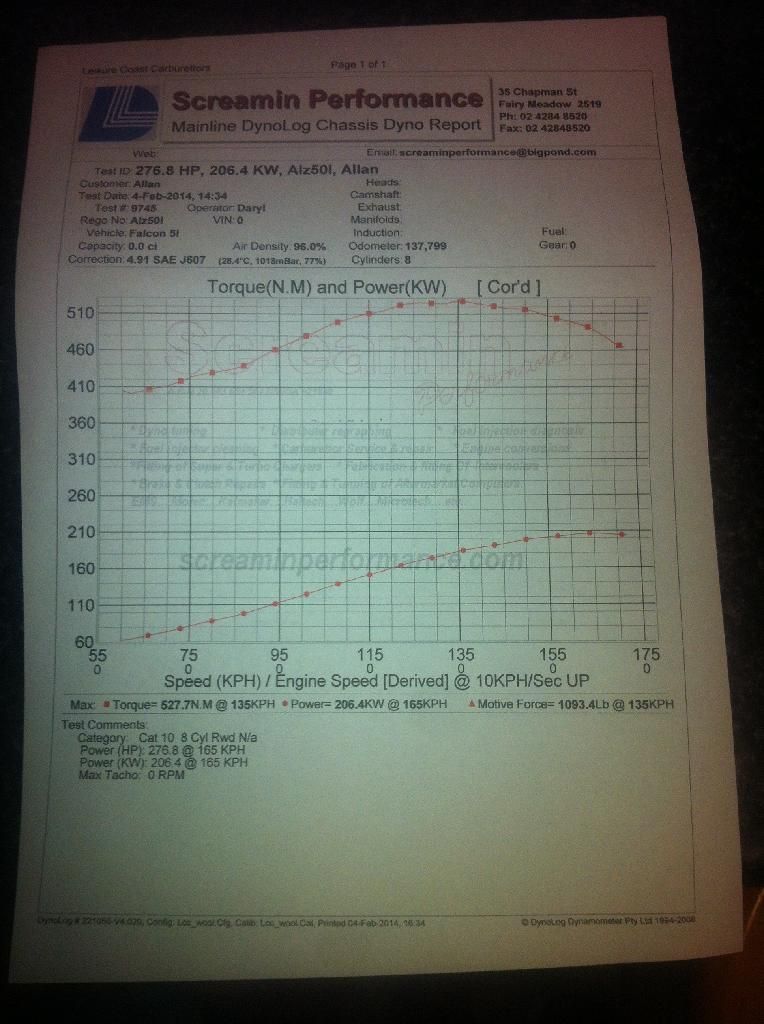 _________________
EL XR8 II Manual, Ported GT40P's, E303 cam, Au220TB, 70mm MAF, HiFlo Cats, Tune (215rwkw) and some bigger brakes