Well, got busy today.
Seeing as I had all the bits I needed for the EF Mirror mod, I got stuck into it.
The finished product.
I am really happy with the way this turned out. I am keeping the mirrors black as I think this works well with the look I am trying to achieve with the EB.
While this isn't too difficult I thought I would do a short tutorial.
This is to use EF Door Trims with EF Mirrors in an EB. EA and ED should be the same.
Parts Needed.
EF/EL Mirrors and screws
EF/EL External Weather Strips for Front Doors.
EF Door Wiring Looms, left and right - at least the plugs for the mirrors and the mirror switch.
EB Mirror Switch assembly plugs and loom.
EB Left hand mirror plug and short length of wires.
Optional Parts Needed.
EF Front Door Window Rubbers - the ones the window goes up and down etc.
EF Rear Wagon External Weather Strips.
Tools Needed.
Philips Screwdriver.
10mm Socket and Ratchet - if using EF Window Rubber.
Drill and assorted Drill Bits.
Round File.
Soldering Iron.
Heat Shrink.
Electrical Tape.
Common Sense.
1. Remove Door Trim, Speaker and Backing.
2. Remove EB Mirror.
3. Remove EB External Weather Strip.
4. Optional - Remove Front Window.
5. Optional - Remove EB Window Rubber
6. Optional - Install EF Window Rubber
7. Optional - Install Front Window
8. Use EF Mirror and mark and drill and file holes for mounting lugs.
9. When happy with fit of Mirror Install EF External Weather Strip.
10. Install EF Mirror for final time, first plugging in loom and tucking it in the door cavity.
11. Check Mirror Operation.
12. Install Door Trim, Speaker and Backing.
13. Enjoy and brag to your mates.
Now for the wiring part, check out the following pictures.
Drivers Door Loom
Passenger Door Loom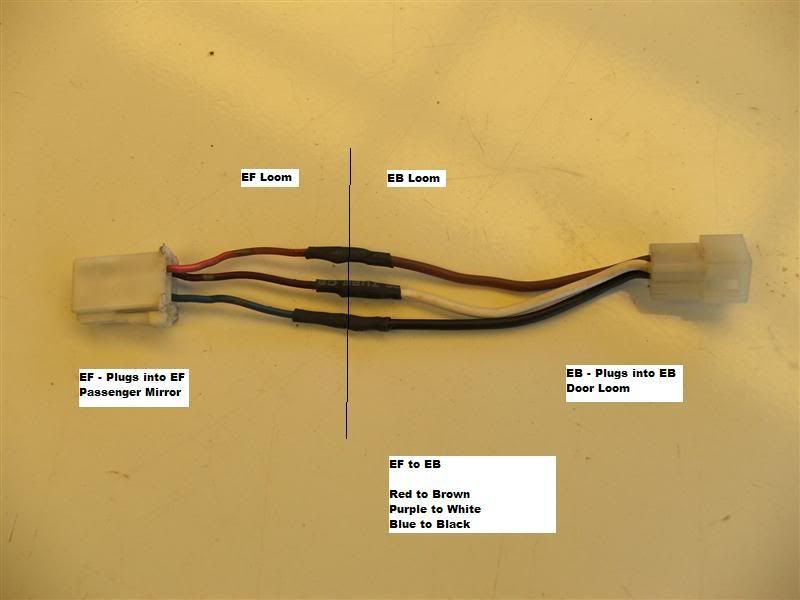 By acquiring extra plugs and wires, I was able to create new looms to plug into the various parts, meaning I didn't have to butcher my looms.
Good Luck and PM me if you need help.
BenJ