Finally got some decent bits in. We are slowly getting closer.
New Coby headers purchased and picked up a straight through exhaust and resonator from Trademe for $100, complete with mounting bolts.
First things first - old headers and exhaust out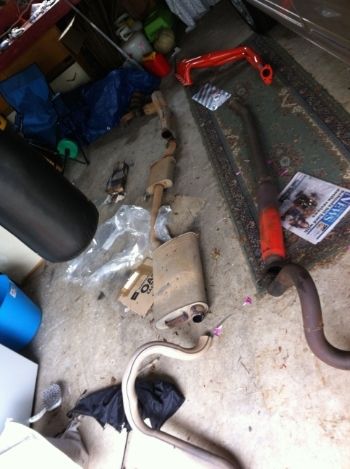 New headers in. Looking good for 5 minutes until I go out and burn all the paint off them.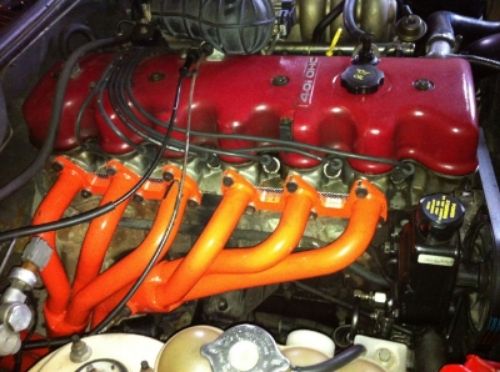 Then they look like this
Exhaust looking better, sounding better and engine is breathing heaps better. She gets off her bum pretty well when the right foot goes down now. For some reason I have bits of melted rubber caked to the rear bumper now - not sure where that came from.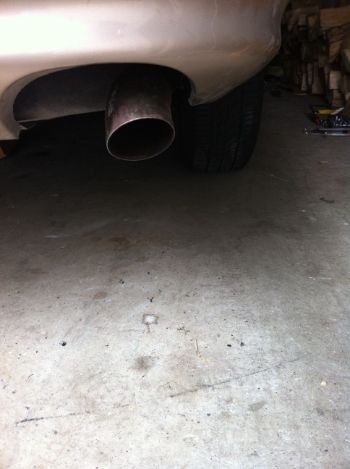 Went in for a warrant and was pinged for no rear door cards, worn front brake pads and surface rust around the rear drivers side door latch.
Out came the angle grinder and the door latch rust wasn't so bad. Cut back some other pinholing in the sill and the grinder went right through.
Houston, we have a problem. Looks like $600 odd worth of panel work is needed with more to come next warrant as panel beater has shown me the inner shell inside the front guards is rusting where the door hinge mounts are, which is "a big job".
Drag plans are re-assessed, as cars need to be warranted and registered to compete in Super Street and car needs to remain a viable second car.
Have missed Jan and now Feb drags due to warrant issues.
The Fairmont is booked in for rust repair work in early March. All going well her first run on the big black dyno will be mid-March at Masterton Motorplex.
In the meantime I've knocked some surface rust off the other sills and primed them to stop anything spreading
You know you're an amateur when you mask with electrical tape because you can't be a*** going to Mitre 10 to get some masking tape.
Thought I'd mask up the door edges and spray them black while I was at it - the previous owner's "respray" work gets on my wick.
Guess why the boot is off.
Yep, there's rust in that too - also driver's side. Mainly under the boot hinge bolts and around the edges, so next task is to grind and sand that back and prime it.
Might as well become a panel beater while I'm at it. Might be cheaper and faster at this rate.