DIY SUNROOF INSTALLATION
Ok, so I purchased a sunroof out of an EB ghia last november for $200. Happy with that. Only catch was I had to go and remove it. Which was fine by me because I got to test it was working and see how they installed it.
I'm gonna make this as detailed as I can, so all you other E-series owners have got a good guide to look at it if you're game enough to attempt this yourself.
Bit of background before I start. Ford did not actually install these sunroofs. If a customer ordered one it was sent elsewhere to have an aftermarket one installed. I can tell you one thing about the installation of a sunroof. It isn't hard, I dont know what people are so scared of. The lack of care I saw that was put into it makes it very obvious that these were smashed out as fast as possible.
There a 3 parts to the sunroof. The upper frame/lip that goes onto the top of the roof. The lower frame which is riveted to the upper frame. And then the sunroof cassette which bolts to the lower frame. The cassette has several brackets around its perimeter that are used to support it, they are just riveted on.
Lets get to it!
Tools needed
Drill
Grinder + cut off discs
Chisels
Screw drivers
Stanley knife
Hammer
Easier with no interior in the car
Step 1
Remove the headlining. Pretty self explanatory but ill go through it anyway. You need to remove all the pillar trims and roof lining trims. Then you can pull off the roof lining, which has probably sagged as they just stuck it to a piece of foam rolled over the top of the sunroof, and hacked up original headlining. The only pieces they use of the original headlining board is the centre light, which gets moved back and all the roof handles, which were just cut around and tec-screwed on. As I said not much care taken.
Once this is out you will be able to see the sunroof in all its glory. The wiring loom and the drain hoses are all exposed. The hoses literally just run into void sections in the pillars(will have pics on install). Wiring loom is a switch that goes next to the rear demister switch and runs to 3 relays down in the kick panel(will have pics on install).
Step 2
Remove lower cassette. To remove the cassette you need to take off the various brackets around the outside. These are riveted on with big a** rivets and are a prick to get off. Some I managed to drill the centre out of and could then pop the head off with a screw driver/chisel. Others I had to cut the heads off with the grinder then pry them off with a screwdriver.
Uploaded with
ImageShack.us
Once these brackets are off you can remove the cassette from the lower bracket. It is Screwed up with some short philips head screws. (Will show a pic on install). Once all undone it should just lower down. Good to have an assistant for this part as it is awkward. Once this is out you're left with the lower and upper frame of the sunroof.
Removing lower and upper frame
I didn't have time to remove this at the wrecker so I just cut around them and took it with me to pull apart at home. Be careful not to cut the frames if you're going to do the same.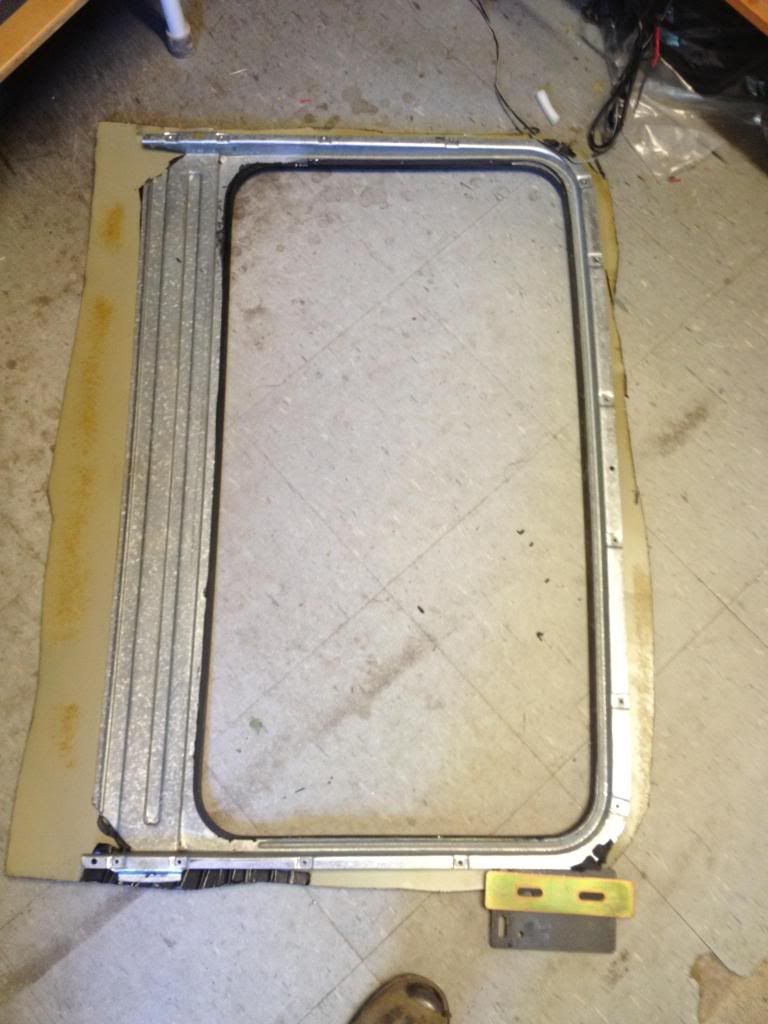 Now to pull the frames apart is a delicate process as they are stuck together very well with poly-urethane. I went around the outside with a stanley knife and tried to cut into as much of it as I could before levering the lower frame up on 2 steel plates I had lying around, this forced them apart nicely as trying to lever against the thin roof metal is useless. Once you break the seal its easy to move you're way around the frames and peal them apart. On the rear section of the frames the upper interlocks with the lower with a U shaped lip. This is the most difficult part to separate without bending them. So what I did was separate the frames except for the rear section and put a wide paint scraper into this U shaped lip and tapped the scraper with a hammer to break the seal and then they came apart.
WOOHOO!
Now to clean them up I used a Gasket Stripper from repco. Not cheap at $16 a can, But holy s**t its strong stuff. Peels all the paint and everything off. So I cleaned all the old poly-urethane and paint off and resprayed it. you must get it 99% clean to ensure a good seal when re-installed. If it leaked it would be a nightmare.
That's it for now, ill make the installation half once ive installed, which will be around the easter weekend.
Various pictures below.
Cheers, Callum.