Hi all, I dont think I posted this on these forums yet.
I bought the car out of Geelong just before christmas, and it arrived down here on Boxing Day morning. It looked pretty good in the photos but the previous owner left out a lot of info. When it got here it had a lot of stuff I wasnt expecting like really good interceptors, a boot chockablock full of chrome trim and assorted rare bits, a hot engine, full autometre gauges, twin dump pipes at the diff, a hurst shifter and heaps more. It didnt idle though, the timing was way out, so when I backed it off the truck against the fence, I had to rev it to keep it going. The shifter clicked into reverse and I went back into the fence rather quickly. Was not happy. Not a scratch on the car thanks to its big chrome bumpers, however the wooden fence was destroyed.
One of the first things we did was try to get the hurst shifter adjusted and working right but gave up after a couple of hours because I dont like them anyway, and put in a BTR shifter out of the xr8 parts car. It took a bit of screwing around but its great now that it works. The old boy cut a sizeable chunk of the floor out of the EB and just welded it into the mercury. It's good because that means the shifter was going to go straight on top and raises it to a good height. The shifter is connected to a C6 running a high stall. Stalls to about 3000rpm.
The rear bumper was pretty shagged. We straightened it out with a big hammer. Its not perfect but none of the Australian fairlanes or falcons are interchangeable with it, because god knows I tried. The price and rarity of bumpers for this even from the states means that I will just leave it as it is, along with 1 or 2 other peices of chrome that have seen better days.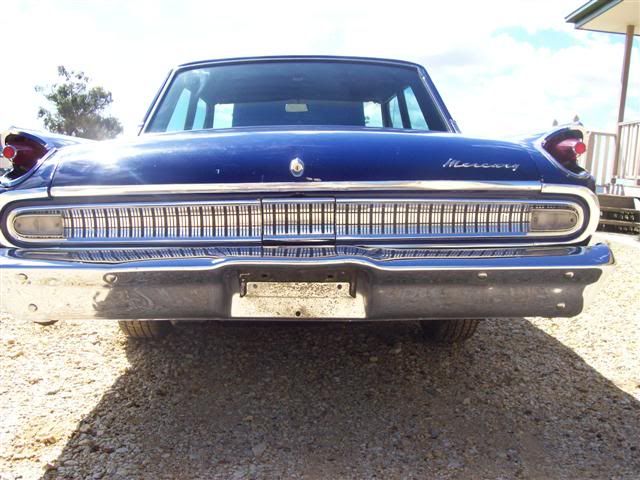 During the christmas holidays aswell I wired up the lights for Australia, luckily this model has the reversing lights right on the rear so I wired them as indicators and chucked some orange globes in. From memory I think I ran the whole lot off the front indicators, and the tail and brake were already separate. I just had to get a few meters of trailer wire to make it look good. Even the in-dash indicators work now. Ive just got to sort out the front indicator/parkers, they need to be orange however you cannot get that bulb in orange. I think I will just paint them during the week.
The fuel gauge wasnt working, I suspected the gauge itself but before long had half the dash out and the fuel tank out aswell. Turned out it was in fact the gauge so $60 off ebay and a few days later I had another one. I replaced the whole in-tank assembly while I had it out with one off an XY. $10 - score.
The speedo wasnt working either, so I bought a speco speedo off ebay, and a speed sensor off a wrecked AU, and then put the C6 cog onto the AU sender. I havent got it working yet, but everything is in place, I just cant find the wiring for the AU sender. I did try for a while to fix the mechanical speedo but lost my patience and gave up. Unfortunately I had to make my own enclosure for the speedo but it came up alright. (pvc pipe painted black, made a bracket out of sheet metal)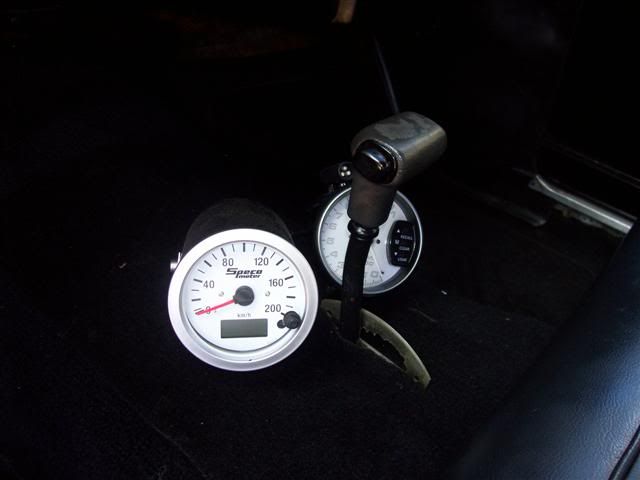 I was sick of looking at the tar paint stuff in the boot so decided to get some cheap carpet and try to make it better. Just made some side walls out of MDF and covered them. Used the spare and jack and wrench from the XR8. Just re threaded the hole to take the newer looking wheel clamp. I mis cut the bottom carpet a bit but when I get around to it I will re do it properly. <br>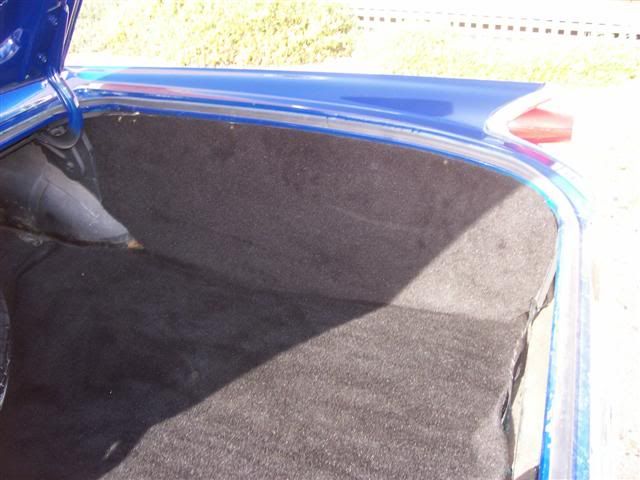 Went for a roadworthy, one of the things he failed it on was the heater hoses being disconnected. It was like that when I got it and I could have guessed why. Ended up just shoving some rod in there and clamping it down so its still not going into the core rather being blocked just before it. I put it up on that end so the hose is still hot near the firewall (so it seems it is connected, apart from the second hose clamp obviousely.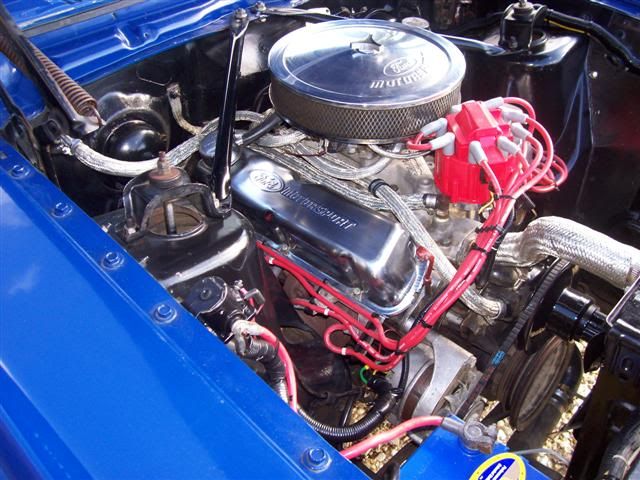 Another thing he failed it for was the power steering (factory option) was just running as a loop. Ive felt it in my old mans coupe and it really is dangerousely light, so I wanted to remove it all together. Problem was though that the power steering pump was the adjustment for the water pump, and the alternator for the crank. Couldnt put the alternator back to line up with the water pump because the engine was in the way. I looked at aftermarkey brackets but noone could tell me if they would work. One weekend I just took everything out and looked at the existing bolt holes in the block and was able to mount the alternator down a lot lower where it would line up with the water pump and not foul on the engine. I was surprised how easy it was. The hydraulic arm is still on the steering arm underneath the car, but due to the design of it all, I cant remove it and have the steering still work.
Another thing I was failed for was for having seatbelts. Because the seatbelts were from the USA, they only complied with USA design rules. Get this though, he said if I took them out all together it wouldnt be a problem. So yeah I took them out that night. Shame though, they are the cool lap sash ones with the chrome buckle and black material.
The steering coloumn that came with the car was a coloumn shift one and pretty ruined. Had holes drilled all over it and had a truck style indicator calmped onto it. It looked pretty crap, luckily my old man had a smoothe style one here. So I sanded it down and painted it black. The shaft was too short for the new coloumn though, so we had to shorten the coloumn and the old boy made a new bearing for the bottom end while I went into town to get a new steering arm bush. Late Sunday afternoon and the guy had me by the nuts. $75 for a piece of round plastic with 4 holes. I had no choice as I wanted it together before Monday. Also re wired the indicators to use the factory style in the coloumn type. That wasnt hard but the stupid part is theres 8 or so wires for indicators coming out of the coloumn (and 2 for the horn) and you only need 3 of them. Oh well looks a lot better now. I also found 2 old flasher units cable tied up the very back of the dash, not connected to anything. Unsure of the reasoning for that.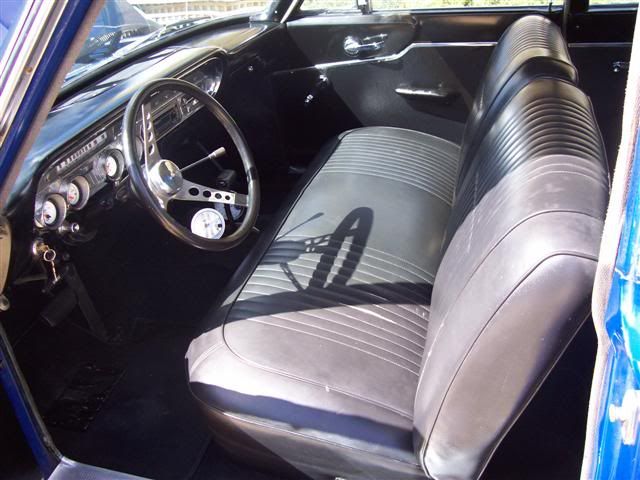 These rear trims are an absolute ***** to find. I was calling countless guys in the USA who were wrecking cars but they either didnt have them or didnt want to separate them. I already had the large middle peices but needed the outside trim. I gave up, then another weekend I was going through some of the spares I got with the car and wouldnt you belive it, I already had them. I will eventually pull them back off and double sided tape them to the car just to be safe.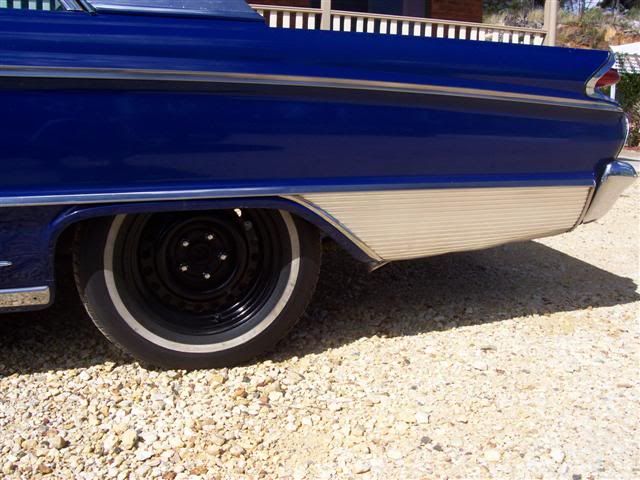 There was a big car show on in town one weekend and I wanted to take the car in to the show, being registered. However it needed to go over another government inspection and it failed the roadworthy badly so that couldnt happen. So I got a permit.
(Mine and the old mans)
I went in the day before to get paint matched, I live about 30km from town up hills and twisty roads and the temperature guage was going up and up but I couldnt pull over anywhere, and also didnt really know what was normal. Got into town and parked right outside the paint place and the car boiled over. Took him an hour to match the paint, and that gave it time to cool down. An awesome block at Beaurepairs next door came out and we started talking about cars, then came out as I was about to leave with a brand new full bottle of tectaloy coolant that he gave to me. What an awesome guy.
On the way home the car started overheating again. So pulled over before it boiled and waited an hour. Same thing happened twice the next day when I went to the car show.
I took the radiator out and took it into town for a service. $110 for it to be fully cleaned and "rodded". Apparently it was 60% blocked. Could have been the culprit. Also decided to replace the thermostat and the top radiator hose while it was all off. It was still overheating though, and it was because the fan was way too far back from the radiator itself. I was going to run thermos but thought itd be too hard and was going to be way to expensive ($300~). I rang around all the northern wreckers looking for a bigger spacer but noone had one, and the ones that knew what I was talking about said that any bigger than a 2in spacer is just super rare but a few 3in did come standard on f-trucks. Still, noone had one. I was poking around one weekend and wouldnt you know it, in a sort of "parts car" there was a 3in spacer. Very lucky find. Its bought the radiator to about 20mm away from the radiator and should suck air in now.
I bought one of those cheap HEI distributors off ebay. You know the $100 ones that everyone moans about and says are crap? Well, apart from it being way too big, its fine. The car idles a lot smoother and goes a lot better now. Dont listen to all the naysayers. I doubt an msd one is 7 or 8 times better, even though its 7 or 8 times the price. Its not a pro comp though, it doesnt have a brand on it. However the instructions I got with it have a big JEG'S logo on them, so, hey, if its a JEG'S, I'm happy. (Im pretty sure the engine is a JEG'S aswell). I would like a lot smaller dissy but this will do for the time being.
While the radiator and fan issues were being sorted I took a couple of days to take a few things out of the bay and repaint them and clean the engine bay. I dont have a before shot but trust me it was bad. The fake slip on braide was $35 posted. Its annoying to put on, you need to open it right up and sort of un crease it before you run it over the hose. Its mainly for show but I also think it'll act like a sort of heatsink for the radiator and heater hoses. But yeah that was an afterthought I just think it looks cool. I got the old man to sandblast and paint the strut braces, horns, water pump pulley and the fan and the spacer. Looks good.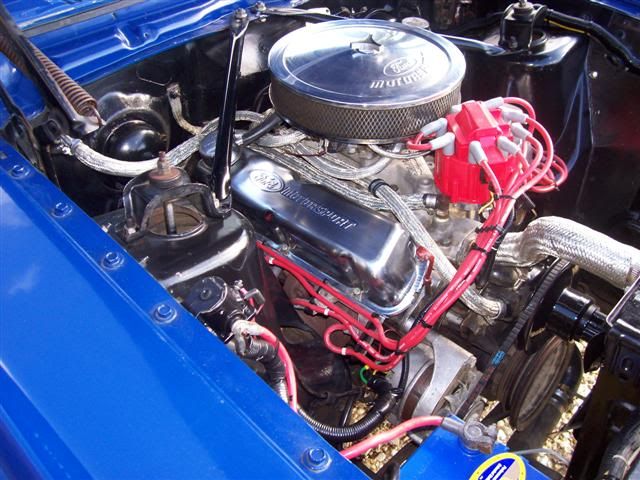 The booster was leaking bad, just cut a bit of very thick rubber and jammed it in the lid. Hey presto, no more leaks.
When installing the HEI we had #1 plug out to find tdc and were pretty amazed the car still ran with the plugs in that state. I should have taken a picture, but it was bad. All of them were so caked. I think it was $40 or something for another 8 from autobarn. A bastard to get in but definately worth doing. The 302 is so snug inside the engine bay, there is probably 2cm between the factory headers and shock towers, which sucks, because I would have liked to run extractors aswell. I dont even know if the 260 V8 was an option on these cars, I think it was a 221 V8 or a V6.
The owner in the USA had fitted a CD player and stupidly put 6in alpine speakers in the front door trims. Ever since I seen the car on ebay I knew Id be taking them out. I bought an original radio on ebay but I cant install it as the surround has been cut from the centre panel. One day I will get another panel from the states. Anyway. This weekend I re-did the door trims. Luckily I had bought some thin MDF ages ago to make up a shifter console then decided against it, so I went into town to spotlight and $30 later had a whole heap of vinyl. I thought being that the panel was so simple itd be easy. Not so. They had been re done for the speakers and the guy had screwed through from the front of the panel for the lower chrome piece. When I re-installed it I saw why he had done it that way. It is very very hard and scary belting the chrome out, putting the trim in then belting it up again, but now it looks a lot better. Its not absolutely perfect but its a trillion percent better than it was. Luckily the rest of the interior is nearly perfect. When I took the trims off, down the bottom of the door was a Psychic Therapist card from the states. Looks like it had been there a while. I also found the old DMV/insurance paperwork from the states scattered all through the car.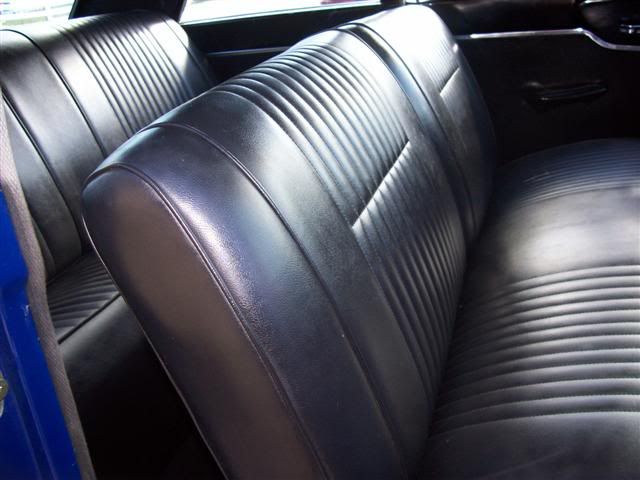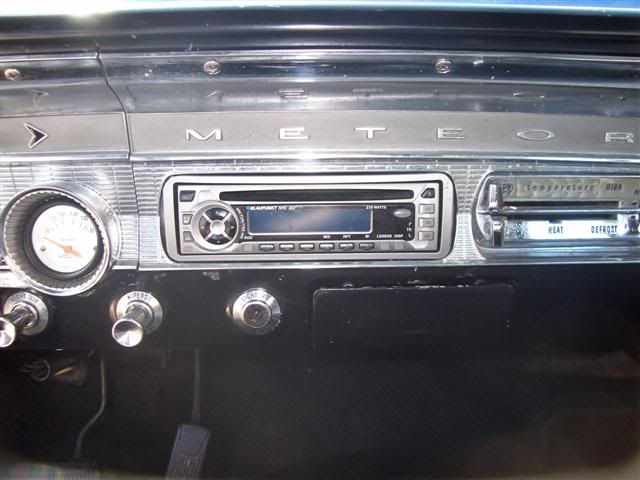 This morning I washed the car and cleaned the windows and left it idling to see if it was still getting hot. The gauge got to about 200 but didnt really go much further. The timing could still be out, and lets be honest it wont be sitting anywhere idling for half an hour. Thats 200F, and the thermostat is a 180 so I think thats alright?
Thats about it. Just got to lower the front down, touch up the paint, get the speedo working (next week hopefully) and re-do the floor mat, I will do most of that after I get it on the road. Im being given the run around because a- its imported and b- the engine number is nearly un readable but hopefully the old man can talk to another inspector and try to get it happening. It doesnt look it but its come a very long way and Ive learnt heaps along the way. Its taken me about 4 months to get it to this state, working on average 1 or 2 days a week on it.
Not a bad old bus.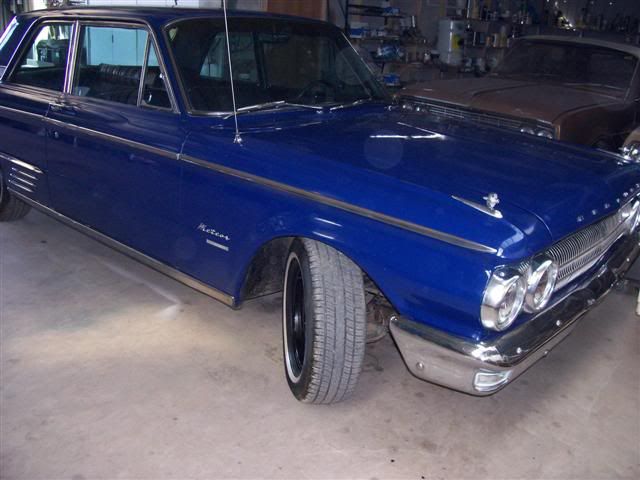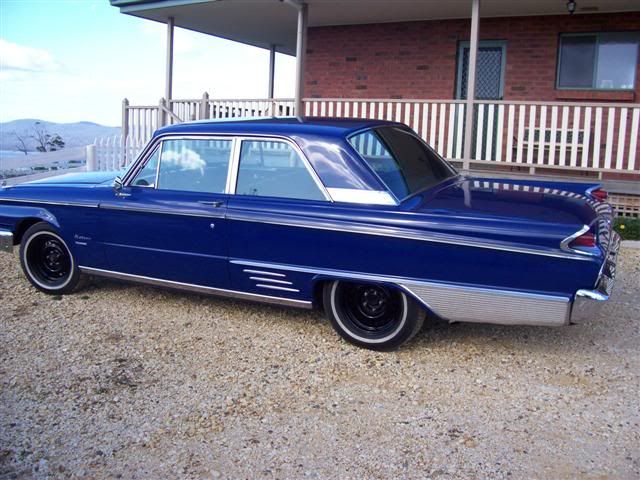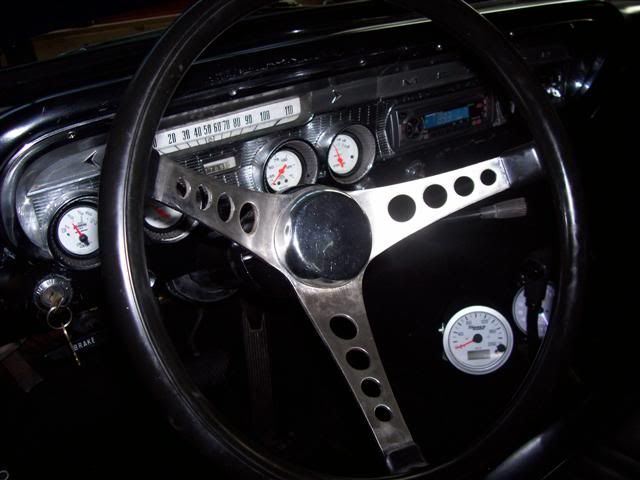 Cant wait to get it registered and drive it
NB- it is actually a custom, not just an S33. Maybe someone on here knows what the custom had over the s33?
post 2
Few updates:
Scored some wheels off a lemon EB that I bought. Suit it really well. Just needed a couple of new tyres.
Added a thermo fan in front for added cooling in town.
Redone the boot, looks really good. Thinking about subwoofers in the walls.
Remounted speedo and got it all working. Its a fair bit out, reads about 10km/h over. Will recalibrate one day.
Got rid of HEI distributor because it crapped itself. Got new points, leads and plugs. Car runs well all the time now.
Fixed the door locks, they now actually lock.
Old man fixed the steering, the car turns corners now.
Added rear view mirrors. Thought they may come in handy.
Insured the car yesterday, full comp, $12000 cover, $250 excess, $400/year with shannons. Considering im a 20yr old male, I think its unreal.
Thats about it just been doing a lot of little things getting it ready to be a daily driver in Victoria starting next month. Apart from some fumes from the fuel tank most stuff is sorted. I'll be chucking in a reco engine or a fuel injected 5L over the next year. Thanks for reading -Dave.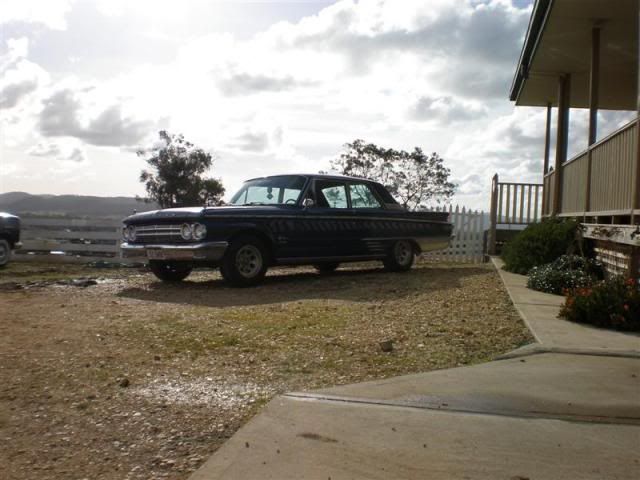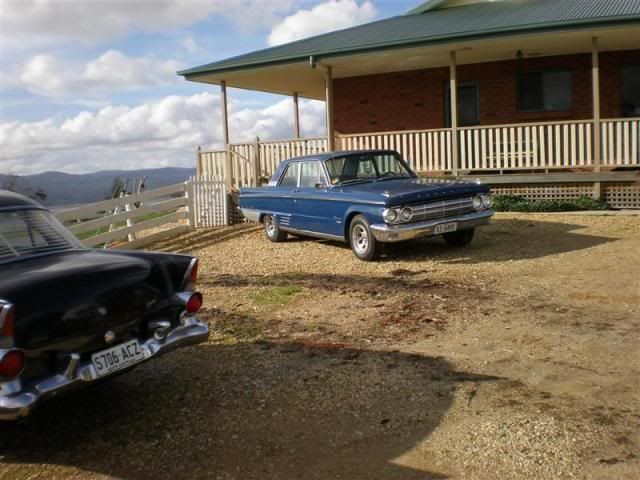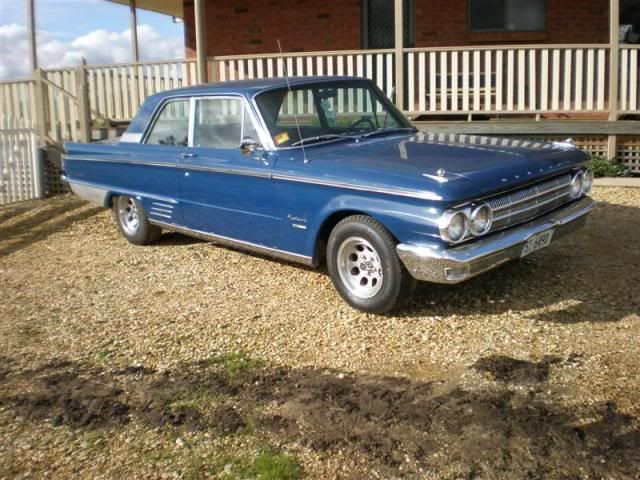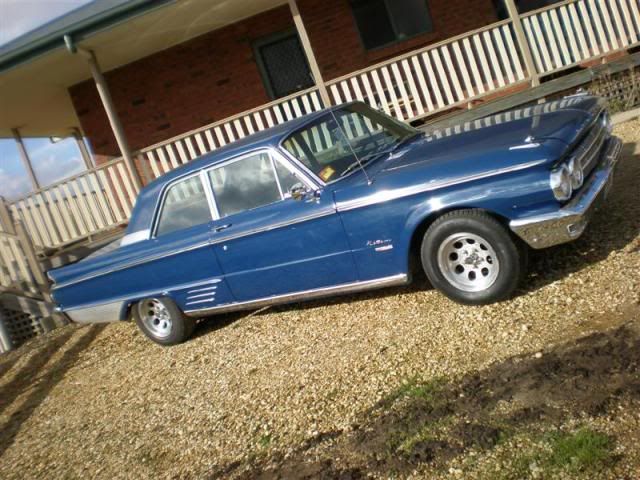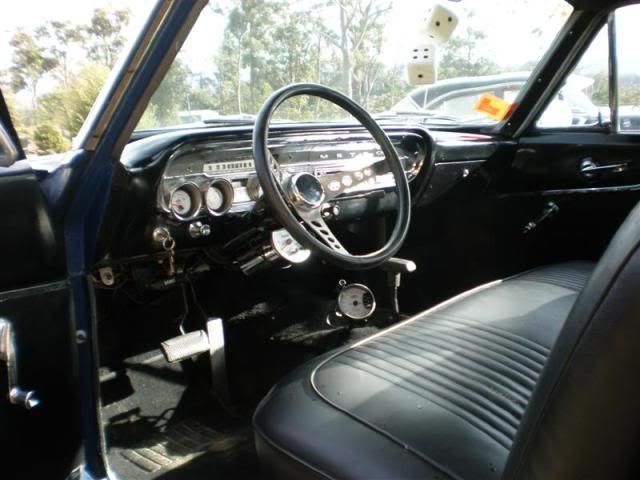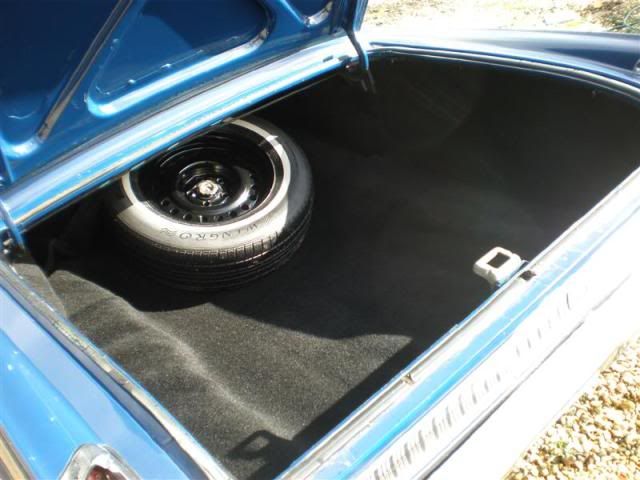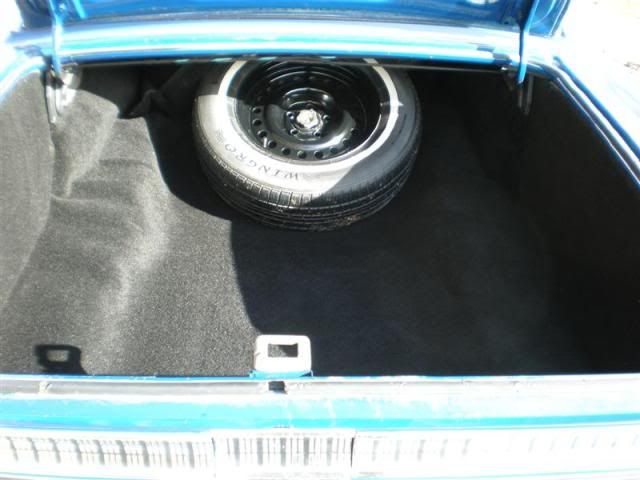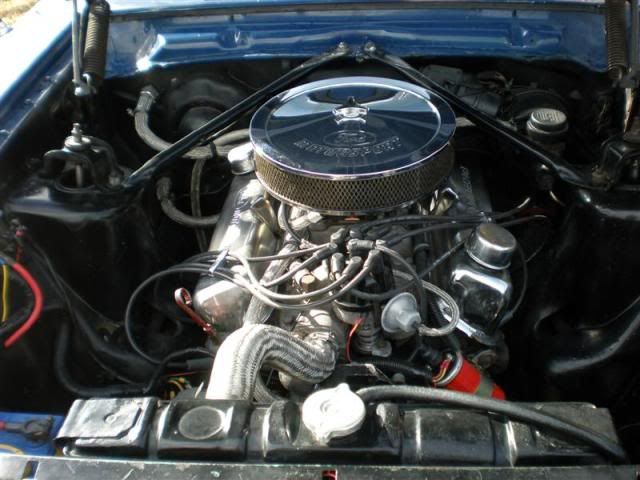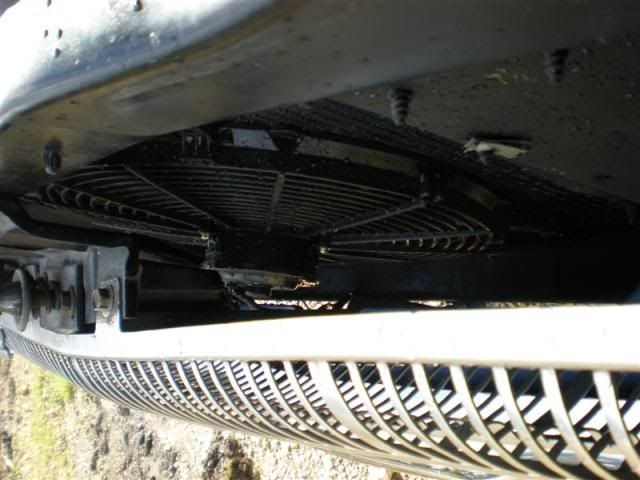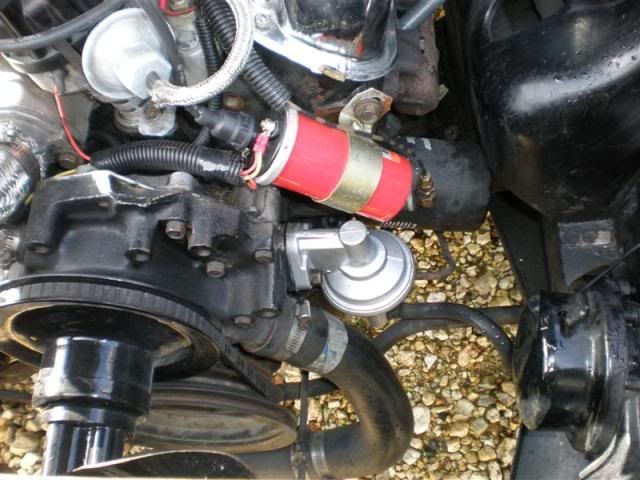 post 3
Cruising around town tonight with a full tank of fuel, realised where the fumes were coming from and why. I used tiny self tappers to hold the carpet down in the boot while stretching it so it was all tight. Surprise surprise Ive screwed in the top of the fuel tank. I'll be pulling it out asap and re soldering it, means I'll also be able to check the fuel gauge sender wiring as the gauge is still playing up.
post 4
Few more things I left out:
I recently sourced a centre pash panel, speedo and steering wheel for the car from the USA. $180 posted. Should be here any day now.
The old mechanical fuel pump crapped itself one day for no reason. $130 for a new one. At least its clean and shiny.
The coil is a GT40. You can get a GT40 or a GT40R. You need a resistor on the GT40R, hence the R. I dont like the look of resistors. Cost about $70. Mounted it on the old p/s pump holes.
Put a modern ciggerette lighter in, small thing but very useful.
Theres been more but thats the only stuff thats actually done, plenty of buying that doesnt fit though.
Things to do in the next few weeks:
Tank out and fix my big mistake
Fix fuel gauge at the same time (seems like loose wiring)
New CD player mounted in glovebox, original radio in dash
Figure out why and the purpose for an electric fan way up under the dash aiming at the drivers feet that blows harder than a drunk sheila when you are driving at decent speed. Only noticed this last night when it was freezing cold and I had shorts on.
I have bought a 3M clay bar kit as the car gets covered in sand from my old man blasting all the time and has eaten its way into the paint. You can wash the car but it still looks dirty. Really not looking forward to this as I think I'll have to buy a second bar as its that contaminated. $50 a pop is no good.
post 5
Update:
Got the tank out, gauge showed 1/4 tank, about 45 litres came out. Something going on there. Anyway it was one hole in the top of the tank causing the issue, cleaned it up and got some metal putty and left it overnight. This has fixed that problem.
The sender wiring was a bit loose. Made it tighter and the fuel gauge isnt playing up any more. Maybe just some corrosion.
Found out the fan under the dash was connected to a mechanical pull switch, in which I cut out a couple of months ago. I thought it was connected to the choke on the carby but I dont run a choke so I cut it. Turns out that yeah its just connected to the plenum thingy. That was a stupid thing to do on my part I shouldve checked what it was connected to before I cut it. Anyway, Ive just put it to close by the lever on it.
Once I put the tank back in today, let the car down and went to start it. Before I start the car I pump the pedal twice to get some fuel in it so it fires straight up. Did that and noticed a metallic clingy sound. Popped the bonnet and the kickdown bracket had come off the gearbox and was just hanging off the carby. Got the jack back out, jacked the front way up and went to put it back on the 3mm thick metal arm and the actual thick metal arm snapped. Try finding one of those at 1pm on a Saturday. Good thing I know some good welders. It cost me my full American Hotrod dvd set but he's helped me out with heaps of stuff along the way, Ive easily scored more than the $70 the dvd's cost in parts he's given me. Anyway, its all going well now and now that the arm is different, its adjusted the gear shofter meaning I can now select first with the shifter which I couldnt before (hit on itself or hit on the position sensor).
If you read all that, then I salute you.
_________________
How many bears could Bear Grylls grill if Bear Grylls could grill bears?