Okay, since I've bought her I haven't really done much work than the basics. The first thing I did was rip of the plastic side windshields and the bumper protector as I hated the look of them. Here was a photo taken of my favourite toys over Christmas of 2011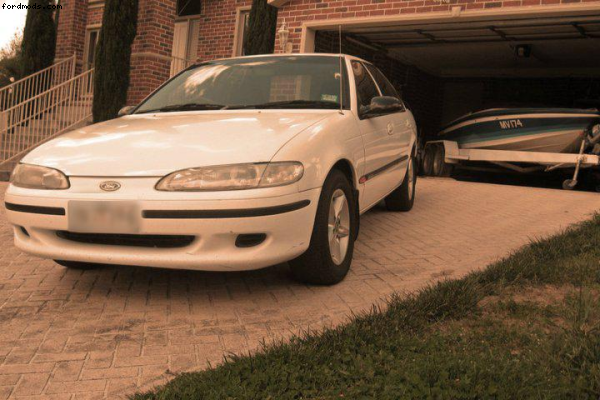 Other than replacing the basics, I've done no real work until recently. Over last Christmas the grandparents gave me a jack and car stands and since then I've been constantly tinkering over weekends I thought I'd get into what sort of things I've been doing.
First thing I had to do was I noticed that when driving along eastlink on the way to Rye, my entire intsrument cluster wiped out, and then flicked back on and then off again.. it was truly weird. Anyway as many EF owners would have experienced I had a leaky power steering hose that was dumping fluid into the alternator and sending it haywire, overcharging the battery and shutting down my dials and other electrical components.. good times.
So I had to replace the high pressure power steering hose (looking back I could have probably just replaced the o-ring, but hey why not) and then went down to the wreckers and picked myself up a new alternator. After an hour of working under the bonnet, I had grown a hatred for my LPG system
the amount of space that it takes up is such a pain in the a***!! It made what should have been an easy job a s**t harder!!
Anyway I got it done and now I'm happy to report that its all working well.
I also got my hands on an opt20 police cluster off ebay.. was absolutely stoked that I got it fully functional for less than $50!!
BUILD LIST
1. Sony sound system with kenwood 12" in the boot with a 700w amp and two rear 5" parcel shelf speakers (system worth more than the car... what kid doesn't want that)
2. 2.5" catback exhaust with extractors
3. LPG system (good for the student budget)
4. Aftermarket 15" auscar wheels
5. New power-steering hose
6. Replaced alternator
7. Opt20 police cluster
Cheers
dermie16