After much f**k around I got it done. One of those jobs you wish you took up the mechanic's whose shop you broke down in front of's offer to change it for you.
Only 3 of the cover plate screws hadn't fused themselves to the car with rust. My lack of a cold chisel rendered the impact driver useless. I had to use a pin punch to hammer the screw around. I ended up making the tool as flogging the ring with the hammer was having no effect whatsoever. I changed the design slightly, welding a M16 nut on the top instead of the 1/2" square hole.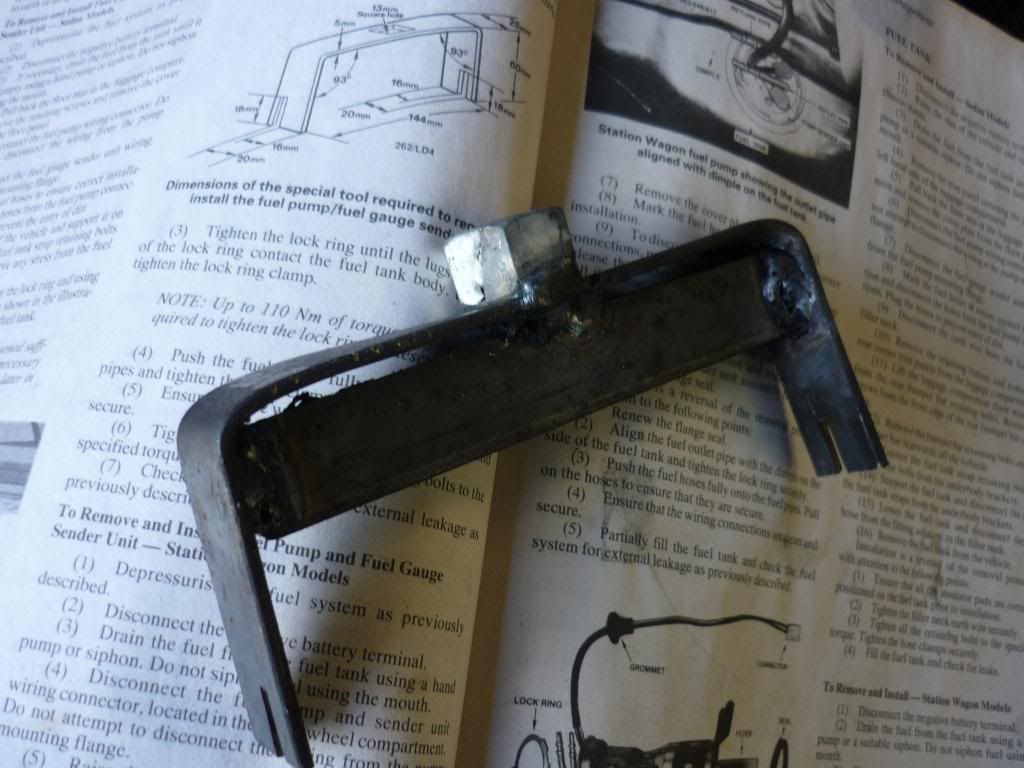 Jesus, that was tight.
And yeah, I had 3/4 of a tank pretty much. I only spilled what BP would call a lot.
Eventually, some time after lunch, I extracted the old pump and swapped it for the new one. Cute isn't it.
I guess I'm used to pumps that are rated in kilowatts in my line of work.
After I replaced the fuel filter, spilled some more petrol and reassembled the parking brake lever on the passenger side, I was able to take it for a test run. And guess what, I made it back! I stopped at home, let the fans come on twice and shut it off for 5 minutes. Then, I started it without priming the system. Started right up. Hot start problem solved? Fingers crossed, knock on wood etc.
Cheers,
Evan.