I haven't been on here for a while but those who roam the Fairlane and AU Falcon groups on Facebook might have seen my progress on the car. For those who haven't, I will quickly try to sum it up.
German authorities have declined local registration due to the reasons already stated some posts above, wrongly alligned headlights, excessive rot on bodywork and lack of paperwork to support the cars history. However since the car still had a British title I managed to find a way of working around that issue by taking a huge detour, I drove it back to Britain on a temporary permit where a good friend of mine lives who was prepared to help me with the project. We reactivated the British registration which was expired over two years ago and transfered it into my friends name but the British authorities were also not happy with the condition of the car, their road safety inspection is nowhere near as strict as the German one is so they still gave us a pass but attached a long list of advisory fixtures that we are having to sort out soon.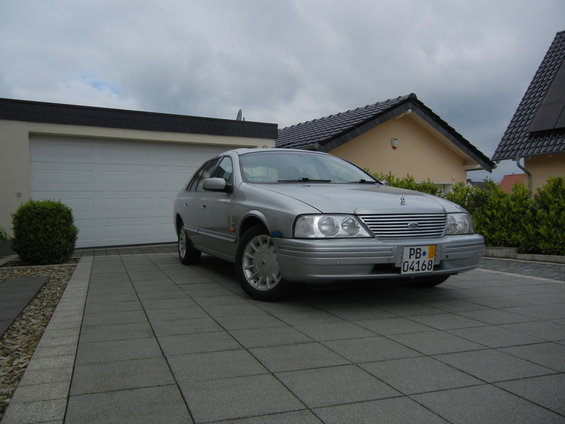 Our first point on the list was the exhaust, it was all rotted and had a big hole in it just after the cat so it sounded terriffic but of course is totally illegal. We were considering a weld job but there was just too much rust to do that so we could only throw it away. However finding a replacement was a lot easier then thought, after having the car checked out by a local Ford expert it turned out that it uses the same exhaust system as the European Ford Granada, who would have thought? Ordered a Granada exhaust and fitted perfectly with the only difference that it has a twin exit.
There are more rust issues with the car that we are sorting but the exhaust was the main problem so I'm glad we were able to sort that so easily. The next problem is the lack of history, the ownership history on the British title only goes back to 2002 when the car was first registered in the UK which for them isn't a problem but the German authorities require a full history back the date of when it was first registered new. We have absolutely no evidence of what happened with the car before it was registered in the UK, not even an import certificate which is rather strange.
Our local Ford expert thinks that there are only two possibilities of what happened:
#1 The car was exported to the UK when it was brand new (brand new unregistered cars don't require an import certificate) and then must have sat for over four years before it was registered on whatever reason which could be possible but seems unlikely, I mean why would somebody import a brand new car and then just let it sit there?
#2 This car must have been a diplomatic vehicle from a foreign embassy because diplomatic registrations will not show up on any vehicle title due to them being "above the law". We think that my car was imported to the UK when it was brand new to be used by the Australian or New Zealandic embassy. After being phased out from diplomatic use they just sold it on to the general public and that's when it got its official UK registration, the dates of that match perfectly with the introduction of the BA series Fairlane so perhaps they wanted an upgrade.
We are now trying to get this confirmed so that we have a complete evidence of its history.
_________________
1999 Ford Fairlane AU Ghia 5.0 Litre 302 Windsor V8 4-speed auto, 83ks, Liquid Silver, ex Diplomatic vehicle from UK.
2003 Audi A6 Avant 2.5 Litre Turbodiesel V6 6-speed manual, 160ks, Black Metallic, my reliable daily transportation.