fixed up the above image and this is my little how to...
what iv done is obviously fitted a BA steering wheel...
the problems
1. With the BA airbag hooked up to the AU the airbag light flashes...
(im not to bothered because i plan to refit the BA dash but this time include engine and wiring which will fix this prob)
2. AU indicators and wiper stalks becaome quite a distance from the steering wheel
(i'v added pics below of how i fitted BA stalks to the AU steering column)
3. buttons dont work but i havnt tried (i dont have cruise and i have a alpine headunit so the volume control didnt work anyway)
Before
After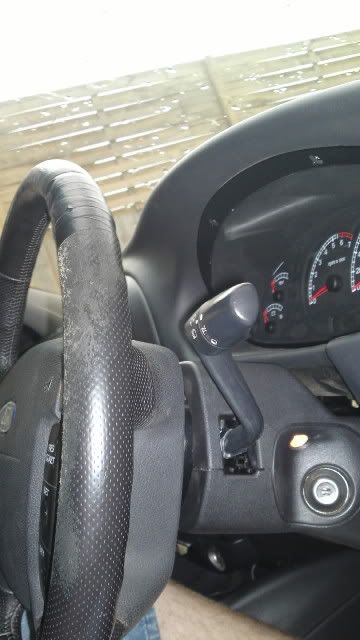 1. Removing your AU steering wheel (a heap of threads on how to do that are floating around)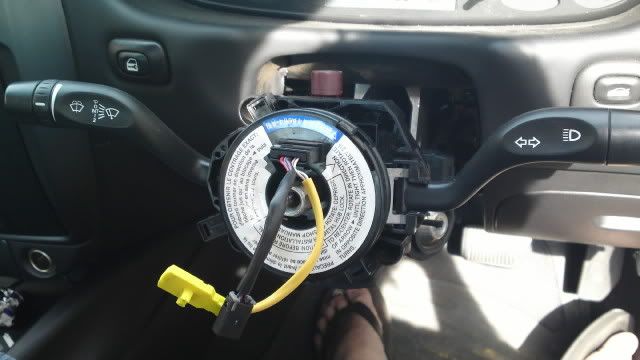 2. remove the clock spring by pressing in the 3 clips and sliding it forward (very gently and be careful not to rotate it)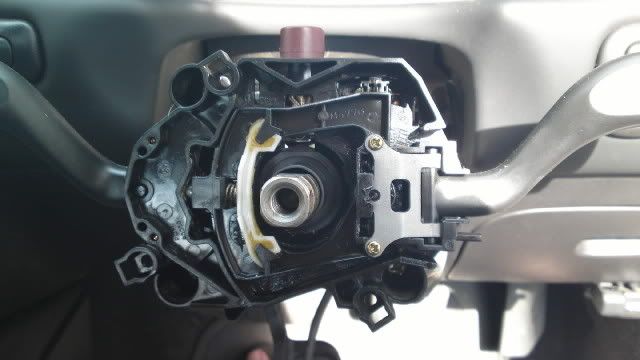 3. Remove two screws and that metal plate on the right you should now be able to pull the AU stalk out of the steering column be careful not to lose the two little ball bearings that come flying out, now fit your new BA indicator stalk and srew the metal plate back in
4 Remove the 3 screws that hold the plastic stalk housing onto the steering column slide it forword and the left stalk is pretty much the same as the right except the 2 screw are at the back not front and it pivots horizontally not vertically, you also have to cut the adjustable wipers wires (the only two running up the stalk if it is a sedan/ute) then reconnect them to the BA Stalk (wires are the same colour)
5. once both BA stalks are fitted slide the housing back on, screw it in then gently slide the clock spring back on
6. Fit the BA steering Wheel
7. connecting the horn, wiring as pictured below (Black to Black, Grey to Purple
Final Product
Any chance you could fix up the photos on this post? It be nice to have a look...
And when is the BA Engine conversion going to happen?