KWIKXR wrote:
Lol i also wouldnt have a clue how to change over the climate control to Fairmont, Ghia etc spec but it does look a hell of a lot nicer and is quite a good mod for the base model interior.
Full BA intake isnt too hard a job, a few people have done the full swap over. The inside wheel arch just need to be bashed in a bit so that the BA airbox can be mounted without sitting too high and fouling on the bonnet, as it sits a bit higher than EF EL airboxes. It does have 2 holes for mounting to the top of the plenum on the BA as does the AU and possibly EL as they had a similar intake setup. But it sits very securely without the bolts holding it to the plenum - i speak from experience
. Its a tight fit and the BA intake pipe has indents for where it sits over the curves on the BBM so it wont go anywhere. So basically the BA intake piping is pretty much a straight swap, ive done it on my EF but i retained the EF airbox and it looks like this VVVV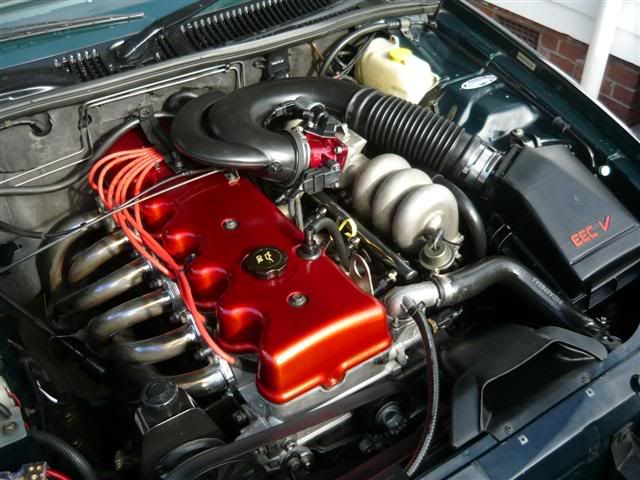 The EF airbox is big enough so the BA one isnt really required unless you're after a modern look. Using the EF airbox, the BA intake piping will fall short of connecting up so a short length 3" pvc pipe or alloy/stainless etc would be needed to join them.
man that rocker cover loves sweet!!
i think i might have to remove my heat shields and get the extractors repainted :p
ba intake looks very nice and neat.
i forgot to add in at start...the car has blue neons where you rest your feet in the front and back..ill get a pic now and post in 10min or so..
_________________
It really is true you can sell anything....just look at holden, selling s**t with a badge on it.