Thought id post up my weekend cruiser. It hardly gets driven now since i got the falcon, but previously i didn't because i took the bus to school.
Just copied and pasted my info from my thread on Calaisturbo. Been a member on there since 2010.
I purchased this VL in Oct 2010 fully stock except the wheels at that time.. I know the basics of cars etc but want to learn more.
Bought it down near Canberra off a mechanic which was the second owner, from 95' - 10'. from 1987 till 95' an elderly gentleman owned it.
My plans -
Car is not my daily and sleeps in the shed through the week under a car cover, spending money here and there on it. When i reach my open license, i will convert her to genuine turbo, will all factory specifications. ( as if it was a genuine VLCT ) Only thing different will be I.D Plate.
Name: Jackson Rainger
Model: Genuine December 1987 Holden VL Calais N/A
Plates: NSW JAK-094
Colour: Factory Alpine over Asteroid Silver.
Bodykit: Stock
Engine Type: Factory s2 rb30e
Engine Mods: K&N Panel Filter
Power: Unknown
Exhaust: Pacemaker Extractors, High flow Catalytic Converter, 2.5 inch Redback catback ,3.5inch dump tip.
Gearbox: Auto ML4
Diff: Stock Non LSD
Brakes: Stock
Suspension: Super Low Kings, Kmac Camber kit, Pedders shortened Sports Ryder shocks ( front ) Ultra Low Kings, Adj pan hard rod, Pedders shortened Sports Ryder shocks ( Rear ).
Wheels/Tyres: S1 VE SSV wheels, 235/35/19 tires (Duran). Guards not rolled, no scrapping, Polished Calais rims with Atlas Whitewalls 215/60/15
Interior: Stock Beige Leather SII, White Venetians + fan type
Other Mods: Standard Paint. New radiator, thermostat and brake pads. Chrome Handles ( preferred them )
Stereo: Factory head deck and speakers.
Build Period: Oct 2010 - Ongoing
Future mods: Sleeper ( when i reach my opens ) Turbo motor, convert the proper way, respray, new trans, driveline.
Car is garaged, driven on weekends. Had Genuine 212,000klms when purchased.
Im going for a super clean factory Calais look.
My Favorites.
When it had SSV's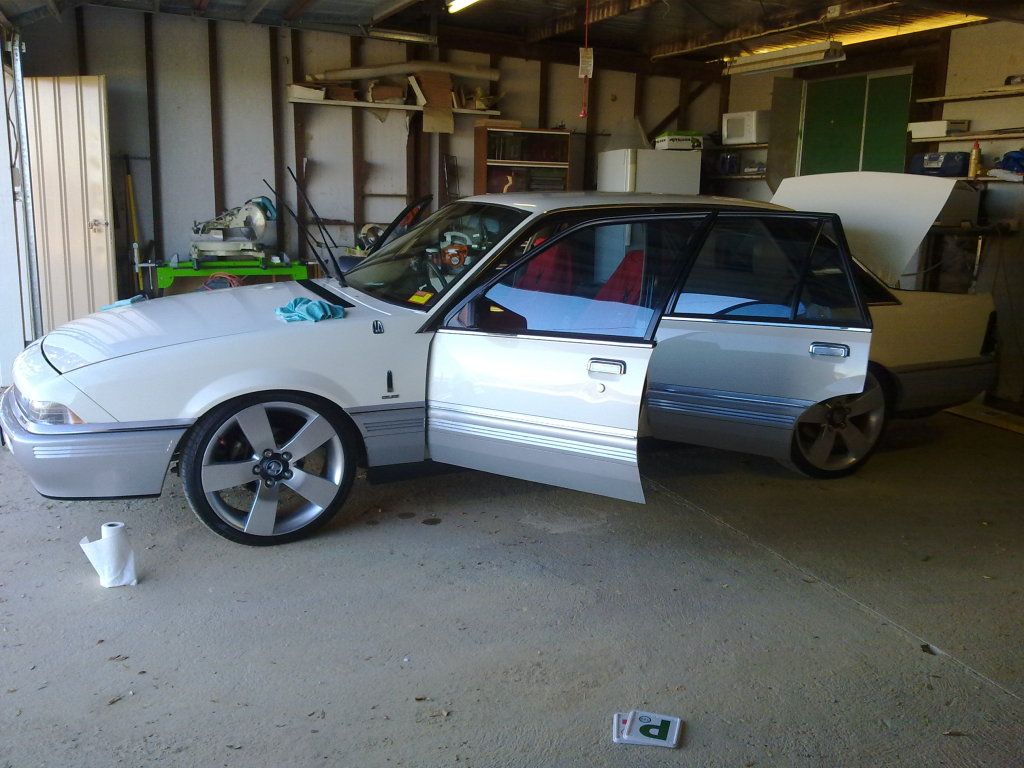 Polished Stock wheels with Atlas Whities.

_________________
Every Day is a New Day.