ToranaGuy wrote:
Nice work!

I've got a garage, but most of my work is in the driveway, because I don't have enough coin to buy a garage big enough for me lol.

Cheers

ToranaGuy
Cheers mate.
If I had a garage Id never be in the house and some really silly s**t would be being built.
Progress on Mav this weekend.
Zip , Zilch , Nada.
Am on standby and had to catch up with the stuff I need to do to make our place actually look like a home and not a workshop. 100 odd times emptying the catcher had me deciding that sometimes I don't like a big yard.
Will be back into it tomorrow arvo providing I don't have to work back.
I also had to fix a couple of issues on the Fairute , namely a stuffed pedal box and a water leak into the cabin when it rained.
Pedal box was fixed by removing the manual box , cutting off the clutch switch and stop plate , welding them to an auto pedal box I kept for this purpose and fitting a Mal Wood pin.
Nice to have a straight clutch pedal that doesn't creak , groan and actually works again.
Water leak was the good old cracked spot welds under the wiper motor trick. AU's are notorious for it!
Pulled it apart , pulled the wiper motor out and Sikaflexed it for the moment. Need to buy a 90 degree drill and I will then drill the spot welds out and fit high tensile bolts.
Its not just cars that are projects in the Jewish Garage. We also have our camper trailer which has been in attendance at all the Fordmods camping trips in various states.
It started out as a Cameron Campers soft floor trailer , which while it has heaps of room and was really comfortable , sucked massive balls to put up.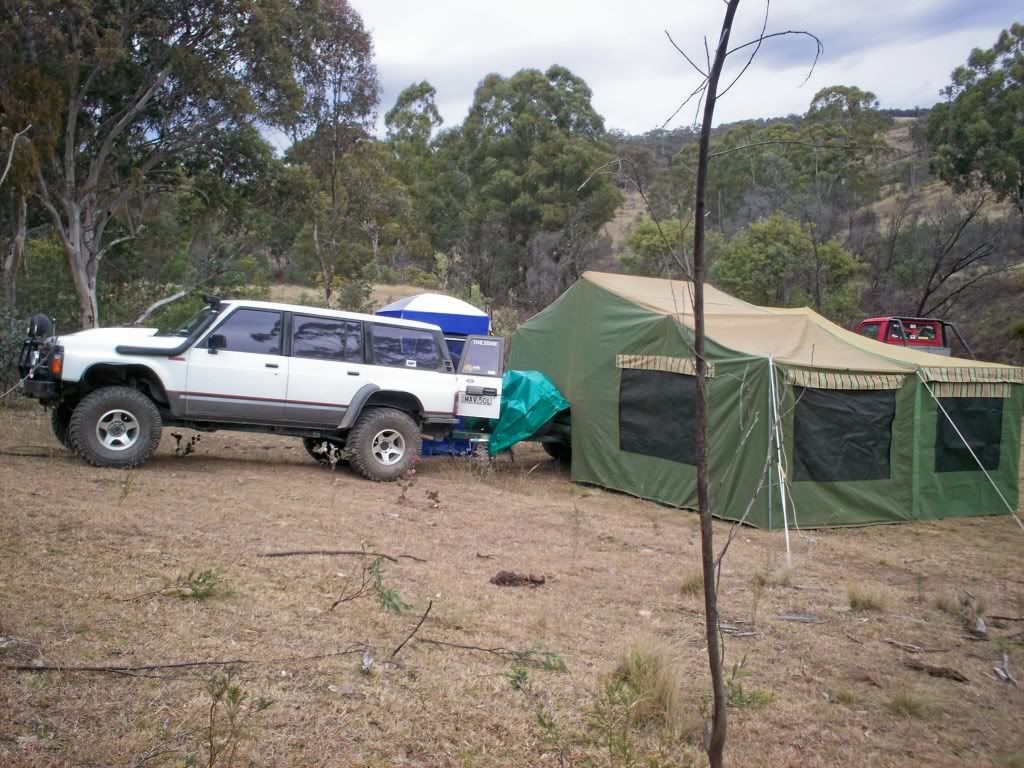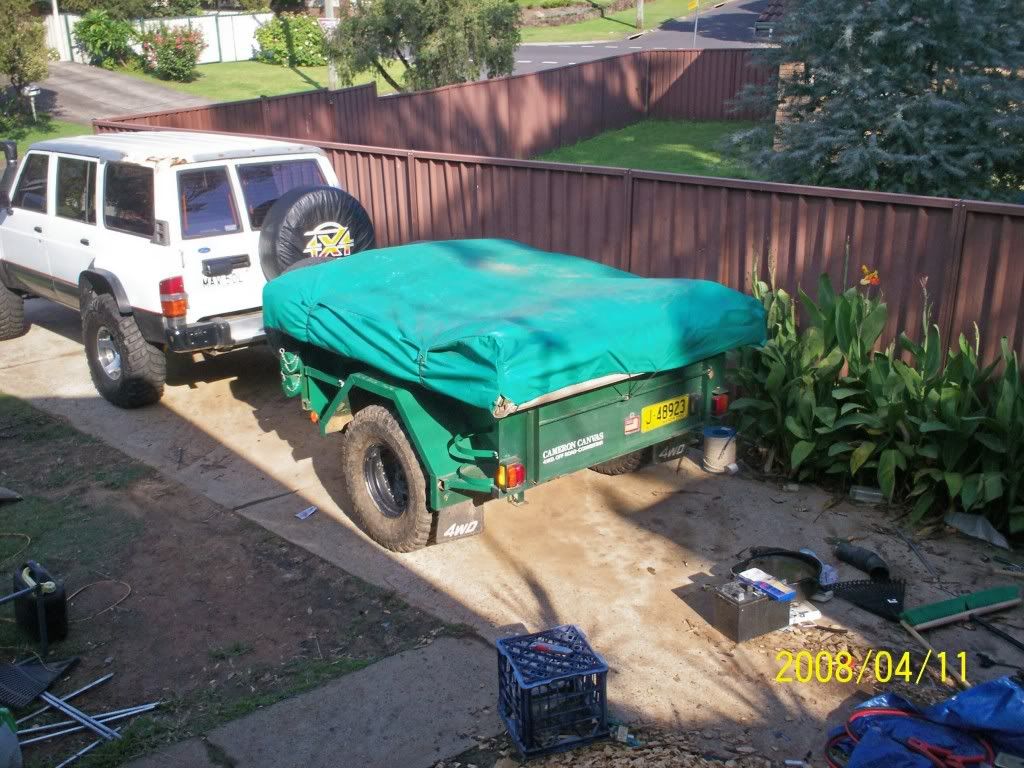 Was thinking of selling the whole thing off and on eBay come up a hardfloor camper box that would fit the trailer with a few changes.
Off to Orange we went.
The mighty old Blue wags on route. Was a slow old lap around the mountain! 4.0 , auto LPG powered goodness............
So the old soft floor top was sold off and the hardfloor camper fitted up with help from Ballast and we ended up with what has affectionately been christened "The Big Top".
Its a crap picture but if you can make it out the trailer on the right is ours. The striped canvas very much resembles a circus tent............................ this was on the Fordmods trip to Yalwal.
Believe it or not this project is nearly finished! But there are some changes I have been wanting to do for a long time and its time to make a start.
It is looking somewhat likely within the next few months I will be getting made redundant at work. If that happens me and Don will be slipping off for a much needed and overdue holiday and will be taking the trailer to do it in.
So there isn't a mad rush to get stuff done if I get the package , its time to start on the changes just in case.
In a few weeks I have roped Dazfab into doing a new drawbar for the trailer about 750mm longer. This will then take an aluminium toolbox I have acquired , the water tank and I will fit a boat winch to assist with opening and closing the lid since my shoulder will never be 100% again.
The gas bottles will also be fitted to the top of the tool box and plumbed full time. Behind the toolbox will be the battery box.
Inside I will be fitting some LED strip lighting and illuminated switches near the bed for those late night toilet breaks.
The spare wheel will have a swing out wheel carrier built for it and fitted to the back of the trailer.
Further down the track electric off road brakes will be fitted , the trailer repainted and the box reclad in Aluminium chequer plate or similar.
If there is interest I will share the build here.
I just thought Id put it up now as there is a lot more then just motorised stuffed that gets worked on here!
_________________
xr6turnip wrote:
More people paid for a ride in a VT commodore then an AU Falcon so the VT is superior.
Based on that fact my Mum is the best around!