Been a while since I updated this thread!!
So since last update, it did a track day at Pukekohe Raceway and got a bit of a hiding there.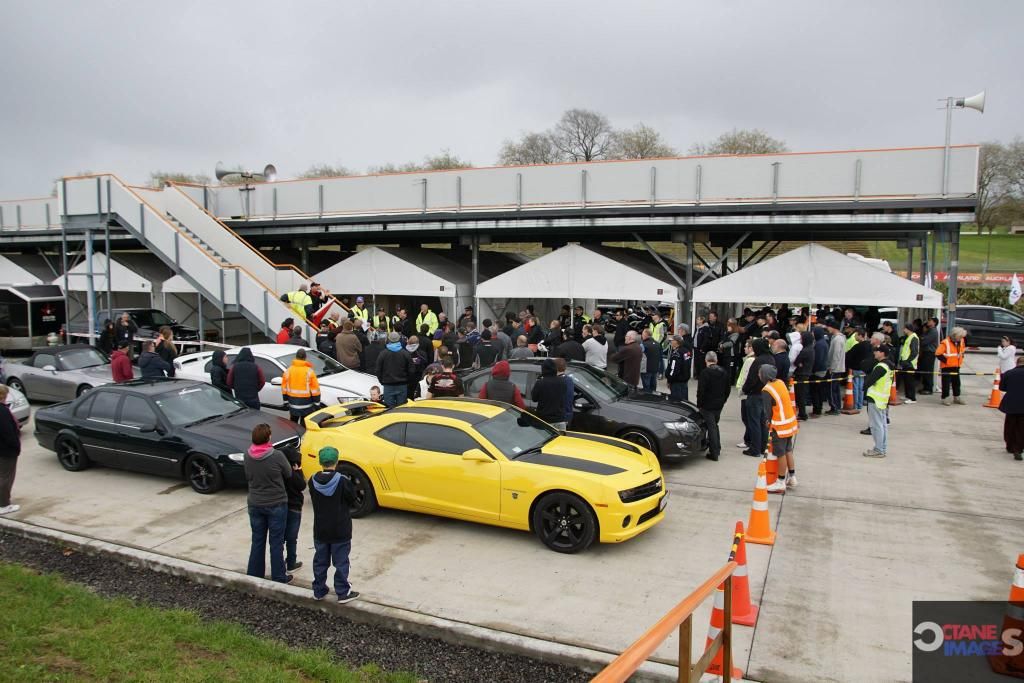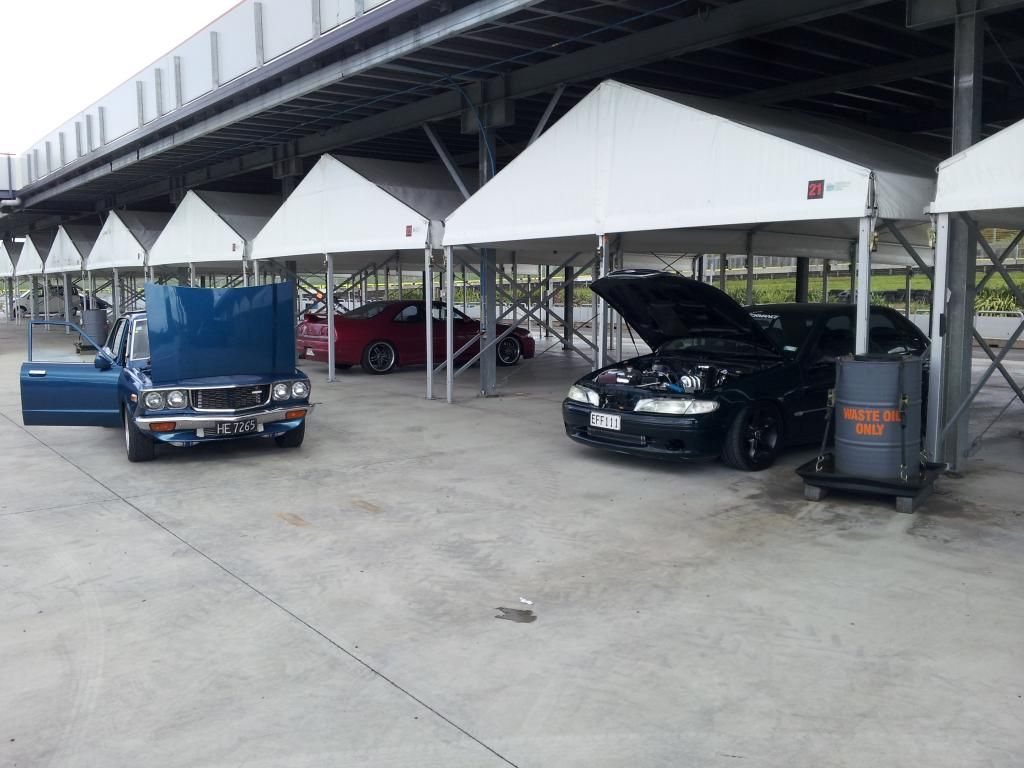 Went well all day until the end of the 3rd session out on track and then oil pressure started dropping very low on the gauge. Engine sounded a bit rattly so parked it up and drove it home.
It sat at home for a few months, started it up every now and then and took it round the block but not much happened with it as I had a lot of things planned out.
Upgraded to a better quality 28 row oil cooler
Saved up and finally got the exhaust from the dump pipe back redone in 3" mandrel piping, with a single X-force straight-thru muffler, all fab work done by No Cams Performance. Made a huge difference over the 2.5" exhaust it was running which would have been holding back a bit of power, felt completely different to drive on boost afterwards
. Had the screamer pipe flanged so it could be plumbed back into the exhaust for legal purposes also, and unbolted whenever I needed to hear that glorious noise.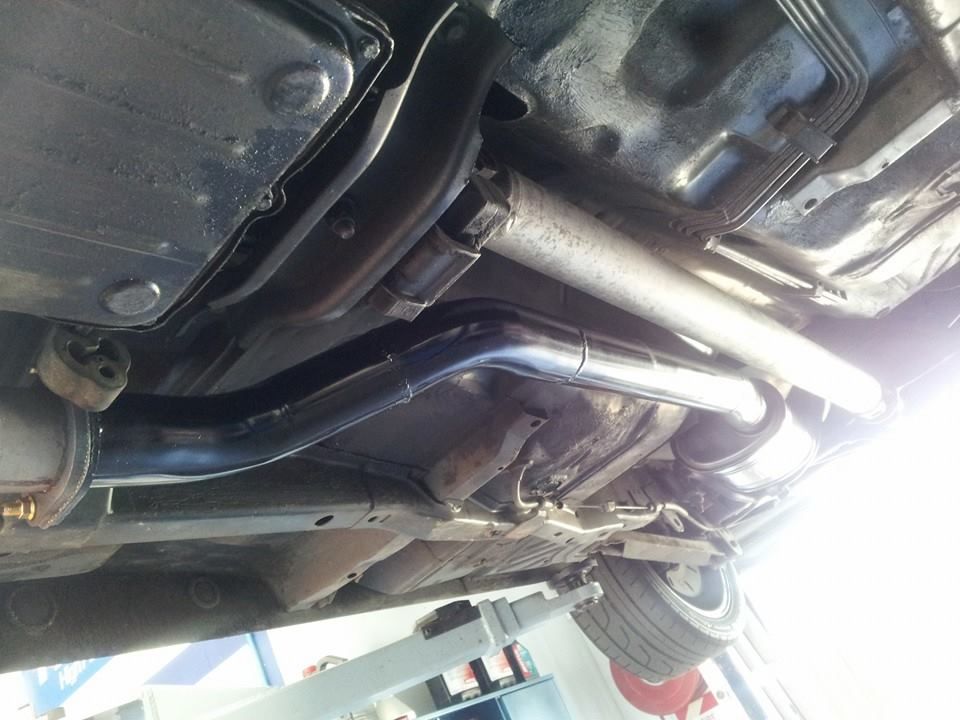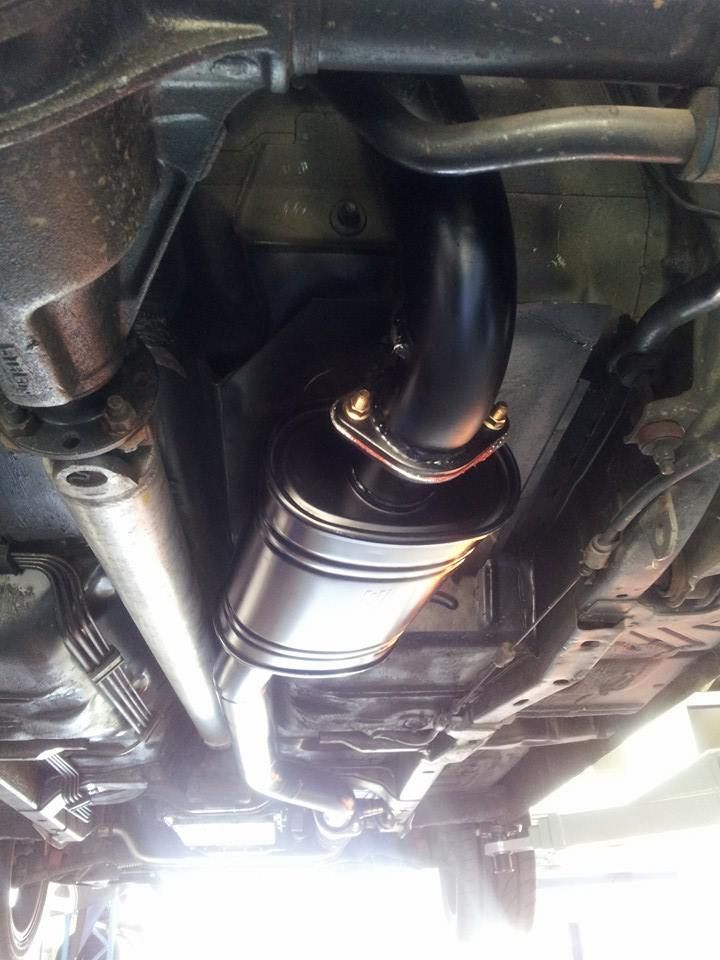 https://www.youtube.com/watch?v=4xLz7G3ycdE
Also had the turbo manifold and screamer pipe off a couple months ago to get ceramic coating. Tidied them up a lot, no more flaking heatproof paint, ha!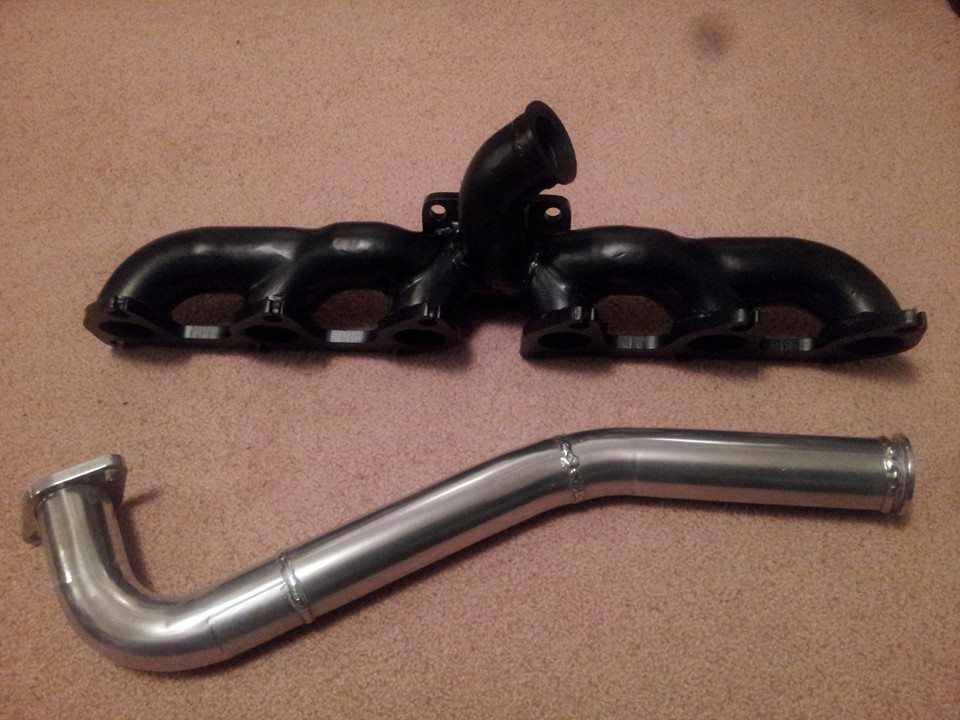 Took it out one afternoon for a bit of a thrash, and then it seemed to lose power. I did a compression test later on and found that the readings were all over the show with one cylinder being less than half of what the highest reading cylinder was
. Parked it up from that point for good until I could decided what to do.
Was contemplating pulling the original motor out and doing a quick hone, re-ring and bearing replacement to get it going again (providing it was all in good nick), but took the easier option and did an AU motor swap even though it wasn't the most ideal base for a boosted setup with the known weaker rods.
Scored a S2 AU motor, 103,000km on it apparently, definitely seemed to look pretty low km's judging by how things looked when I started stripping it down.
Got the motor home and mounted it up on the stand. From here I pretty much spent any spare time I had stripping it down, and inspecting everything.
The block has been degreased and washed, then sprayed in Duplicolor satin black engine enamel. Fitted new brass welch plugs all round. New water pump, new tensioner/idler pulleys, new A/C delete pulley. Bolted on the ported 92DT head from the EF motor with a 1.2mm thick, ACL race series headgasket. Pinched the Crow vernier cam gear from the EF motor and also the .508" lift, 216/217deg duration @ 50thou, 114LSA cam it was running . Also picked up a new Powerbond Street harmonic balancer to go with it, thanks to Justin @ Tuffcarparts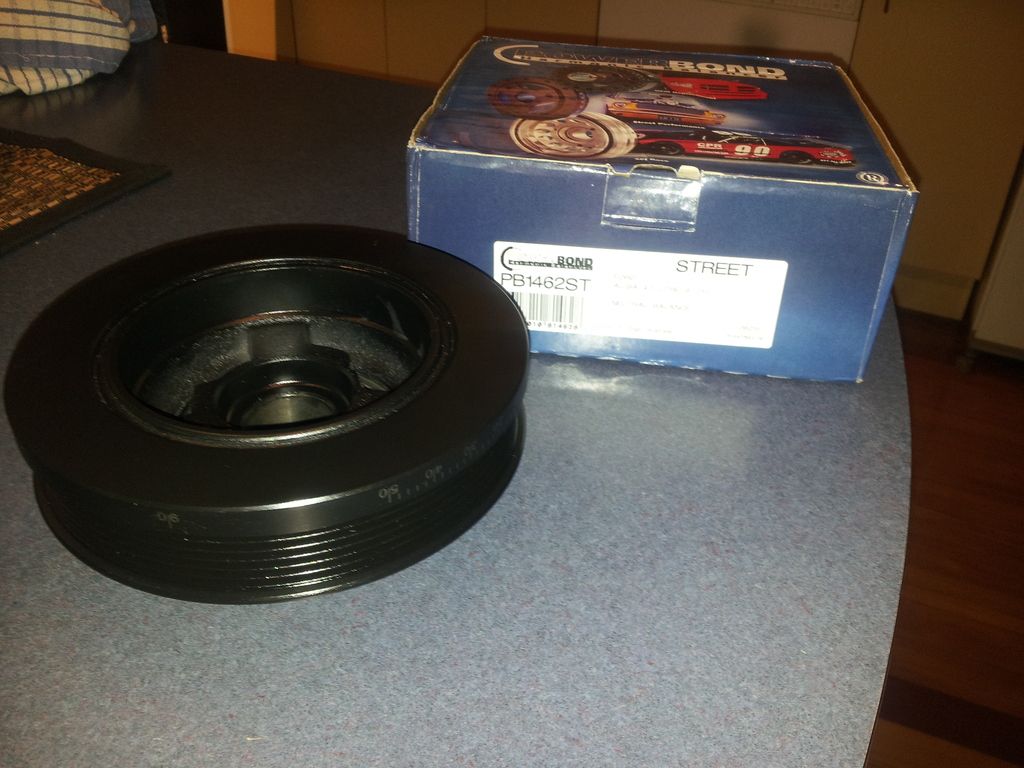 Bottom end has been left untouched. Don't really have the funds for forged rods and pistons at the moment as I needed to get this car running for Chrome Expression Session a couple weekends ago (pretty much the NZ equivalent to Powercruise). Spool rods + CP pistons, and a 12mm girdle are on the cards sometime next year if funds allow.
Got the sump modded by a local fabricator specialising in custom intake plenums, giving him a few pictures of modded sumps to work off and he put his epic fabrication and TIG skills to work. Also got him to weld in a -12AN bung for my turbo oil return line while he was at it.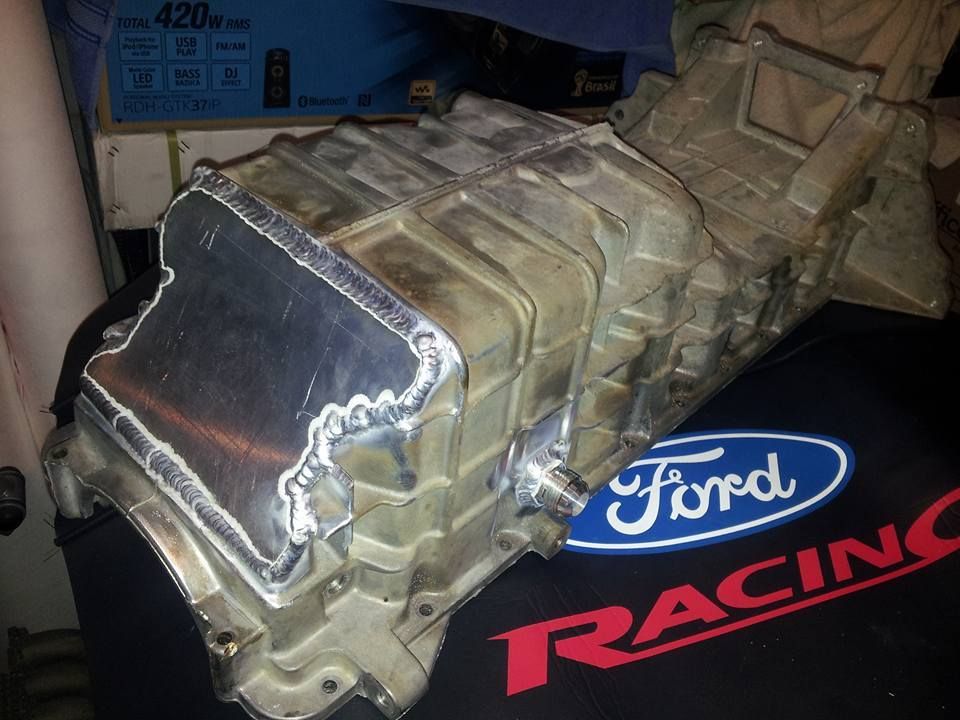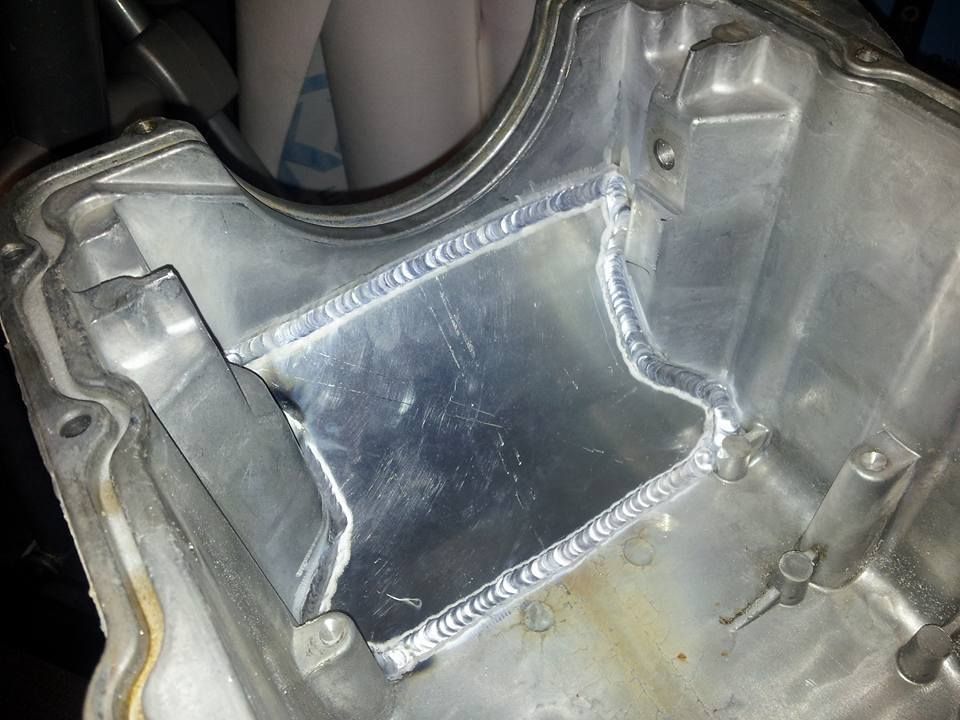 Cleaned up the outside of the sump and gave it a coat of VHT aluminium engine enamel to tidy it up. The next day, I got to work on drilling and tapping some holes in the sump casting bosses to mount the baffle back in place.
Couple of photo's during the assembly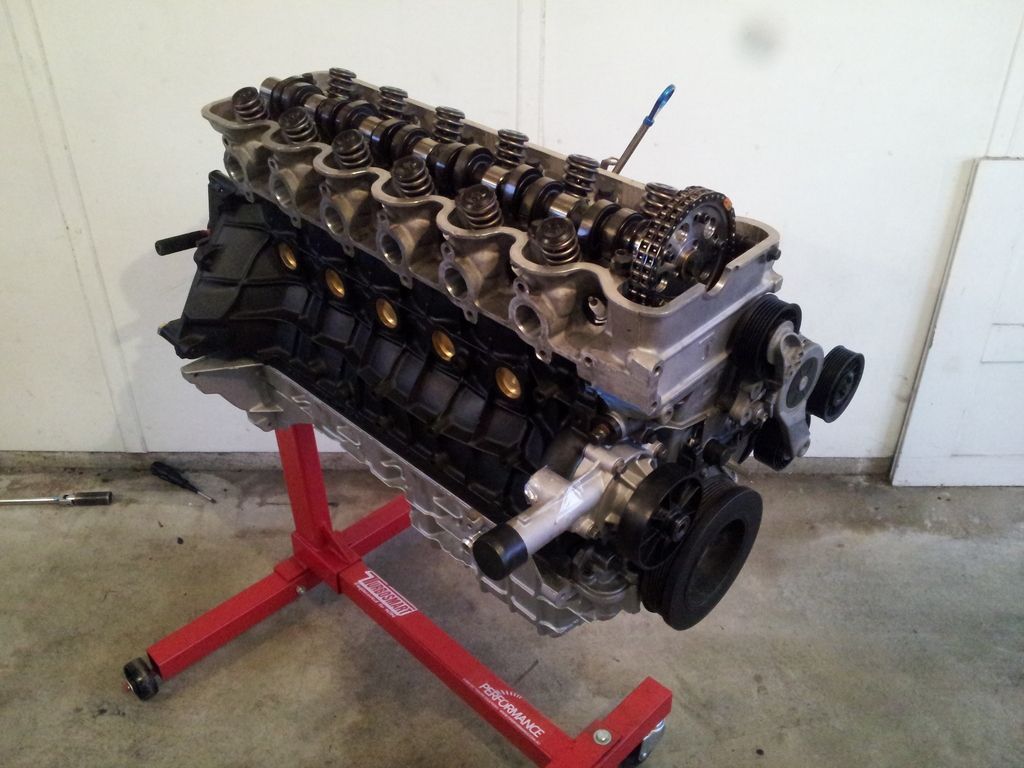 Still running the cheapo T70 turbo currently, not knowing how long it's going to last, I went out and bought something with a bit more quality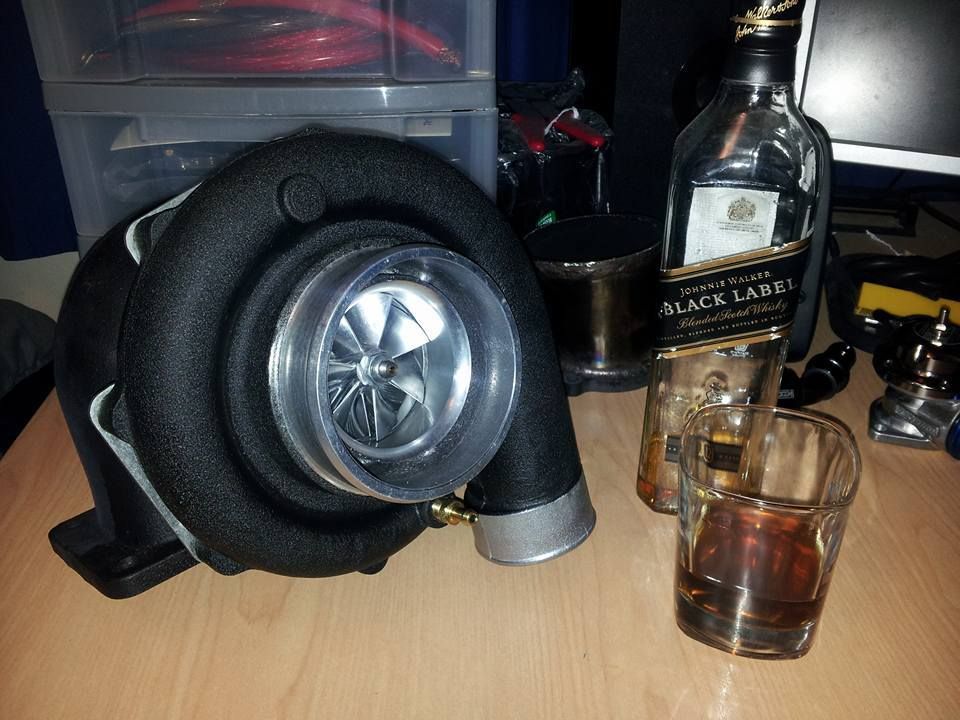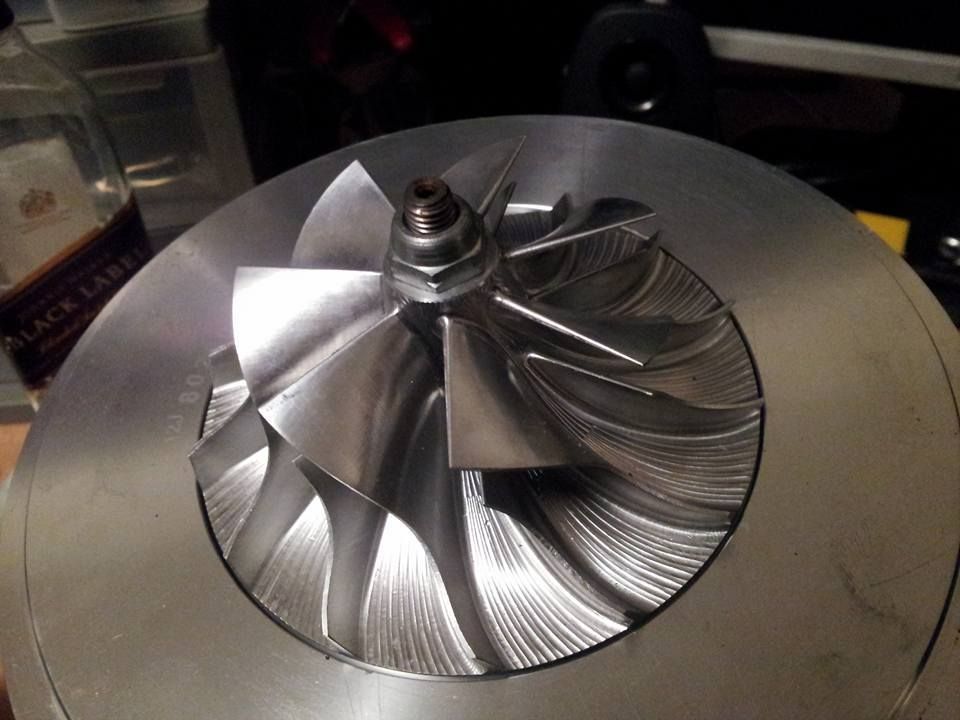 This is the Masterpower MP-R6564. From Masterpower's race series of turbo's, has a few little upgrades from the older series turbo's mainly around increasing efficiency. These got a re-designed billet CNC'd compressor wheel, light weight inconel turbine wheel, low inertia bearings etc so should be capable of good spool rates and decent power. Rated to 750hp.
Spec's:
Compressor:
65mm inducer
94mm exducer
Turbine:
74mm inducer
64mm exducer
Twin scroll 1.00 A/R
Probably won't get around to fitting this for a while, but should be interesting to see how it goes with a bit more boost when it's eventually fitted.
Before the motor went in, I did a few more suspension upgrades. Re-bushed the watts link assembly with a SuperPro kit. Also swapped the diff hat over to an AU one as it has a lower pivot point for the watts linkage, I read it was a good upgrade so went ahead and tried it.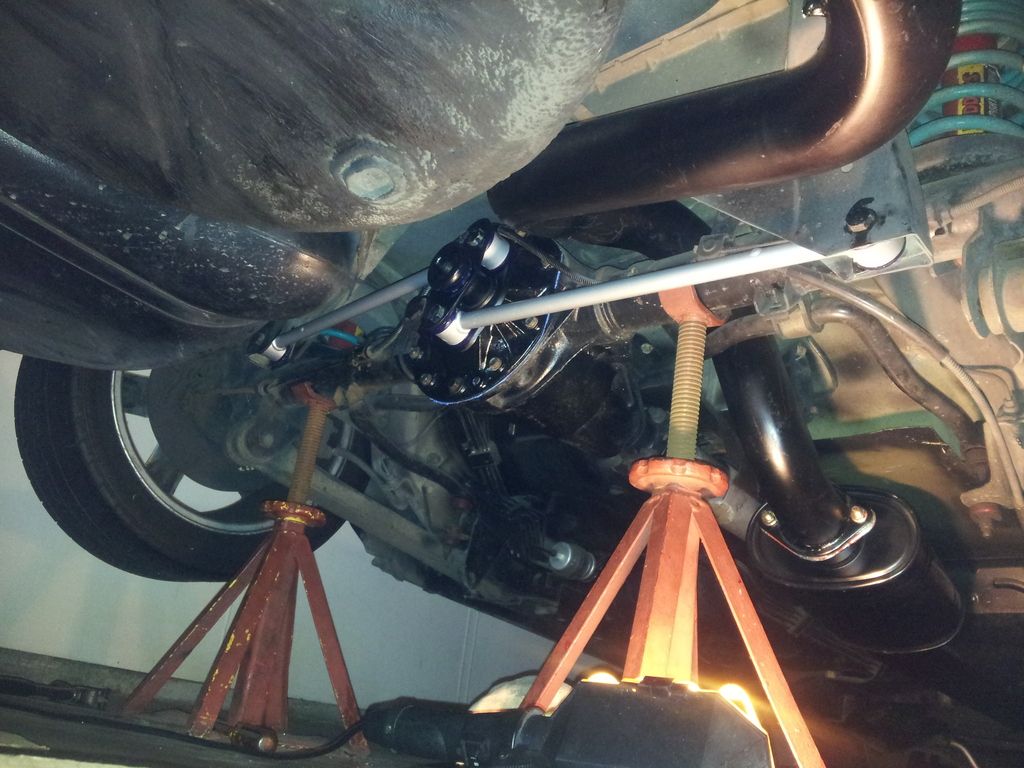 Bolted on my Ghia wheels and went out for a final hoon before the poor motor came out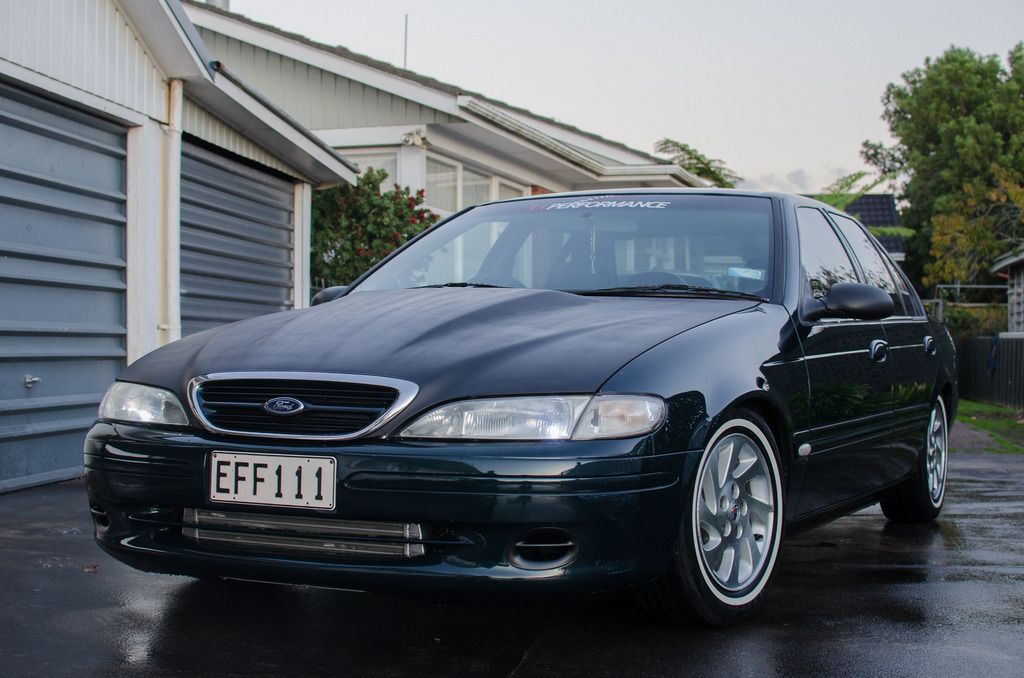 Finally got some decent-ish weather so got to work with my brother and old man on getting the motor swap done..
Engine out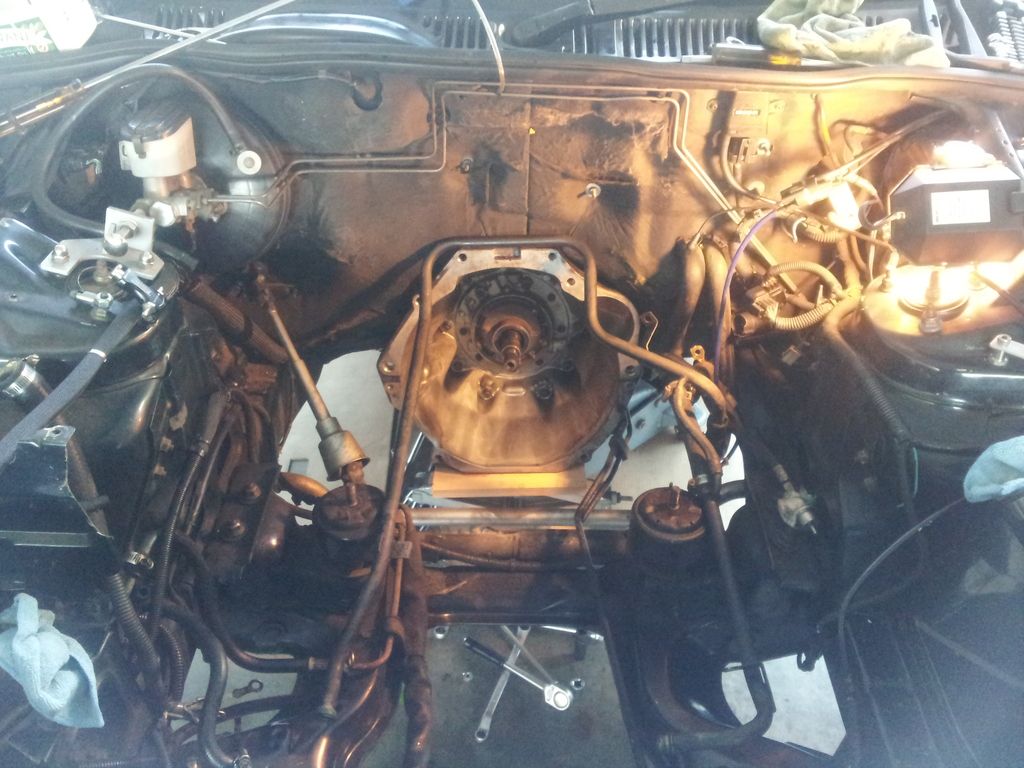 Hi stall fitted up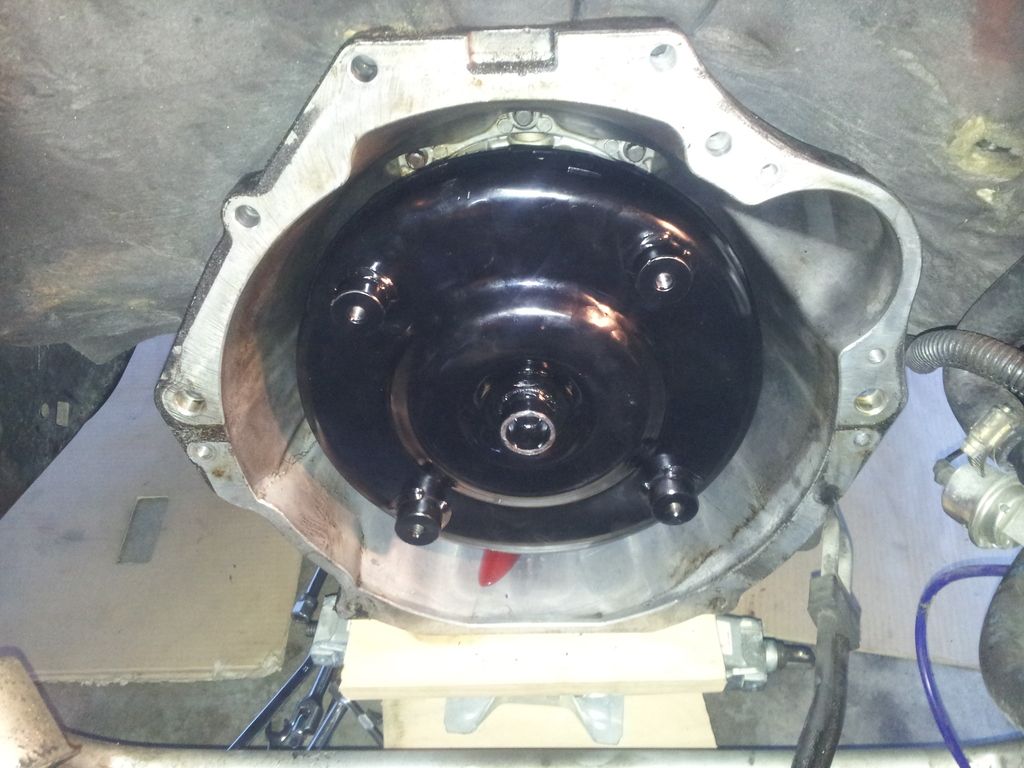 New engine in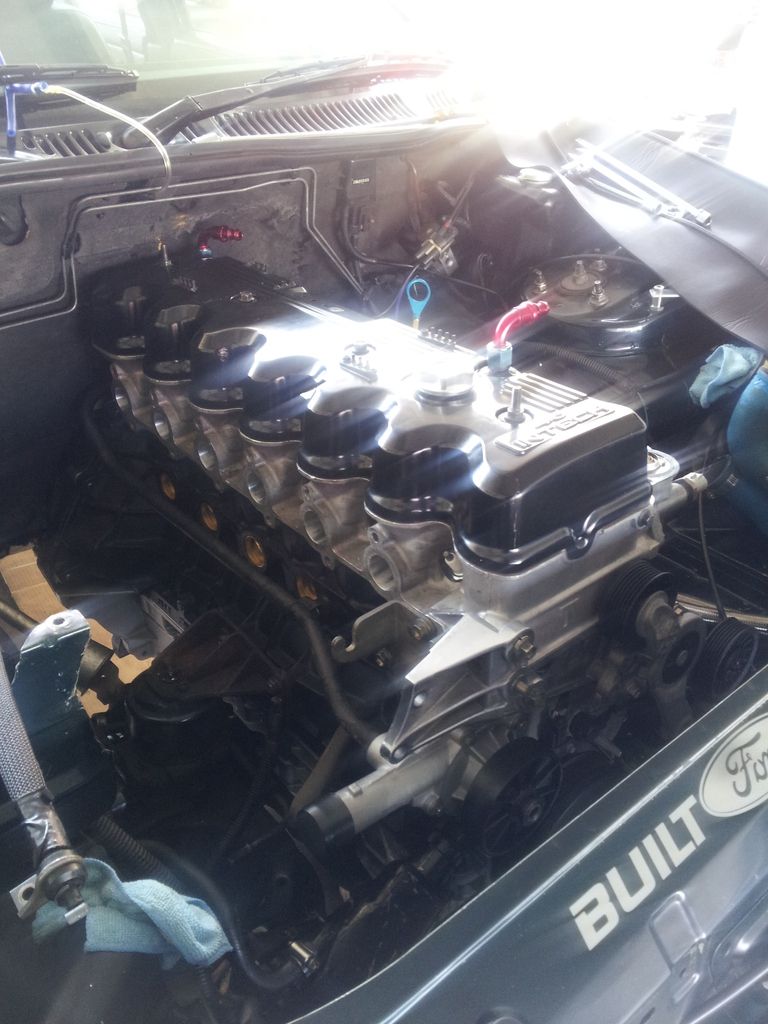 Stacks of sump to k-frame clearance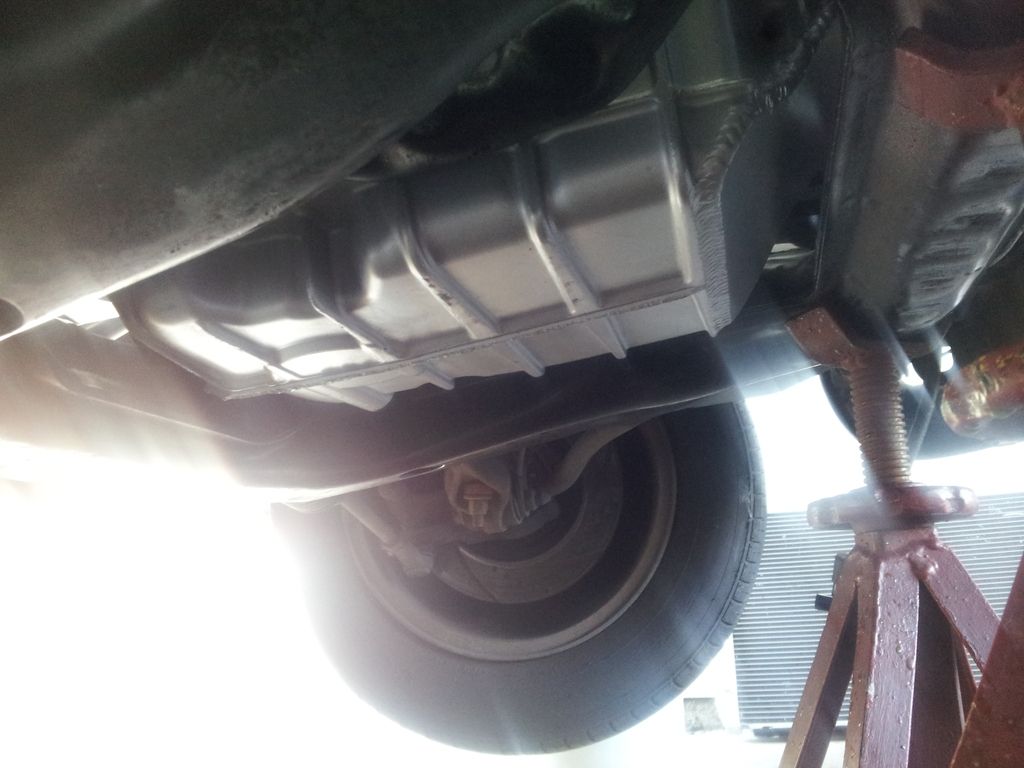 Making a start on refitting the intake side of the motor up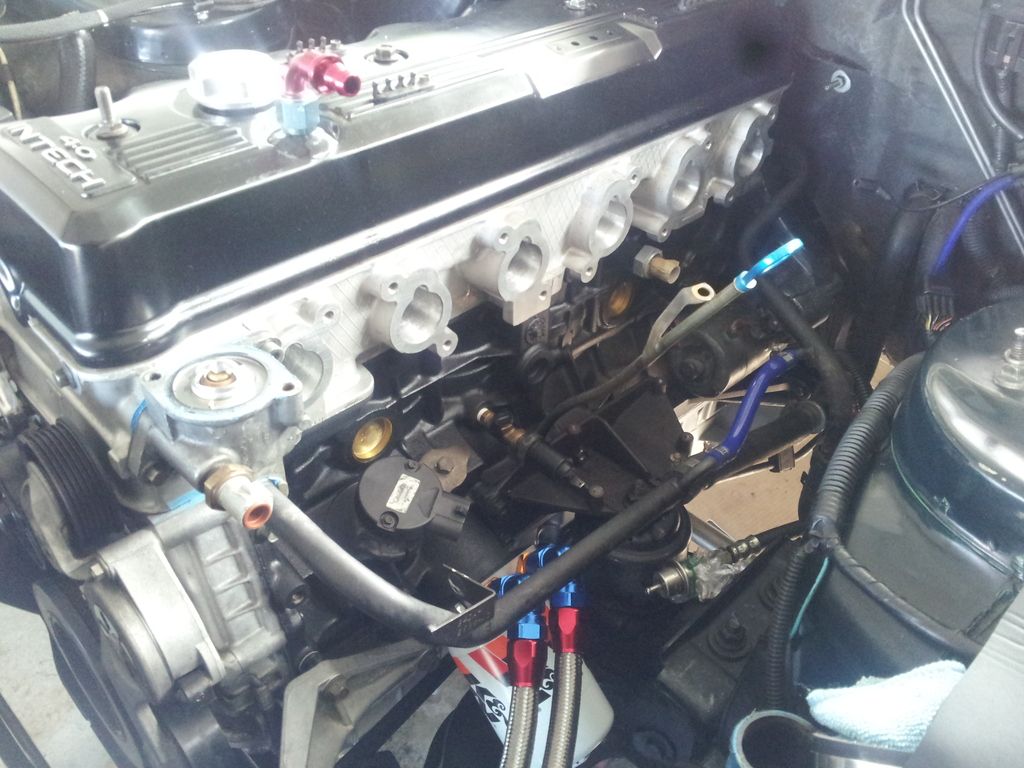 Engine all put back together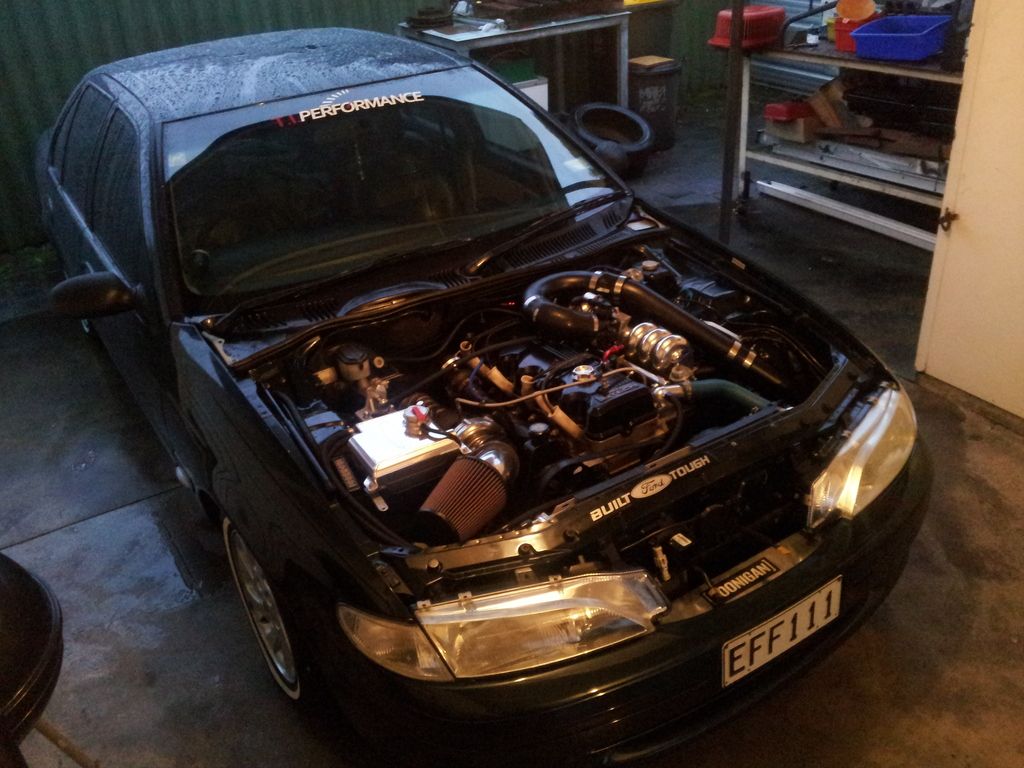 After topping up the auto fluid after getting the oil pumped through into the empty converter, I just couldn't resist taking it out for a quick spin, with no bonnet of course haha. It's so much more fun to drive with the high stall, feels way more snappier than the EF motor ever did off boost and that's on a pretty average timing map so should be a lot more to come even though I have to take it easy to keep the rod's from bending, lol. Rev's out so much quicker and smoother too! Stalled it up at half throttle a couple of times and it jumps up to around 2800rpm, smashes the limiter into 2nd gear and just fries the 205 tyres on my Ghia wheels without any real effort. Would hate to see what it's capable of in the wet as it felt pretty scary in the dry lol.
Chrome Expression Session at Hampton Downs race track finally came around 2 weeks ago and couldn't wait to get the Fairmont out onto the track. Weather was quite crap over the weekend so put my ROH RT wheels back on as they had decent Bridgestone rubber which usually hold on brilliantly in the wet. Went quite well considering the track was wet most of the day, but couldn't get the power down at all lol. It dried up enough to go out and do some drop-flag drag racing down the back straight, so got a chance to test out the hi-stall. First race I got close to 3500rpm out of the stall and then it went into LHM lol, so will need to make some changes on the J3 to get around that. 2nd race I left the line nice and easy and rolled on to WOT in 2nd gear, beat a mildly worked Evo 10 by about a car length which was a good feeling haha.
A lot of fun was had though, until it blew a heater hose to pieces in one of the last cruise sessions after skating 2nd and 3rd gear at around 6000rpm. Had to do multiple bandaid fixes and water top up's every half hour on the very long return trip home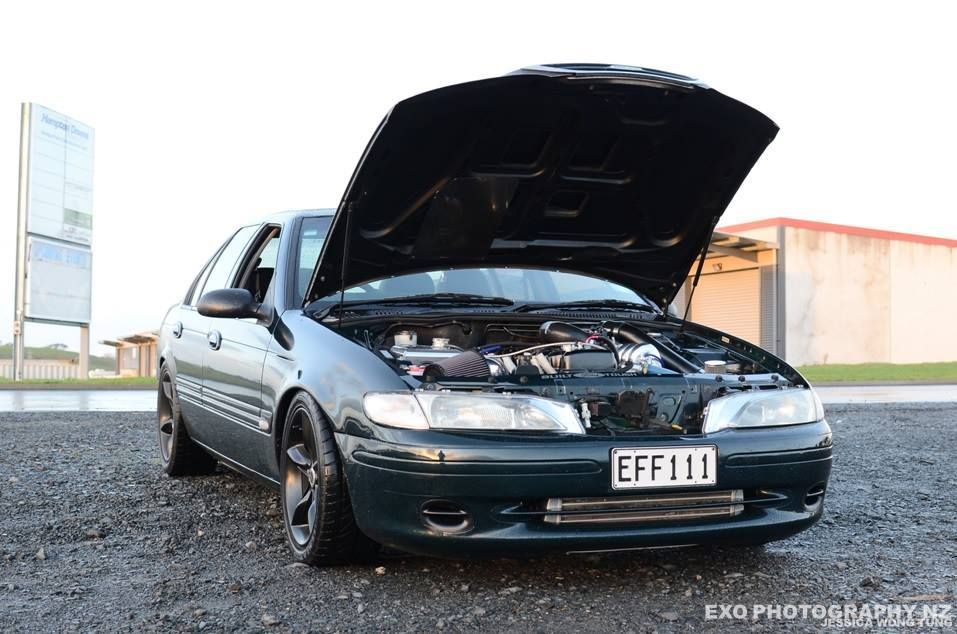 https://www.youtube.com/watch?v=6aaczUp ... e=youtu.be