Good news!!!
I visited my tuner to discuss the future of my blower (repair/replace/bin) and after cleaning up the gouges on the case, and filing the high spots on the rotors, it's not that bad after all.
Well it is bad, but it will continue to work.
He thinks it will only suffer a little boost loss at very low rpm after which it will be very minor loss but for what I'm chasing I don't think I'll miss it.
After all I'm trying to work within the limits of the T5 here. Not keen to spend thousands on a gearbox yet.
Unfortunately he talked me in to some ignition upgrades so while he saved me money, it's costing me also, but less. And the money will stay in Australia instead of heading to the US for a good condition second hand Magnuson MP112.
While it's off it also gives me a chance to clean up, and inspect, a couple of things I have been meaning to do, but have been too hard while it's on the car.
I will be doing up a much neater wiring loom for one thing, and getting the SuperFMU checked out to make sure it's working as it should be.
Hopefully sooner than later it will be back on and going great guns.
In the meantime, I ordered these before I lunched the blower.
They're LED fog lights from the latest BMW X5 (F15)
They have two LEDs inside. One firing up ward, and one downward.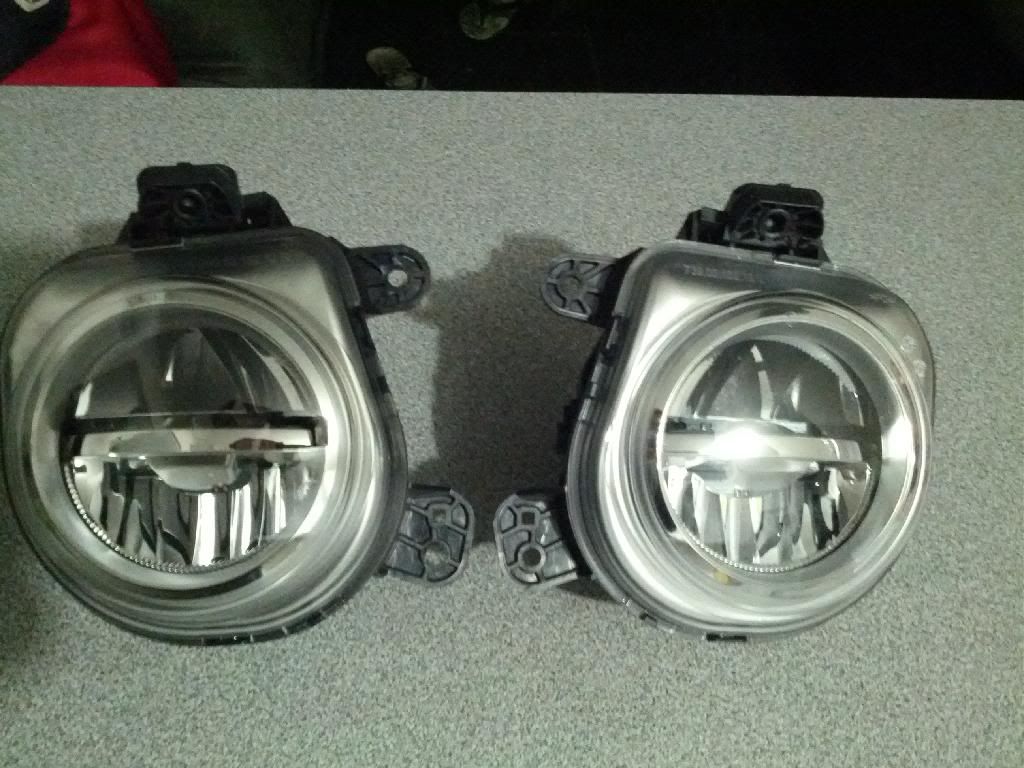 In this shot they're aimed roughly at the red dot. The two LEDs have very different jobs as it shows.
One is aimed mostly forward and the other out to the side.
When used in a pair the fog lights have a insanely wide output.
I have had ideas for the NF/NL cornering lights in the back of my head for some time, but haven't been 100% sold on the ideas. Then I saw these and I knew I had to do something with them.
They are so damn wide, bright, and white that I couldn't say no.
Though now I have other priorities for the money so I will put them up for sale and see what happens later on. If they don't sell I'll work with them eventually.
I actually reckon I could fit these in an FG headlight high beam spot. Upgrade the low beam to HID bi-xenon projector and you'd never miss the aux high beam.