As the story usually goes, I bought this Monty of another FM member for the missus' daily, and wasn't gunna do much to it other than a bit of a clean up, lower it and possibly throw on a cheap set of mags if they ever come my way.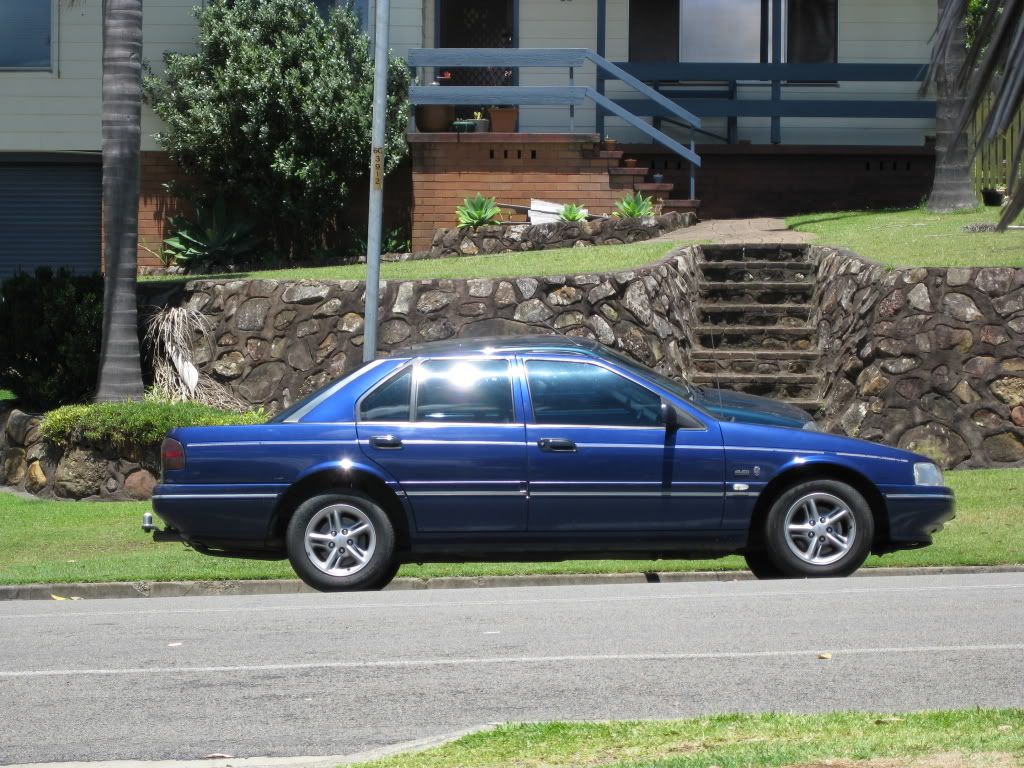 Problem is, I seem to be spending a lot of time on the old Cobalt Blue EB, and I keep finding things I wanna fix or replace.......and so the mod bug bites again!
Now the old girl has potential, has already been fitted with an AU engine, shift kit and a few other little mods like clear indicators and repeaters. But the clincher for me was the tidy interior complete with Ghia Leather and Velour seats. I have been on the hunt for these seats for a while now, and as far as I'm concerned, they just came with a car attached.
Enough of the dribble
First thing I had to do was fix a pretty annoying leak in the exhaust. I found that the leak was coming from the extractor end flange where it bolts on just before the cat. Turns out there was no flange gasket even in it
, so quick trip to supercheap and $10 later, the exhaust sounded nice and quiet again.
I then had to try and figure out the thermo install. They have not been hooked up correctly and are turned on manually from a toggle switch under the dash. I'm still to go and get me a davies craig switch to rectify this little problem, but that's no biggie!
This is what it looks like now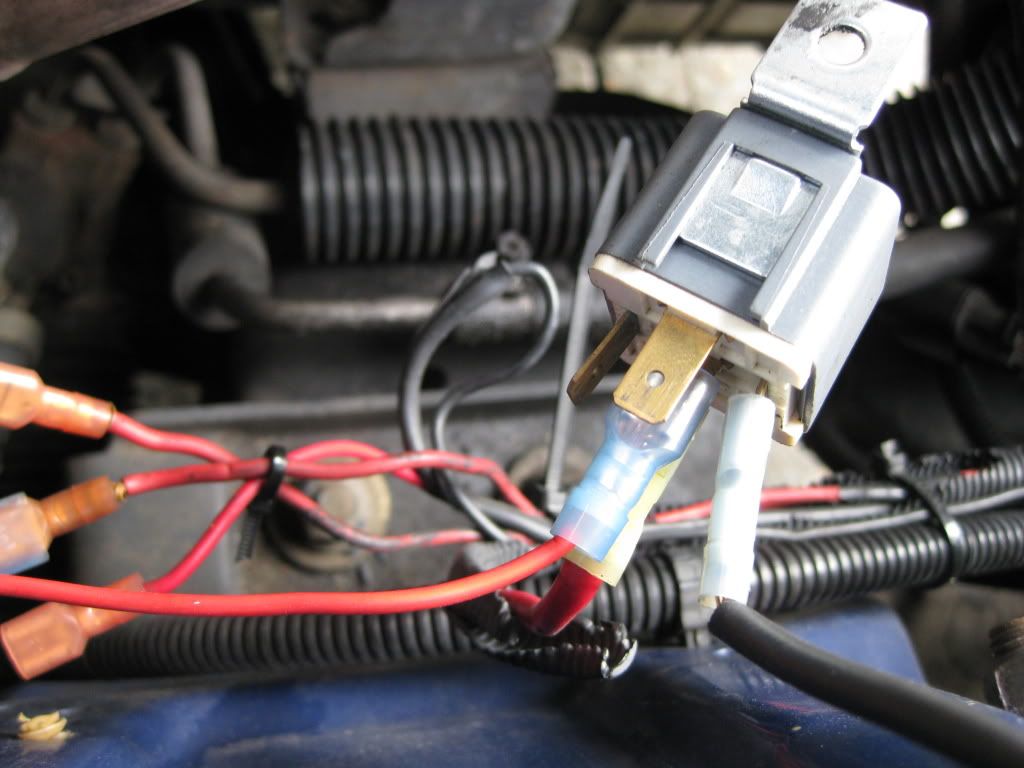 Another thing I like to do is tear the whole interior out and give it a good spring clean. Lucky I did, because I had an episode of friggin national geographic goin on in this car
You can learn a lot from going to this extreme to clean a car. There was broken glass under the plastic trims that cover the seat bolts, suggesting the car had been broken into at some stage.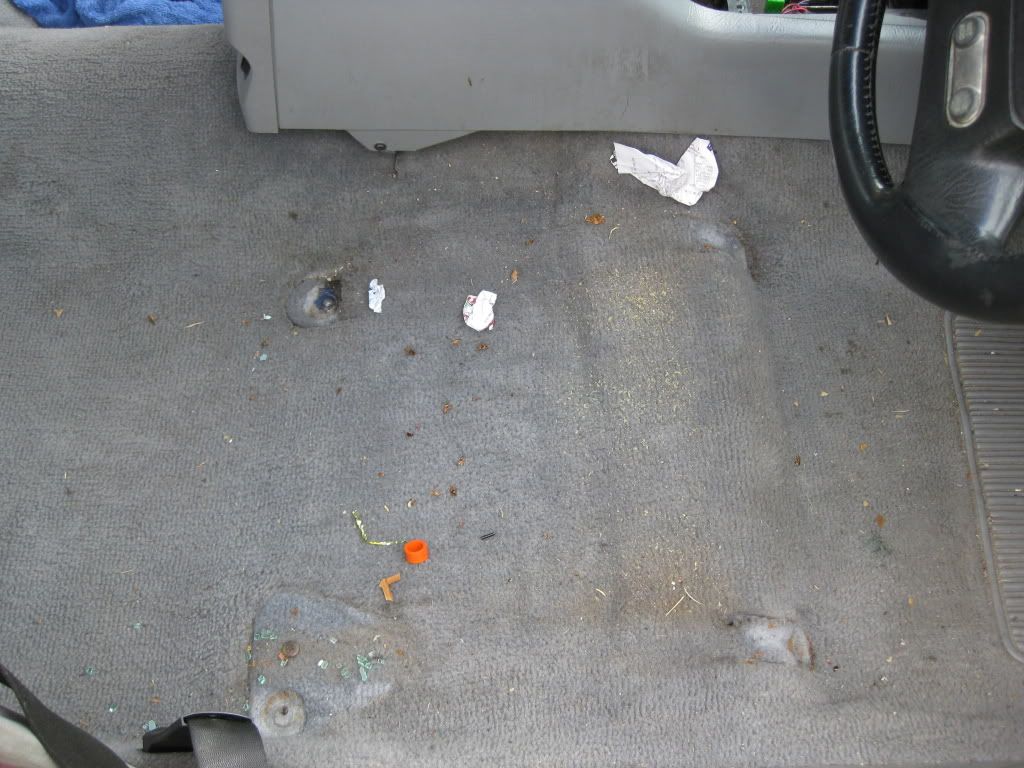 There were 3 redback spiders living under the back seat and in the boot, a plague of friggin dirty little german C**k living under the carpet, and the odd silverfish or two........on a good note, I did find $2.80 in loose change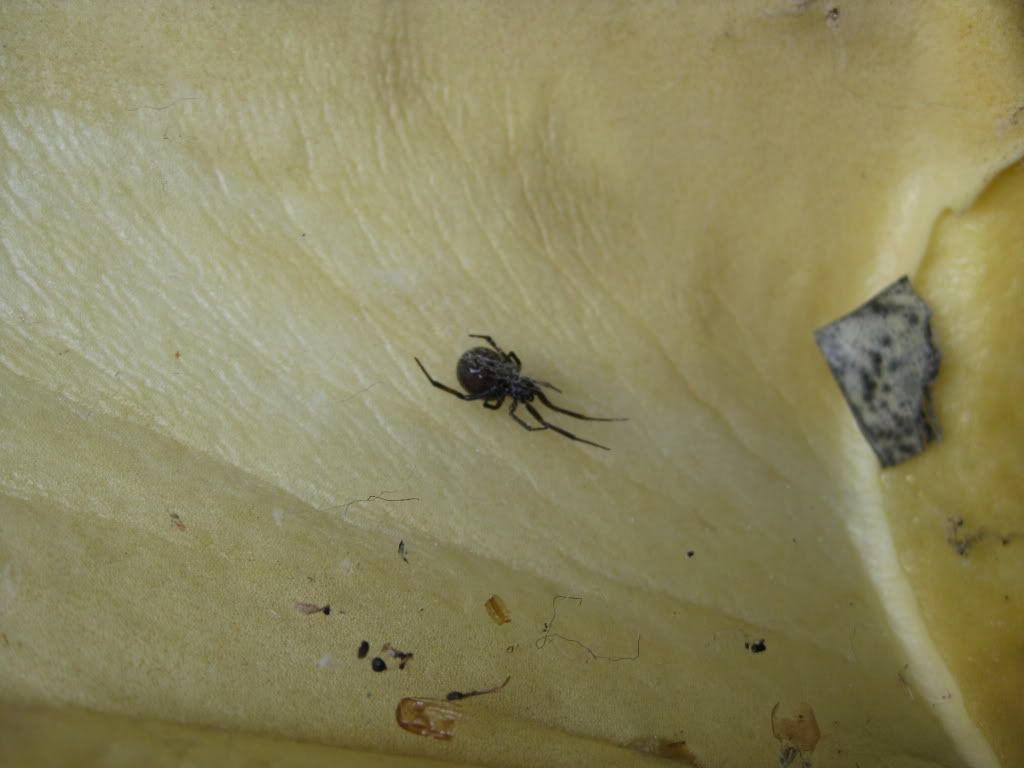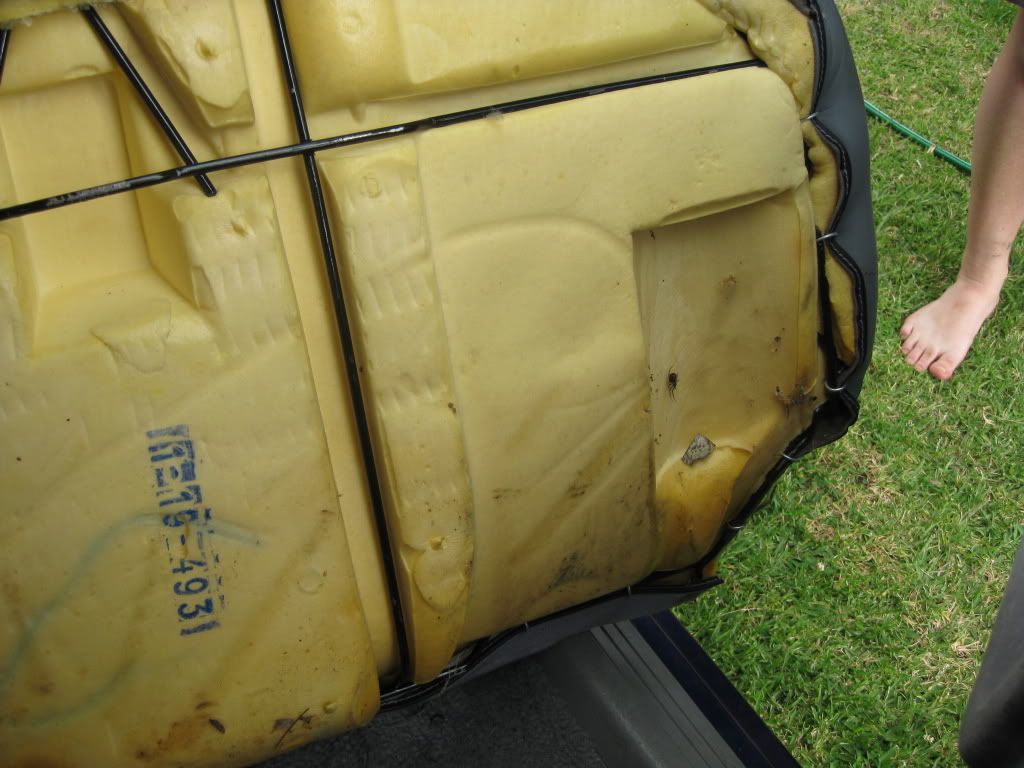 And now it's all clean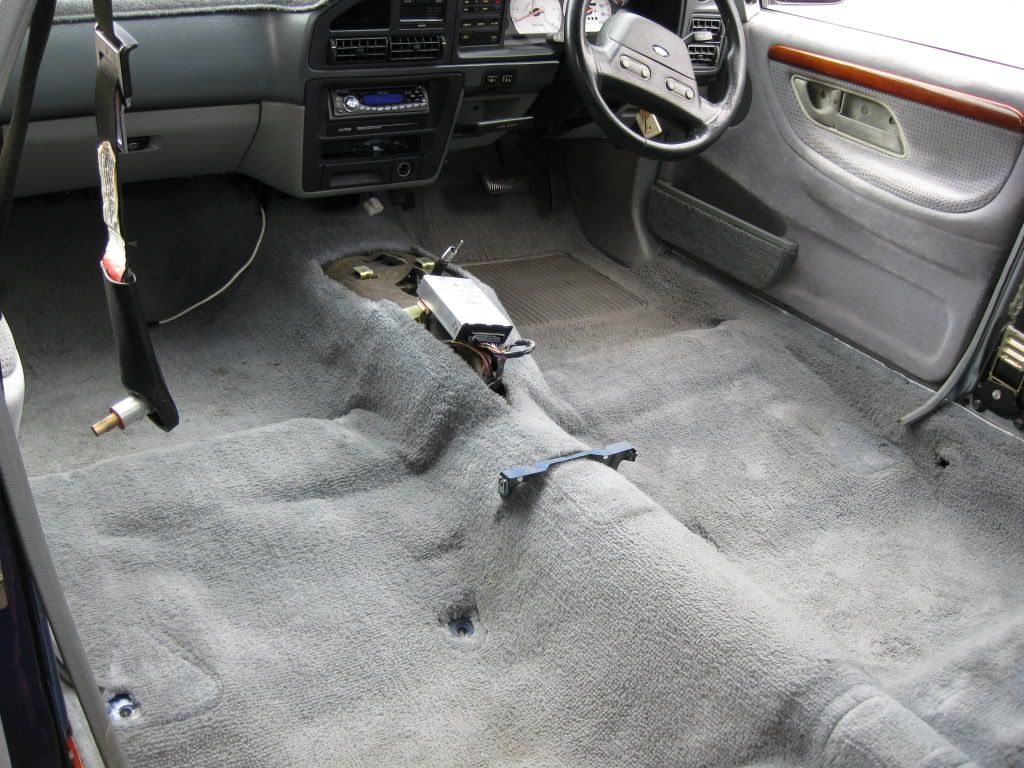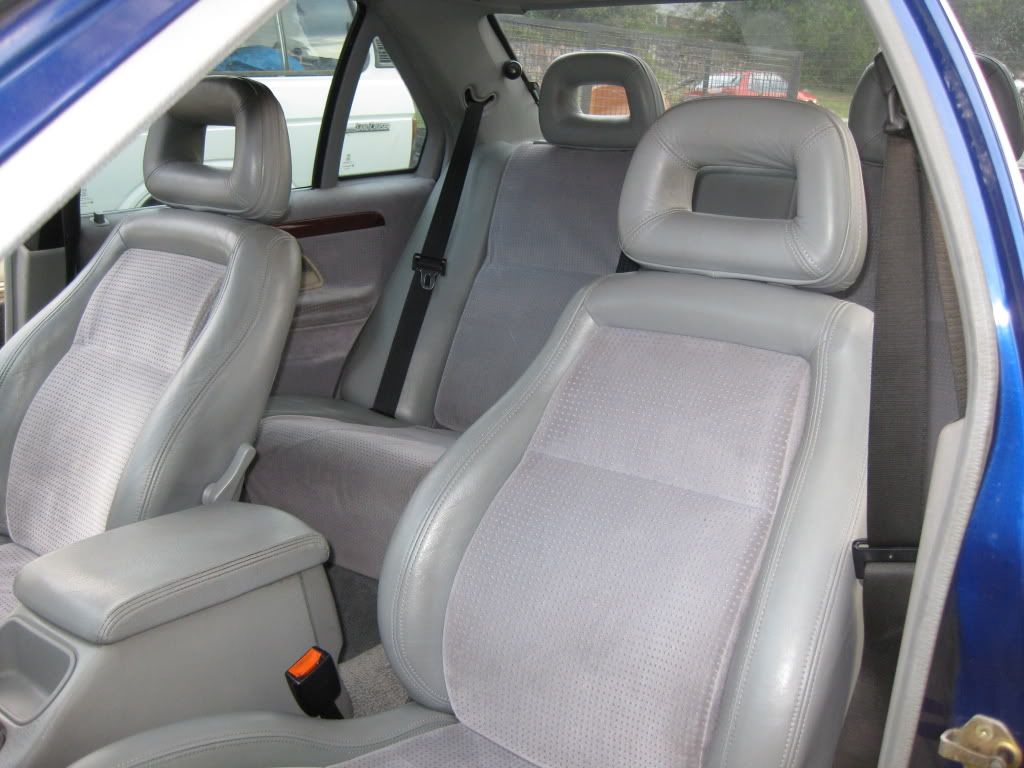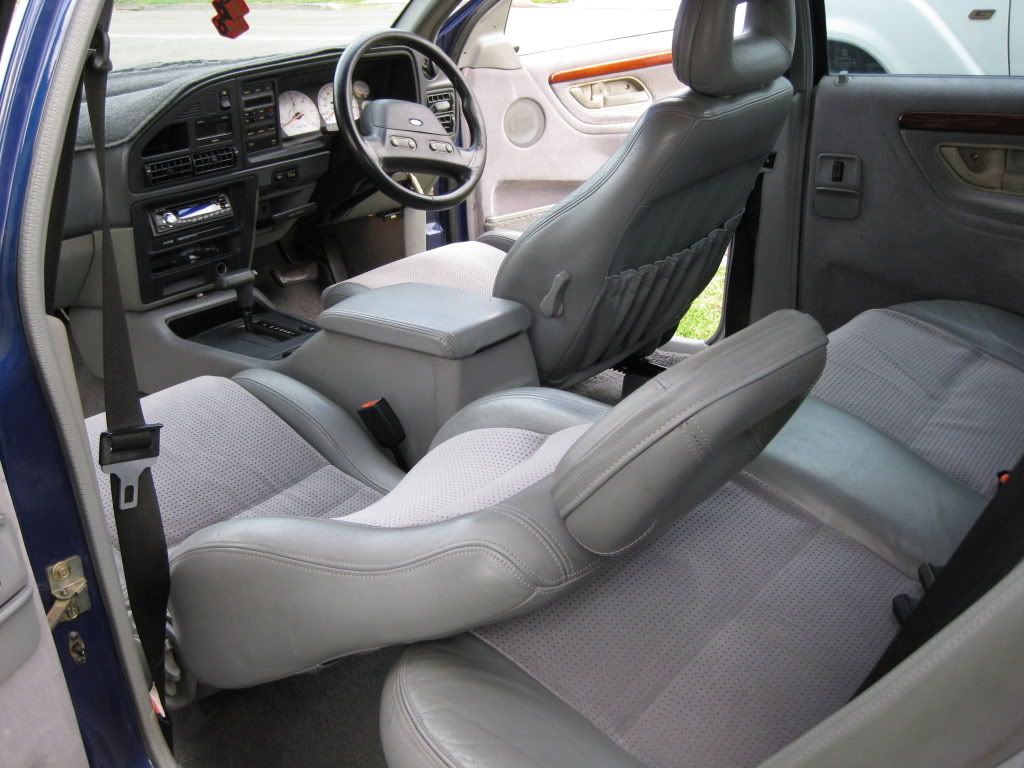 This car also had a few surprises for me. I noticed a bit of coolant was leaking one day and when I pulled the stone tray off, I found that the front support bar of the K frame had been butchered to fit the AU motor, which I have since learnt was common practice, so I'm now gunna get my bro in-law whose a gun welder to fix this one up for me in the coming weeks.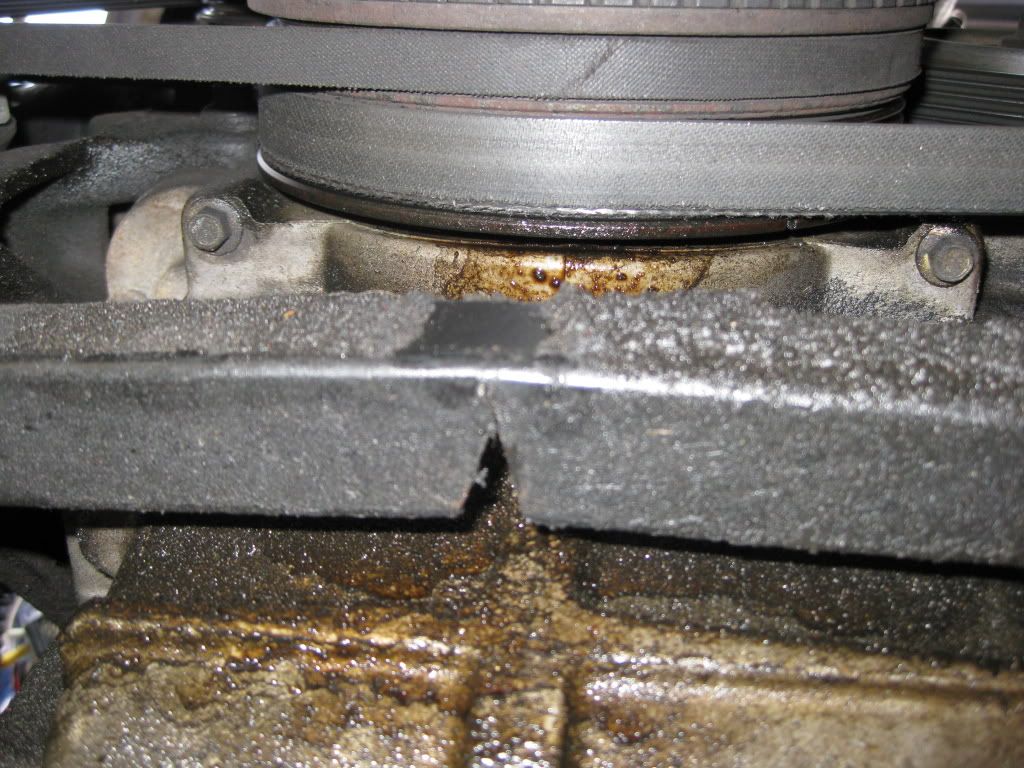 Next was to source some springs for to lower it. I managed to get a set of rear king SL's from SVO-Matt, but I am still on the hunt for a set for the front corners. Now the SL's didn't make it into the Monty, they managed to find there way into the rear of the lane instead
, so the EB will just have to wear the lows from the lane for now. As you can see from the pics below, it really needs a set of SL's for the front
Before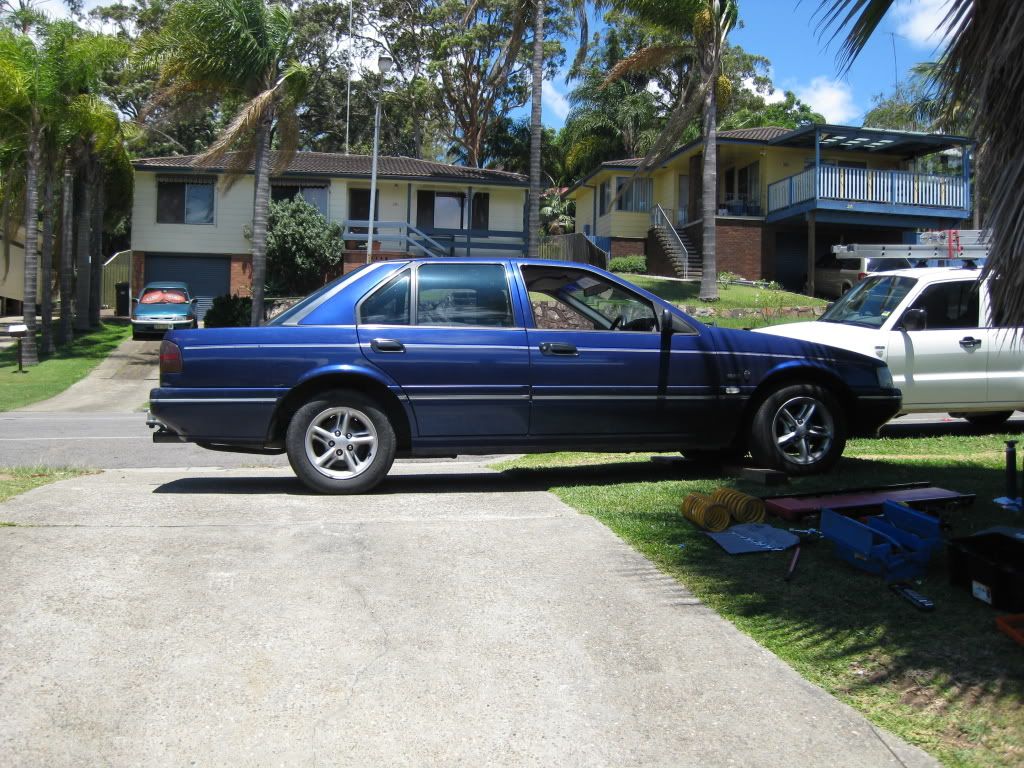 During and spring difference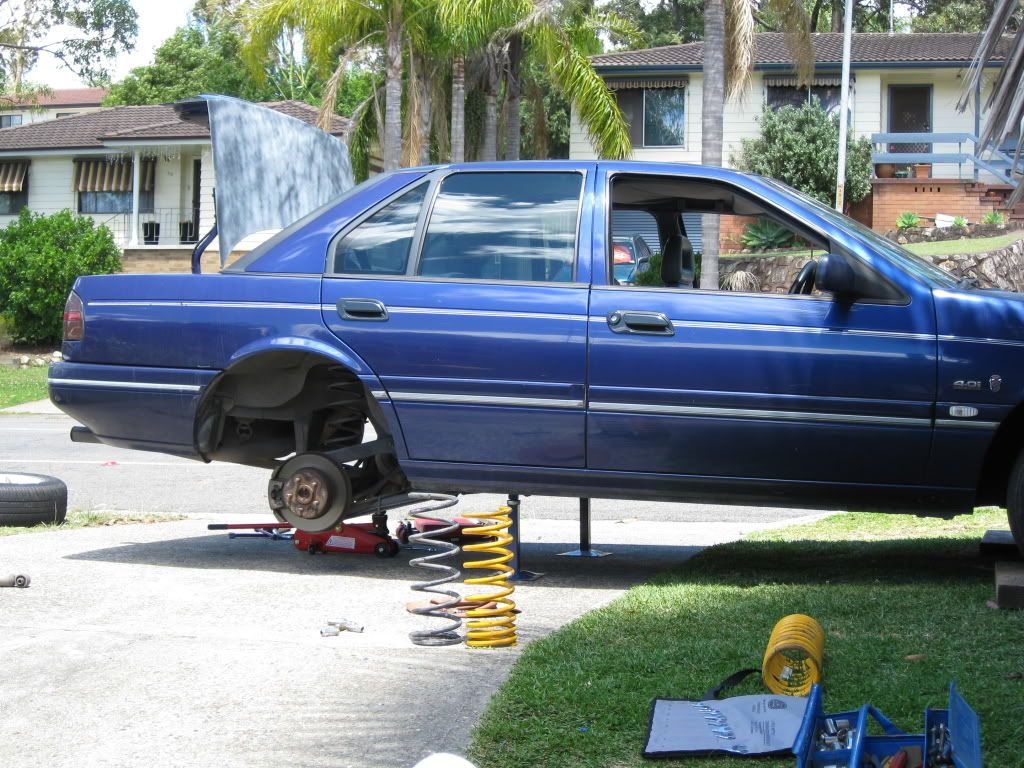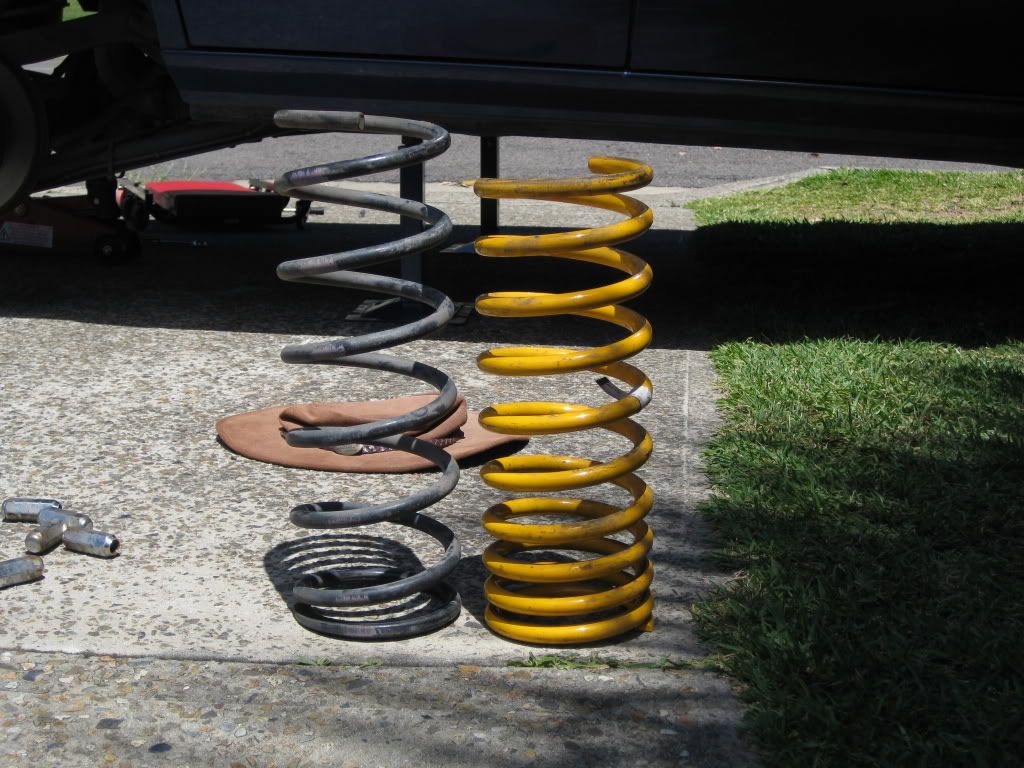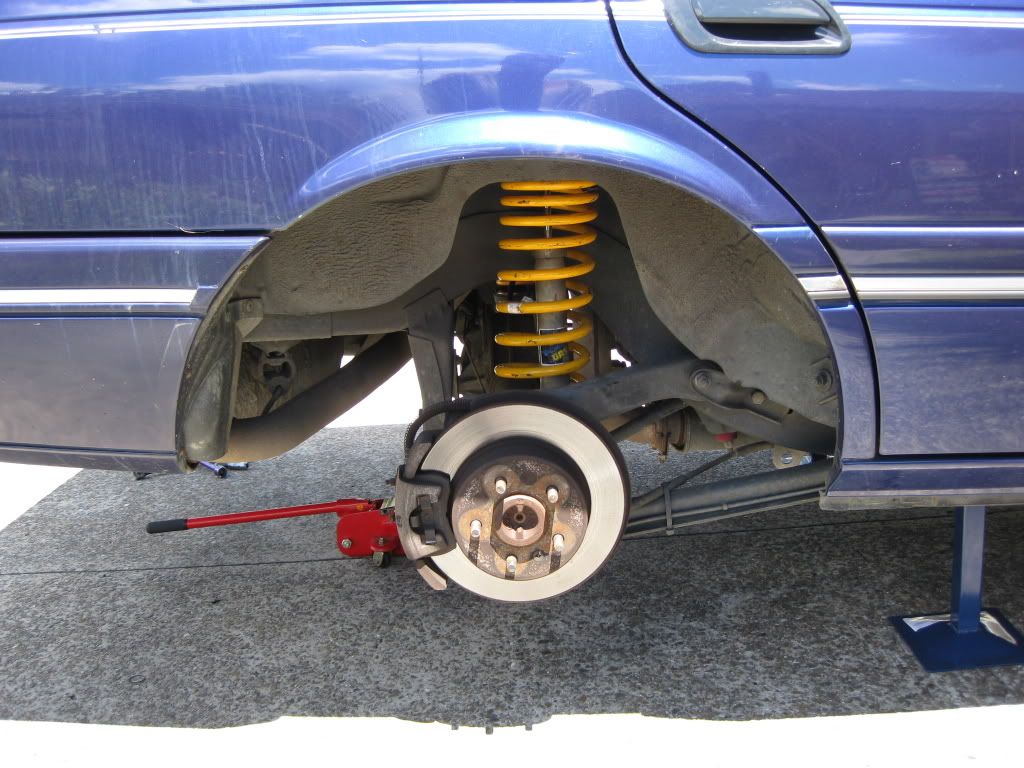 and After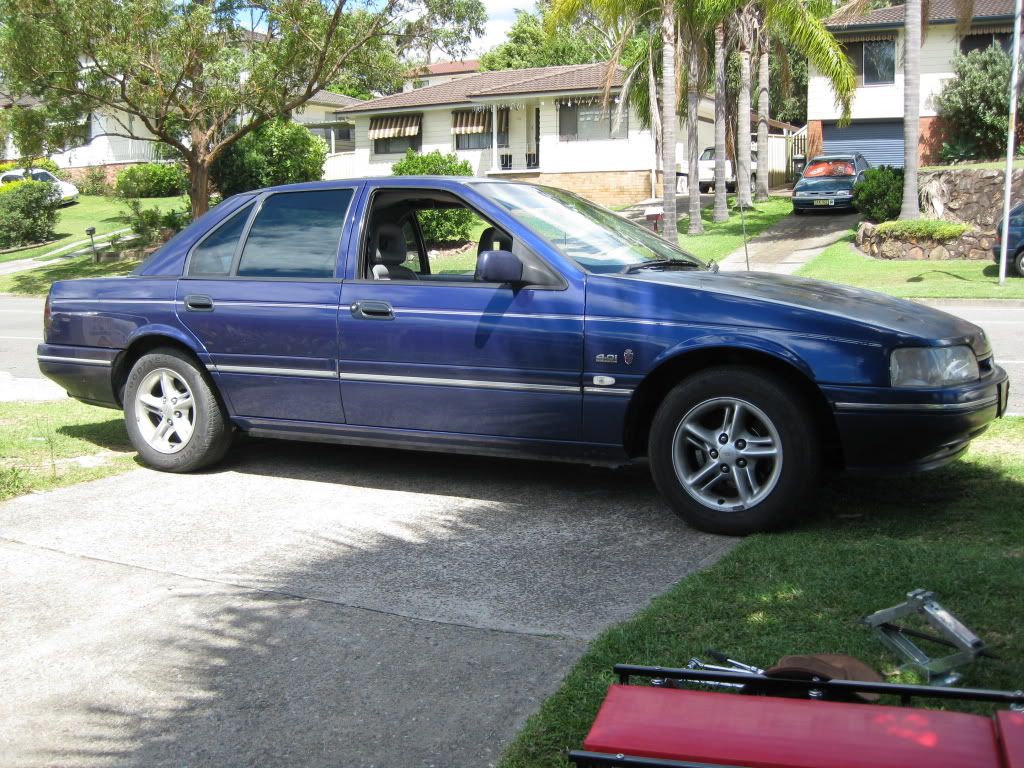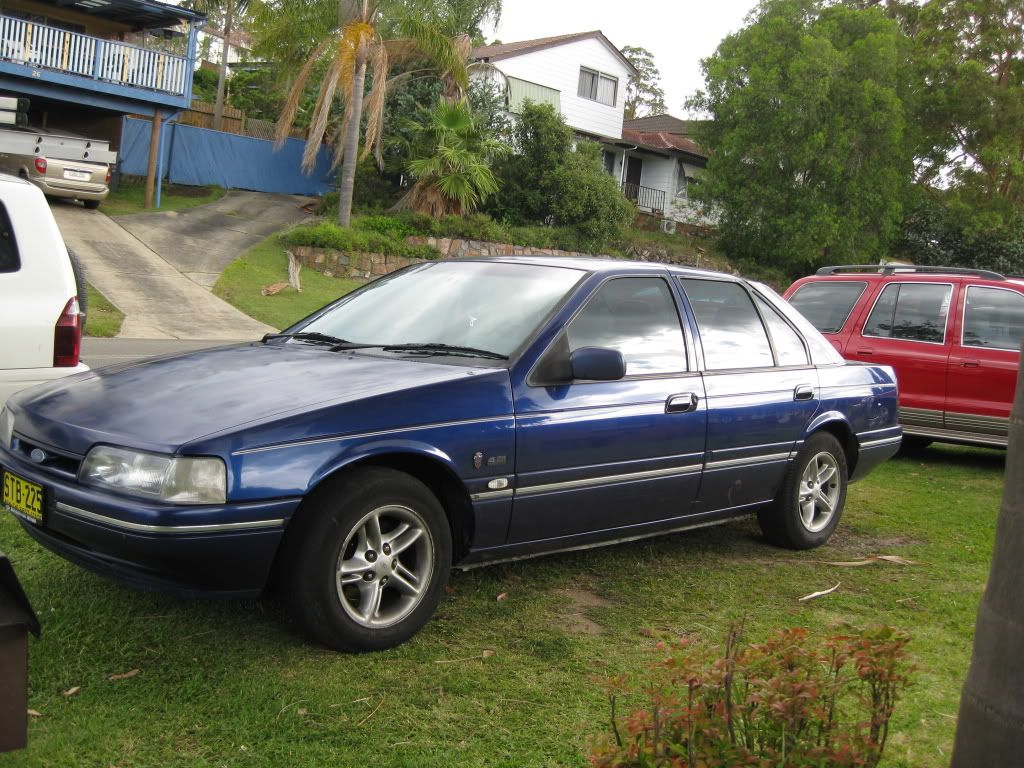 Front deffinately needs to come down now
We have also been having some drama's with the car not starting intermittently. Turns out the problem was with the Auto's safety switch. So I pulled that little sucker out today, pulled it apart, gave it a good clean and a blasting of WD-40 and I reckon I should get another 10 years out of it. Pic's later on this one for anybody interested in what makes up the safety switch
Well! With so many things yet to do and a couple of weeks off over chrissy, I don't think this will be the last time you hear from me about the ongoing saga of the mighty monty!
Cheers,
Mick
_________________


E-Series Fairlane/LTD? forums/post746329.html#746329
Mick's Garage forums/viewtopic.php?t=65504
Last edited by NCIILANE on Thu Mar 19, 2009 11:05 pm, edited 1 time in total.