Hi all
Well I thought I would start a thread on the new toy Mr ED. It is a 94 ED Fairmont. It wound up with the name Mr ED for a couple of reasons. Obviously it is an ED and when I was a kid I was a huge fan of watching the old repeats of the TV show MrED. That horse cracked me up.
Second reason is Im not normal.
Anyway the ED come around because as the members here who have come to my place to pick up some parts would know I have a pretty well modified Ford Maverick 4x4 on 35's with a 5.0 Windsor conversion I did.
I have had a lot of road cars and was missing not having one to go cruising in and the fourby has got to the point that the next round of mods to that will not be cheap and will be waiting a long time.
I was getting bored and needed something to tinker with.
I was originally looking for another XD but the prices people are charging now days for rubbish put me off one. I loved our old EL Fairmont so was looking around for another.
Then I stumbled across the ED. Not having a lot of cash this side of Christmas I was looking cheap and I reckon $400 with nearly 3 months rego on it is about as cheap as it gets! Yep $400!
All the electrics actually work apart from a keyless entry problem and the air con even works.
I picked it up Monday afternoon and started to look over it to find out what faults it had.
Broken right hand engine mount.
Stretched throttle cable.
Stuffed alternator belt.
3 quick cheap fixes I did one afternoon.
On Friday afternoon I took it for a wheel alignment as I noticed the front tyres had scrubbed on the inside. As I know the guys at the tyre service they were giving me heaps about the ride height and the standard turbo blade wheels.
Long story short the boss showed me a set of 17" chrome ANZ Mayhems he had there and offered me the set with new tyres for $899. Luckily I had the missus with me and she liked the wheels cause next thing she told them to fit them up. WOO HOO!!!!
So now it just needs to be dumped.
Some pics of Mr ED at the moment.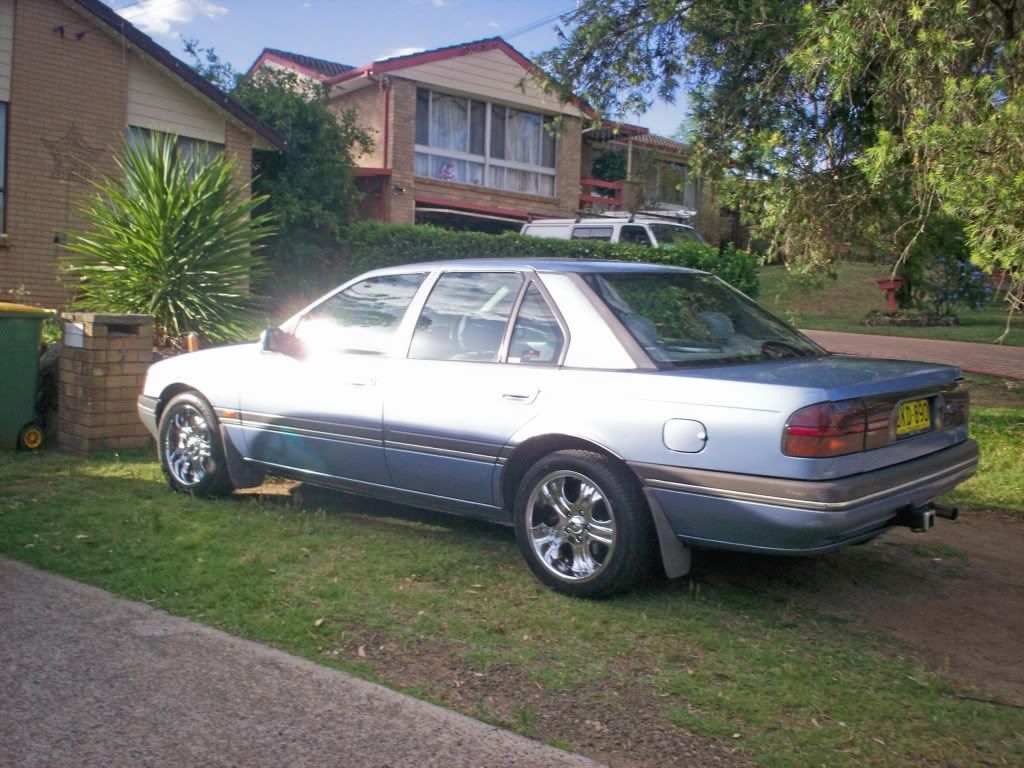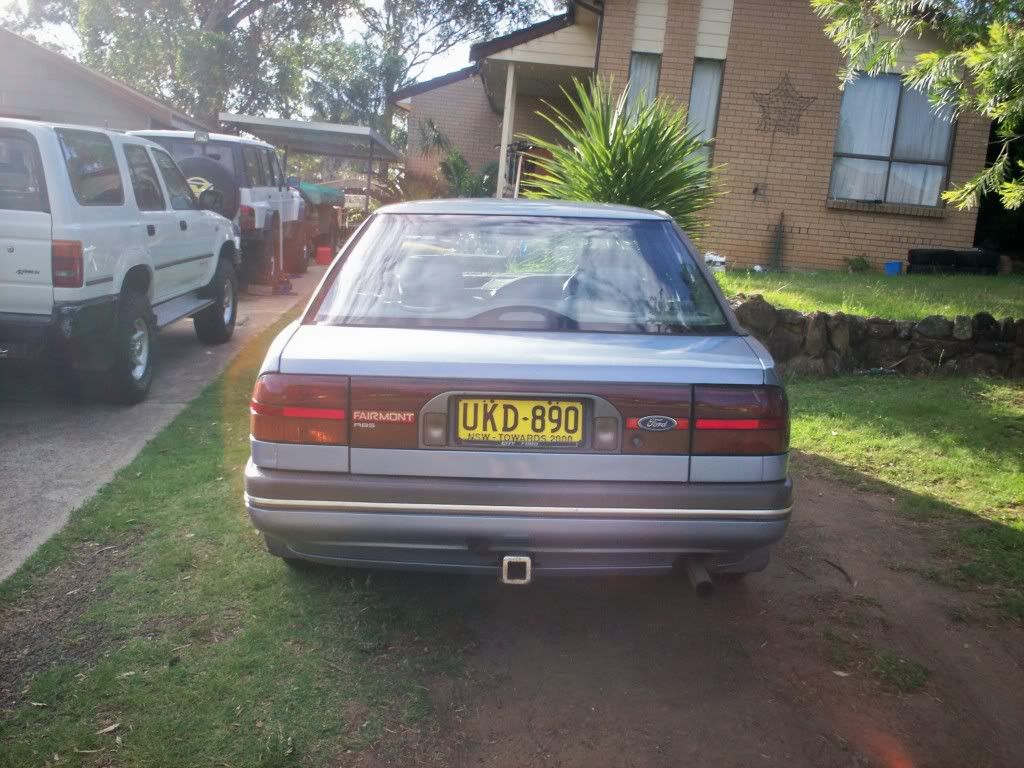 I hate the ED Fairmont chrome grille and want to put a standard EA one in. I also dont like the Fairmont garnish so will most likely change that to a Futura one.
I really need a bonnet for it at the moment cause the one I have is stuffed. The rest of the panels have a few bruises but thats ok cause I have a complete set of panels that are as straight as a die on the EB Fairmont Ghia I wrecked out , they just need painting Biscayne Blue.
Due to changes at work Im loosing my company car so MrED will be pushed into daily driver duties.
The plan for the build is to rebuild the 5.0 from the EB i have sitting here with the full conversion and fit that up. Wont be happening for about 6 months yet. Gotta save up for the stroker!
It will be run on straight LPG.
Over the christmas break I will fit up the EB V8 LSD I have here.
Todays plans are change the front brake pads and put my stereo in.
I alos need to fit a set of EF thermos quick cause I suspect the engine fan is stuffed. 38 degree day yesterday and Mr ED got real hot sitting in traffic in record time but one I was moving and had some airflow the temp dropped straight back to normal. Im thinking theres not major issues there and the fan conversion should fix it right up.
Comments and assistance always welcomed. I hope you enjoy the little ride Im about to go on.
Cheers Matt
_________________
xr6turnip wrote:
More people paid for a ride in a VT commodore then an AU Falcon so the VT is superior.
Based on that fact my Mum is the best around!
Last edited by Matt_jew on Mon Mar 23, 2009 7:40 am, edited 4 times in total.