G'day fordmoders!
Been on this site alot latly, lots of useful information and mods to do to my car. So I thought it might be time to start a showoff thread on my car.
1998 EL Fairmont Ghia with the Tickford hybrid motor.
Finished in sparkling burgandy. With all the extra's minus sunroof.
Basically got it completly stock, no tint no nothing.
Here is a pic with the tint-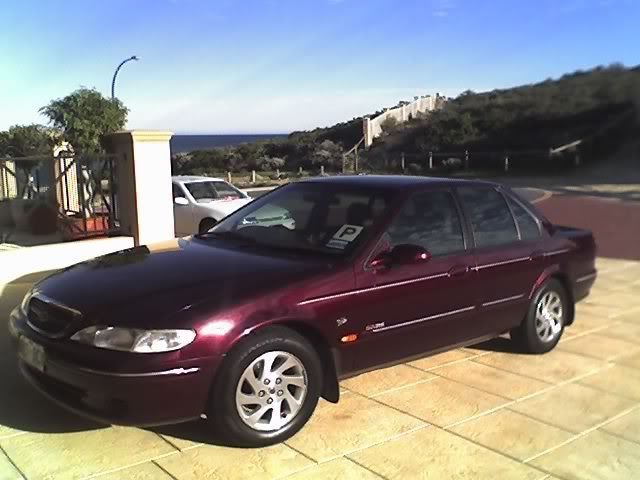 So I started it's modding life and I think she's pretty happy how she stands at the moment.
First off had to get tint to cover my ugly face - Mightnight express with a little bit of mirror in it, but hardly noticable unless on the right angel. Lowered it on superlow and put some 17inch CSA Edges. Clear side repeaters and some other little bits and peices.
Here is a pic of then -
Got bored of the car so I decided to sell up, car never sold either though there was alot of interest. So I decided to put some money into it as it gets me to work and basically is a decent car.
Got a set of Genie SVO extractors with a matching 2.5inch catback. Got 18inch XHP 'boost' wheels, NL Grill, NL cornering lights, DBA slotted rotors with EBC Greenstuff pads, AU Rocker Cover, K & N panel filter, AU XR8 Intake, Clear ricer lights ( Look decent on my car which surprised me) Custom GHIA Floor mats and dash mat, and yesterday the manual EA gearbox went it matched with the standard 3.45 LSD, HD clutch and using the malwood clutch pin kit with the reinforcement plate. I replaced almost everything to do with the gearbox so its all like new, I don't want to be getting it out anytime soon. Got a ELGT shift boot and shortshifter. Right now I am pretty happy with the car, I dont intend to do much more to it maybe a cam and thats about it.
Here are some pic's of it how it stands. The pictures arn't the best but ill have to get some when the weather cleans up overhere.