I thought I would start a build thread on my new project but first a little back ground...
I have owned a lot of cars, everything from my first car an XF GLi through to modified XR8s, WRXs and Skylines. I have loved all of them. While owning my most recent project, an AU XR8 220 Manual, I got the bug to do some motor racing. It is something that I have always wanted to do but funds and time have never allowed it. I have enjoyed modifying road cars but loved the idea of building a track car as much as I did the idea of racing one. Just another way/avenue of enjoying motorcars I guess?
Anyway, my brother and I recently took our daily drives to a Tampered Motorsport track day. Mine a 2014 Pulsar ST-S turbo and his a Fiesta Zetec. We were both INSTANTLY hooked. The driving, the focus and the atmosphere were all great. We couldn't get enough. The cars performed flawlessly and not to shabby for street cars on street tyres I might add.
We attended the next one again having learnt so much about the track and tyre pressures etc on the last one from the very friendly entrants there. My brother bought himself a set of semi slicks (toyo R888) as his street tyres were cheap and horrible on track.
By the end of the day we said we have to build a car each. This was aided by the fact that we saw a poor sole write off his daily driver Honda there, with no way of getting it home. Dailys and racing are not a good mix as they say.
Here are a couple of pics for fun.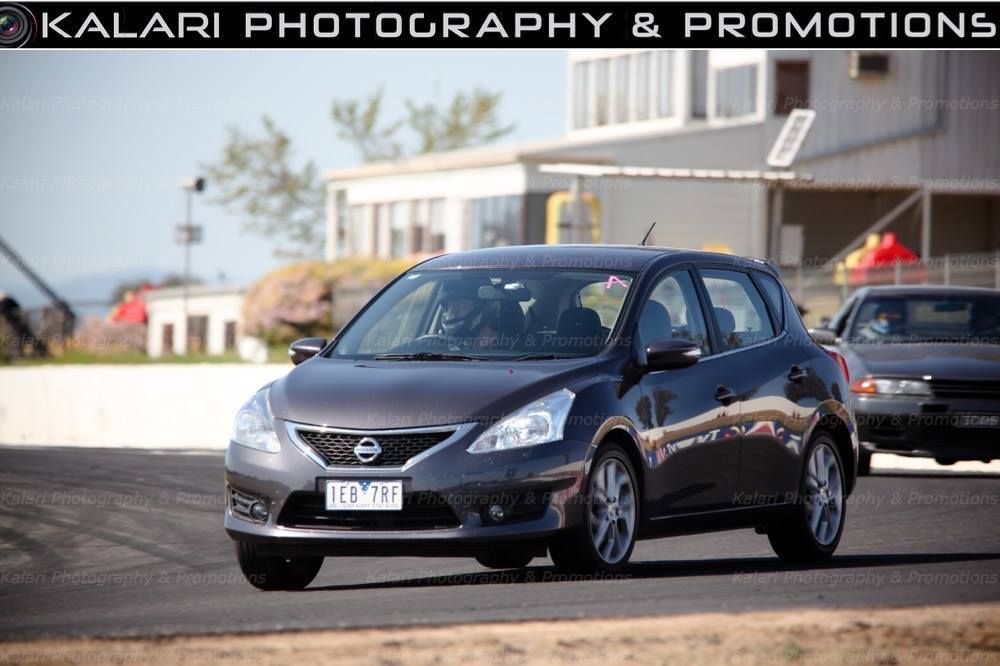 So after that I decided I had to build a car, the obvious choice was my XR8, it was sitting there with lots of good mods. I had been talking a lot to Grippy and CRBrooksby and felt that maybe the much lighter XR6 HP with the live rear end and much lighter starting weight may be a better base. (thanks guys, your help has been amazing!)
Why an XR6, well I love the look and there are a few extras, gauges, alloy tail shaft, better engine, diff gearing etc. Also I can remove unwanted parts and sell them for something such as the interior, not as likely with a Forte.
I thought hard about it, I really did want to run an AU, they seem to perform so well as track cars, are reliable and parts (especially the 6) are dirt cheap.
I sat on it for a while and fate made the choice for me, I had someone offer me very good money for my XR8, too good to refuse (compared to what I paid) and sold it.
I was on the hunt for an XR6 that night and after a while I found my project base.
It was a 2002 XR6 HP manual in Narooma Blue (my favourite), factory manual and the only mods a cat back exhaust and BA wheels.
It had 200k on the clock but drove fairly well and seemed honest enough. The guy selling needed quick cash and was aware of some of its bugs. It has some minor body damage to the passenger rear wheel arch, a couple of key marks, a slight miss in the engine (likely old ignition parts or fuel filter etc) and some slop/slack in the steering wheel. Other that that it was great.
I talked him down to $1800 without plates and the deal was done!
Anyway her is is after just a quick wash. No detail yet but I will get to it soon once the body work is done. That way I can cut and polish out the blending.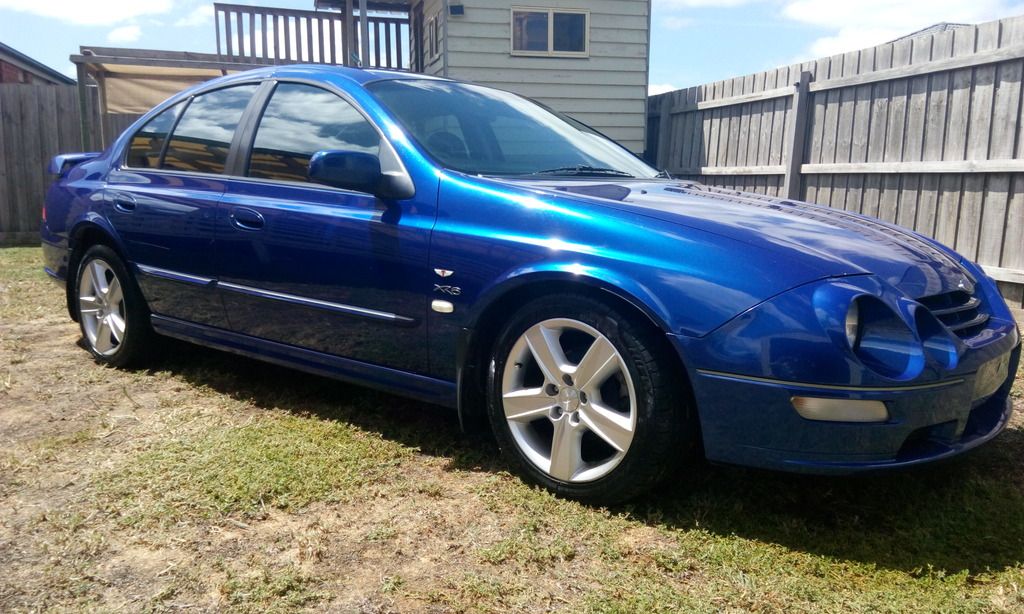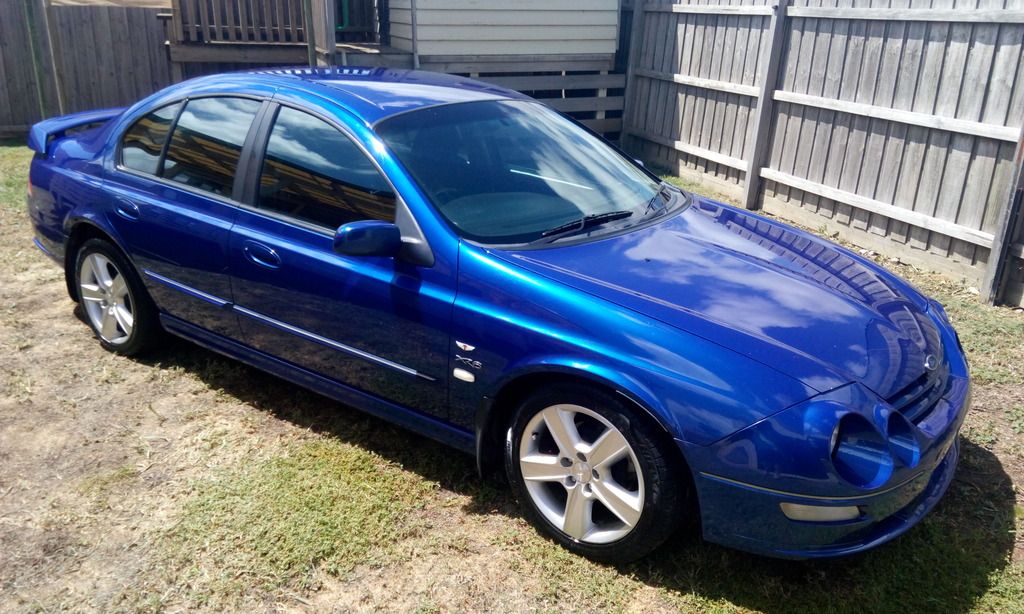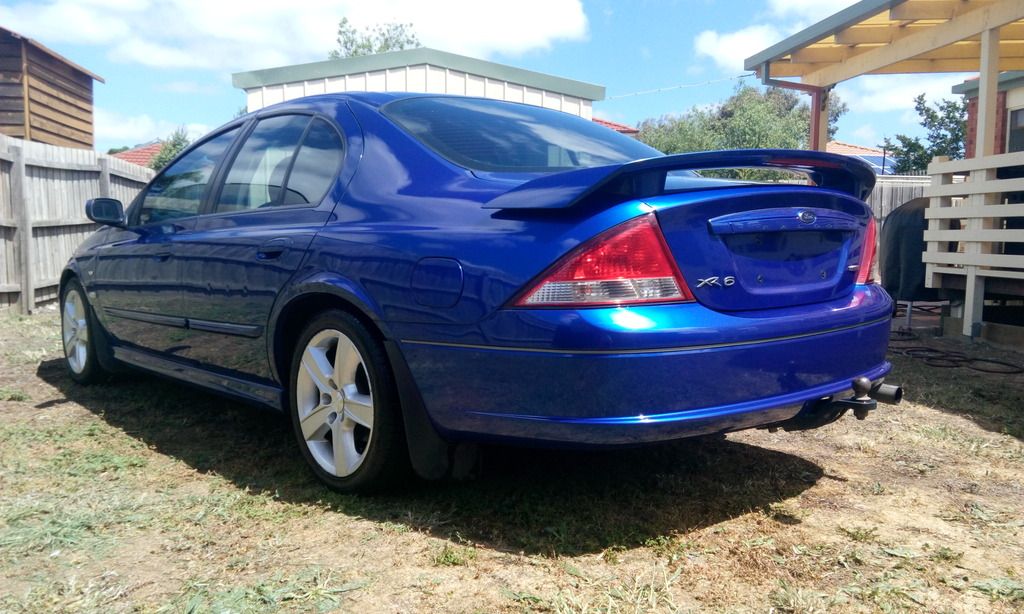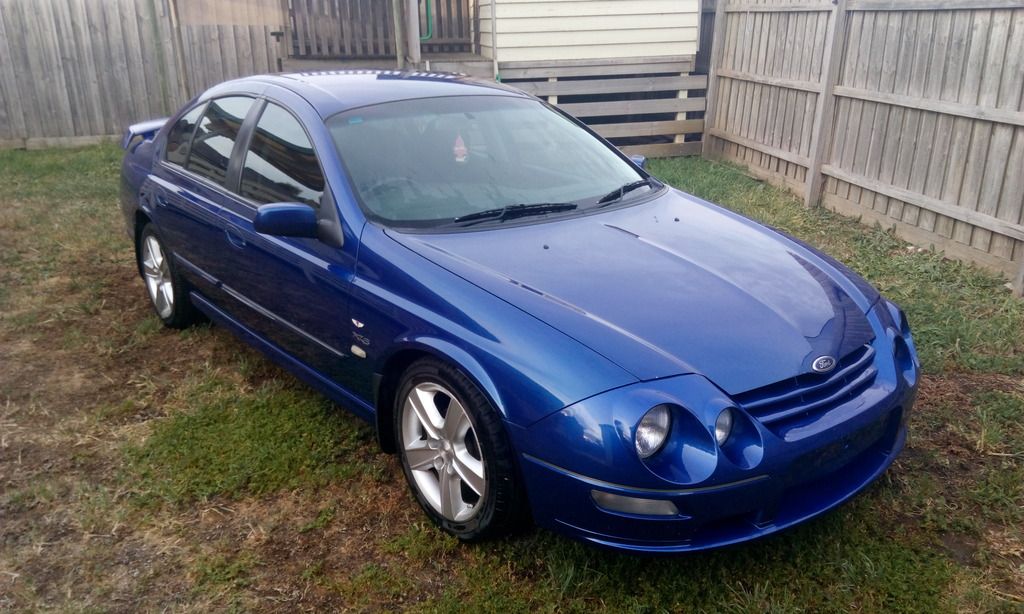 So I am pretty stoked with the base, yes I could have bought an MX5 etc etc but I really wanted to race a falcon and with the price of engines, gearboxes, parts and panels for these things, it is just too hard to say no.
So the plans!!
The car will start off as a club track car basically. I plan to get involved with the FPV&Tickford owners club as well as events like Tampered Motorsport etc and run as many track days and hill climbs as I can.
The plan will be to build a quickish, fun car on a reasonable budget and just get out there and have some fun.
The to do list!
- Fix the wheel arch and tidy up the key marks and stone chips etc
- Sort out the play in the steering wheel
- Find the miss, replace all ignition, fuel components, new oils all round etc
- Strip out the interior
- Fit a race seat with harness
- Half cage
- BF Turbo brakes all round with braided lines and track focused pads and rotors
- New shocks and springs (yet to decide on combo) with standard sway bars and superpro bushes
- Camber kit to get as much neg camber as possible
- Bonnet pins, extinguisher and sticker kit
- Extractors, no cat and half exhaust exiting out the side
- Intake modifications
- J3 chip
- Cam and head work down the track.
- Short shifter kit
- Much more no doubt!!
I expect it will take me 12-18months to get it onto the track, I am really looking forward to the build so wont be rushing it.
I also need to sort out a car trailer.
Thoughts so far? Thanks guys!