G'day Guys,
This is my EF XR8. I bought her a few years ago and decided she needed some balls. I decided to go the blower route as it seemed simpler and effective while adding a dimension to the bay.
Anyways, I started off with the head unit, i bought a V2 vortech with a T trim Upgrade. Then i bought the pullies and bracket from Capa. Then the rest of the gear was purchased, Ported Cobra Manifold, Walbro Fuel Pump, 42lb injectors, malpassi, Marauder 80mm MAF, BBK 75mm throttle body and EGR, screaming demon coil and Dynamod ignition module.
I ended up making my piping up and i eventually plan to get it intercooled.
All tuned with SCT Eliminator Chip (capa) it made 307 rwhp. After 2 weeks the gearbox died on her so I got it rebuilt and Beefed up. Anyways enough Jibber Jabber and time for some pics.
piping being done
engine bay as it stands
car itself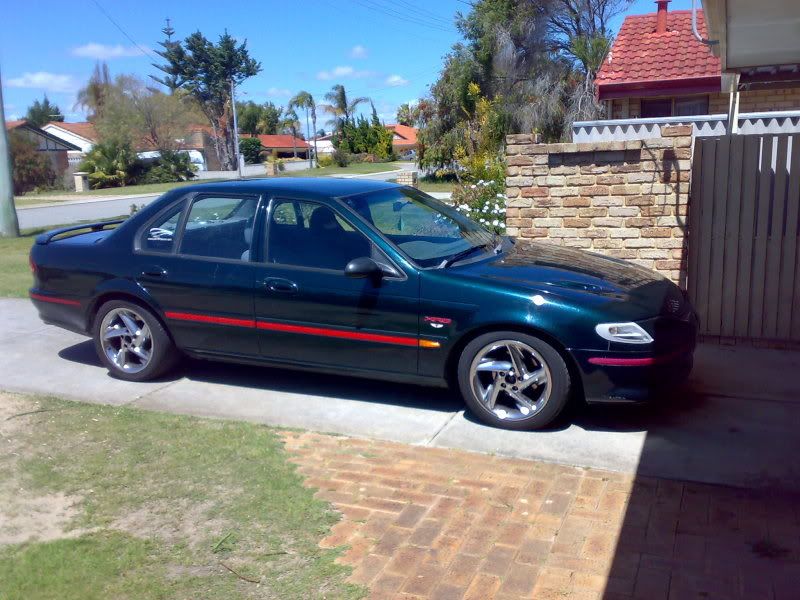 Best time out the car so far is a 13.2 @ 105mph which i am wrapped with. I dont see it getting any faster unless i lose a few kg's (im around the 150 mark
).
_________________
Because of Beer, Thirst is a Beautiful Thing!

'95 EF XR8 auto, Advance headers, 3" exhaust, Cobra manifold, BBK 75mm throttle body , 80MM Marauder MAF, Vortech V2 T Trim , 307 rwhp, 405 ft/lb 13.2 @ 105 MPH

Now N/A (permanent Lag) - AFR 165's, Comp XE270 cam, 1.6 RR - 269 rwhp 14.1 @ 102mph.