Hey everyone
Thought I'd start a build thread for my car, it will be a slow build thread as I don't even have a job! haha (still in year 12) but I can still get money slowly
Well a few weeks ago (Mar 12, 2009), I got my first car. Its an EF series 2 fairmont ghia for $1400 ungreisted, 280,000km's, engine didn't want to rev past 4,000 RPM, water leak, air conditioner not working, heater not working. Other than that everything seems pretty sweet. Gearbox shifts smooth, LSD seems tight (locks up in carparks, draws 11's instead of 1's)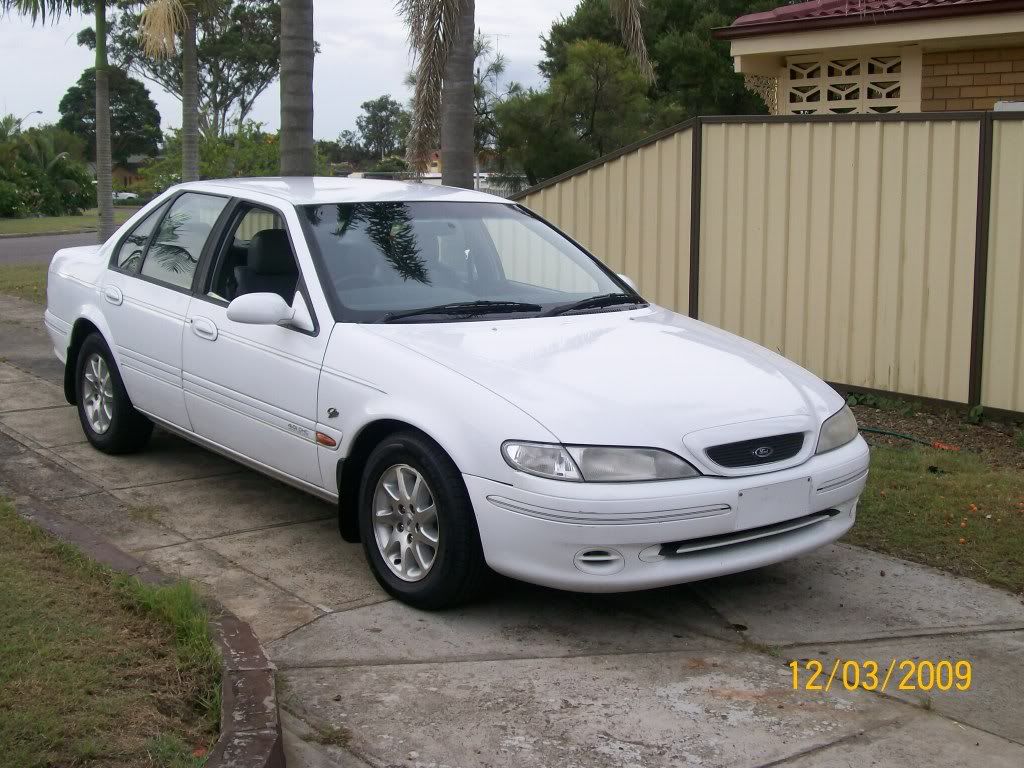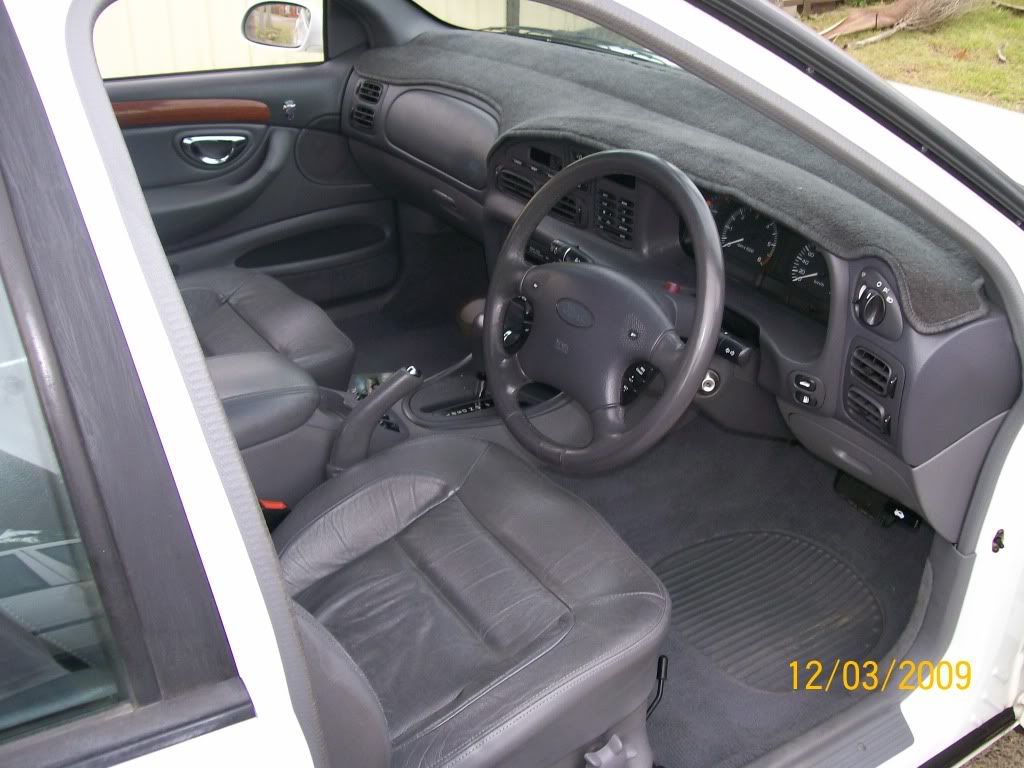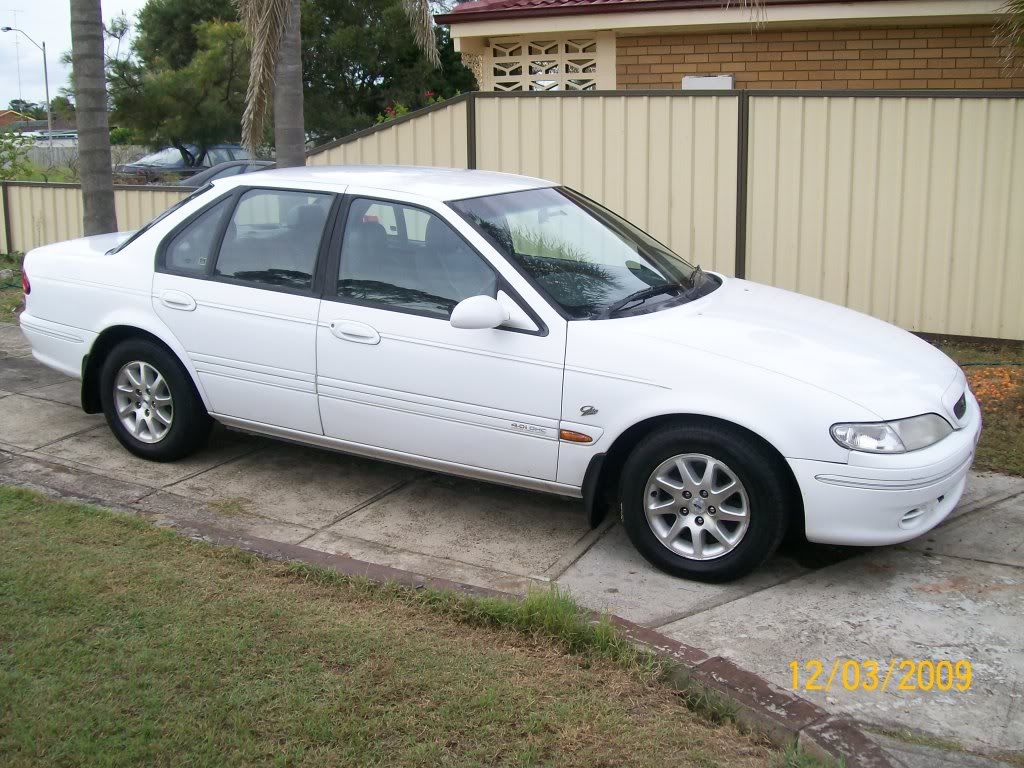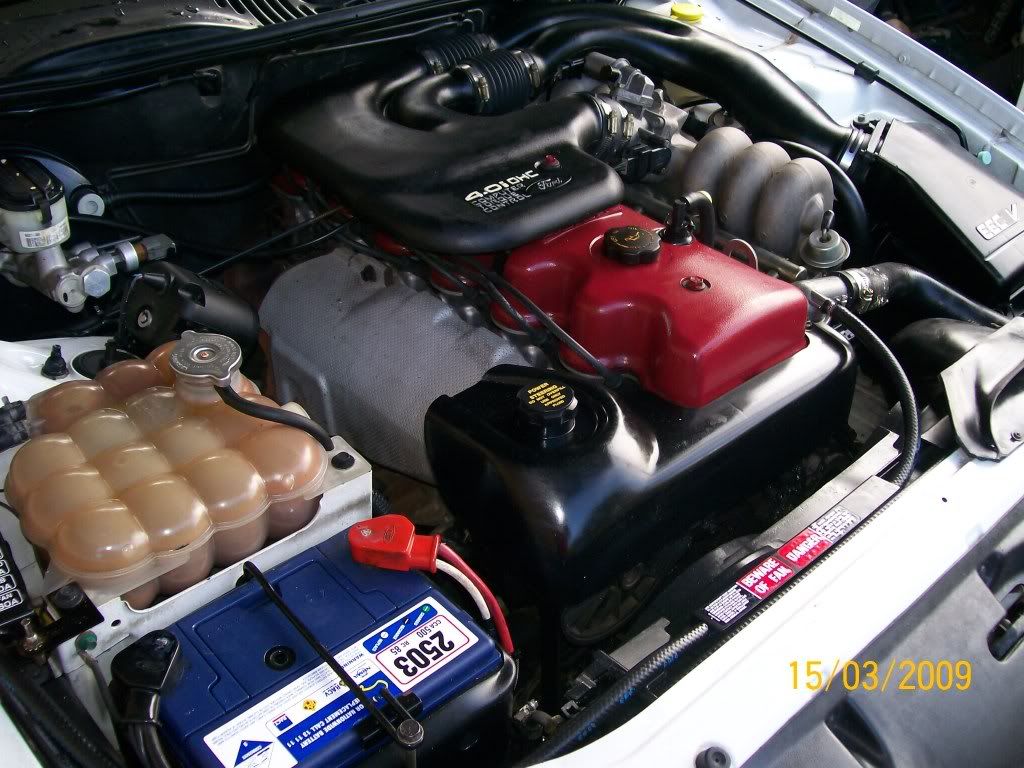 So before rego, I went over the car and fixed all problems I could find and was able to fix myself...
With a water leak, and engine not liking to rev out... I thought it was possible I had a blown head gasket... So I took the spark plugs out, did a compression test and got these results;
6-180
5-185
4-195
3-195
2-190
1-190
Looked good to me.
While the spark plugs were out, I noticed they were pretty worn down and should probably be replaced... I measured the gaps at about 1.5mm+... so I re-gaped the plugs to 1.0mm, take the car out... it now revs past 4000 easy
So thats that fixed, next problem was the water leak.
While having the car parked in the drive way, I filled the over flow tank right to the top with water, I let it get up to operating temperature... then looked under the car... couldn't see any leaks besides the water coming from the air conditioner...
Within the next couple of days, I decided to degrease under my car... clean the sump and K-frame.. so I Jacked the front end up, while I'm under there wiping things down with a rag... a drop landed on my arm... I found my leak
it was the short bit of heater hose, about 6 inches long.
Went down to super cheap, bought myself 1 meter of 19mm heater hose.. $14.95...
Went back home, and after an hour or 2 trying to pull the heater hose off... I got it replaced, started the car and let it build up to operating temperature... and the leak is gone, the coolant system now holds pressure
Ok, next problem was the air conditioner was not working..
Press the A/C button and noticed I don't even hear the "click" from the magnetic clutch engaging, went and checked it and sure enough it wasn't spinning.
Went through my EF/EL ellerays book looking for fuses etc, couldn't find anything so I decided to test if there was any power getting to it... As I look for the connector I found it disconnected from the A/C pump... plug it back in, start the car up and turn the A/C on and the clutch is spinning.. yay, another problem fixed without money spent on it
Heater still isn't working, but I'll worry about that more when it starts getting colder
Next thing to happen was get it registered
So I went over the car, checked everything out... decided to do an oil change as it wasn't recorded anywhere when it was last done... better to be safe then sorry.
Found the front blinkers were blinking yellow, so I put some new globes in.
Found the exhaust was leaking, the previous owner had put an oval shape pipe into the standard round pipe and sealed it with gasket gue
The exhaust had broken just after the wheel on the last sharp bend... they put a strait piece of pipe in its place.
So I pulled the exhaust off my dads EA, which had the same problem but it had been welded up... for some reason the pipe didn't seal properly into the back of my exhaust... but I thought I'd take it down and try getting it registered anyway.
Took it down, and it failed... and yep, it was the exhaust...
I was eating macca's with dad and parked looking towards a wheel shop, and noticed a bin full of old exhausts... so I thought I'd have a look in there, rather than paying for a new exhaust... found the piece I was after.
Put it on my car
Took it back to get registered and it past.
Less than $2000 to get this car on the road, I'm pretty happy
So it had been a week or 2 before I touched my car again, I decided I didn't like the front grill... It looked like it had been painted with house paint and it was starting to flake off, I noticed in spots there was chrome under the paint..
So I spent an afternoon with a paint scraper, scraping all the black paint off the grill and come up with this;

And this is from yesterday
I think it turned out pretty good, just don't look at it closely otherwise you'll notice all the little stone chips
I then decided I wanted to lower it, my dads old EA had some low springs in it so I attempted to install them.
Got both front springs and shocks off the EA easy, got the passenger side shocks off easy... went to take the driver side shock off and its stuck.. the main bolt at the bottom of the shock is glued or something, it just wont come out... I've belted it with a sledgehammer and a long peice of metal lined up aiming at the bolt... it wont budge..
So for a day, I drove around with one lowered spring and 3 standard height springs... and to my surprise it didn't feel any different, just one side could corner sharper than the other... didn't put my wheel alignment out or anything. This was yesterday, and that's the shorter springs and shock installed in the last photo above.
I put my standard shock back in last night, and realized that my dads old EA springs had been cut... not lowered like I thought.
I'm not sure what height I want, either super low's or ultra low's... does anyone know what size that cut spring looks equal to?
Anyway... that's the long and detailed story of the life of my ghia since I've had it, hope someone enjoys reading it
Cheers