Hey all
I used do have a thread for one of my cars buried deep within the ford mods garage somewhere but I'll start this one for all my cars past and present and hopefully keep this one up and going.
I was just about to turn 18, dad says to me what car do you want. At the time I didn't care if it was a falcon or commodore. After looking at quite a few cars I found a car that was perfect, a 1995 Cardinal Red EF Fairmont 4.0 with 160,000kms on the clock, 16 inch ROH mags, EL Grille, 2.5inch exhaust, I got it home after a roadworthy and she looked a little dirty. But after a wash and a vacuum she looked a million bucks and she only owed me $2,500
After driving it around for a while I soon wanted to modify it, that's when I come across this site
My first mod was altezza taillights, now love them or hate them they seemed to look good on the car and I was happy with them. Next was lowering, I lowered it on King Spring ultra lows with pedders lowered shocks. It looked good, but around about this time I had a small mishap on a gravel road in the Otway's which ended up causing $900 damage to the front of the car, since that accident I have a new found respect for gravel. Next I got a custom instrument cluster off the net and installed that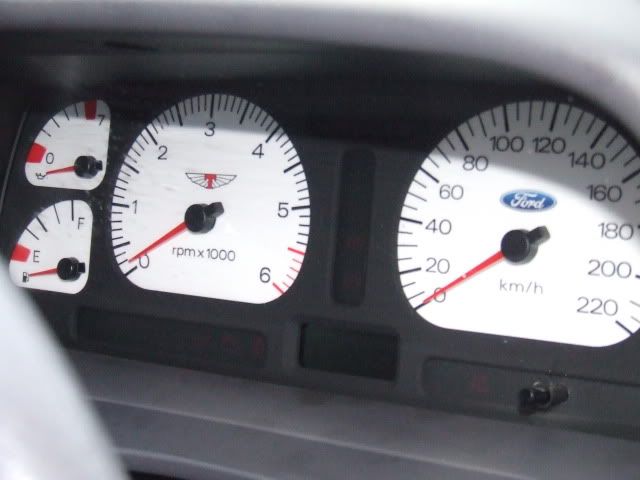 Next came the stereo, I had a Kenwood HU, 12 inch sub, 6X9 speakers, and 6 inch speakers all amped. I also installed neon's under the seats (yeah I know it's gay but I was 18) Next was performance, I got my hands on a tickford head and rocker gear and installed it all along with a Wade 1636 cam, heavy duty valve springs, and AU 19pb injectors. Then came exhaust, I went with Pacemaker 4499's, stainless high flow cat, and custom 2.5 inch catback. It sounded really good, especially high in the rev range. Next was the AU XR8 snorkel and K&N panel filter, which gave a little more throttle response. Finally was the electronic shift kit, all this made quite a potent six. And it was a hit amongst my friends and everyone used to love the way it used to sing high in the rev range.
I also added Fairlane turning lamps, Ghia leather steering wheel, Ghia chrome door handles, BA Fairlane bonnet badge and custom door trims. I also got custom plates TUFF4D and they went on the car too. I was very happy with the car and started to save some money to turbo it. However I caught the V8 bug and so I began looking for a 5 speed EL XR8. All Ford day come around and I cleaned it up and entered it with the ford mods group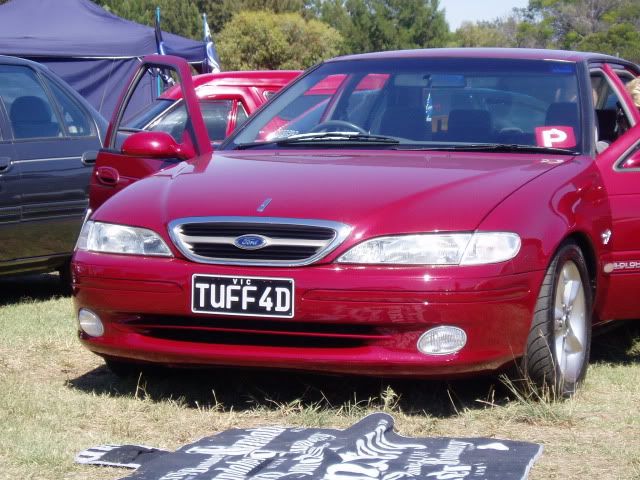 Not too long after I was searching on car sales and come across a beauty. 1997 Sparkling Burgundy EL Fairmont 5.0 with 180,000kms on the clock, 17 inch wheels, catback exhaust, genie extractors, and best of all, a 5 speed manual conversion.
Me and dad drove up to Bendigo and bought it for 7k. First thing I did was put the turning lamps, leather steering wheel, chrome door handles, TUFF4D plates, and ultra lows with the shocks into my new car, and I put super lows into the EF. I sold the EF not long after my 19th birthday for $5,500. And I at the time I didn't miss it one bit, I loved driving the V8 manual around, it sounded nice, had plenty of power, and best of all It was faster than my mates cars .
Just Like last time the mod bug hit. I had a AU XR8 snorkel, K&N panel filter, 10mm Top Gun Leads, Iridium Spark plugs, and 5X19 inch FG GT wheels wrapped in Nexen tyres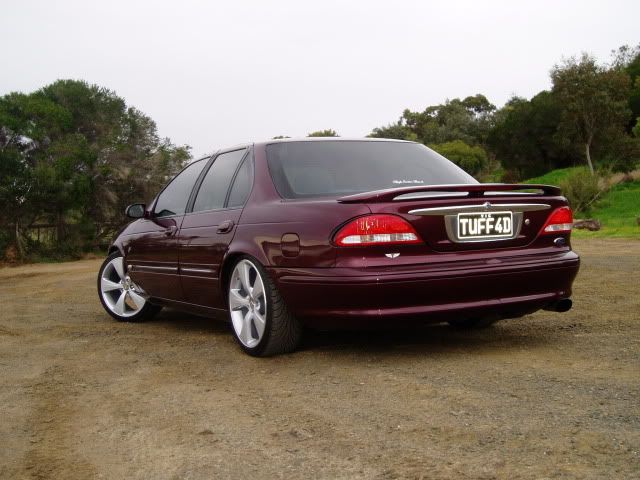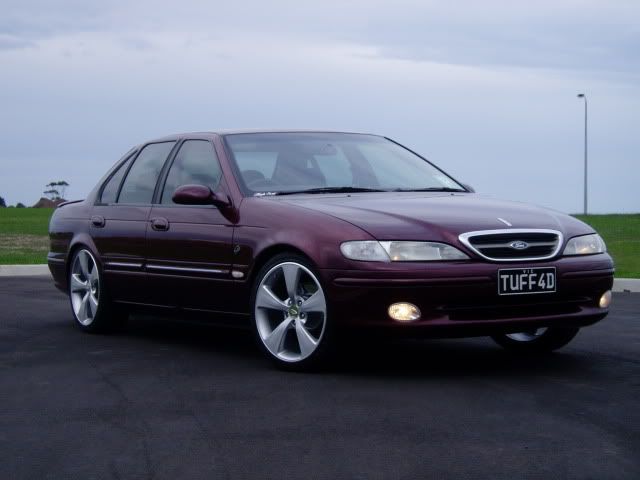 Around about this time I also got much of the paint touched up and a new BA Fairlane bonnet badge. Next things I did was replaced my old cats with high flow stainless ones, and I also had some custom springs to send her even lower and replaced the chrome trim with new stuff 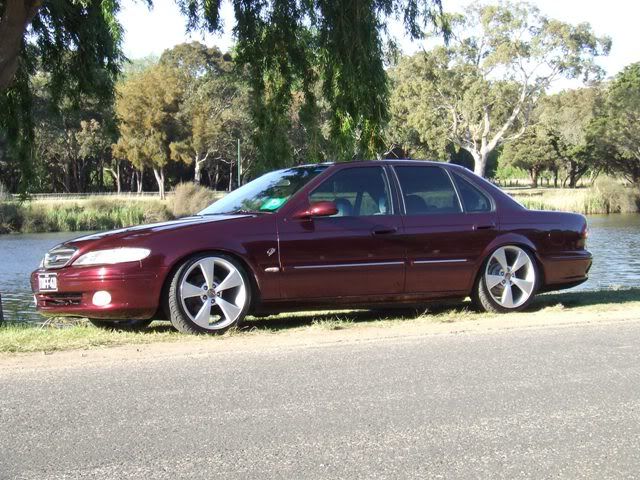 Not long after I acquired a full Ghia interior out of a wreck. So I got the carpeted kick panels, leather seats, leather handbrake, and the leather door trims, which I customised by removing the wood grain section and swapping with my old door trims, I also wired in the door lamps, and put a switch in for the turning lamps which also illuminated the fog light on my dash, I also got a new spoilerless boot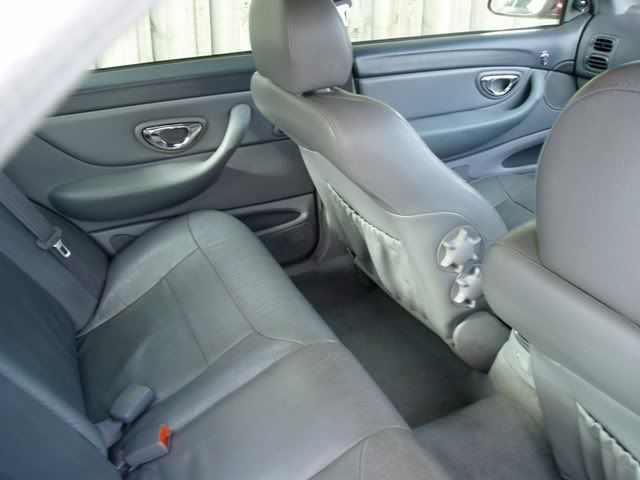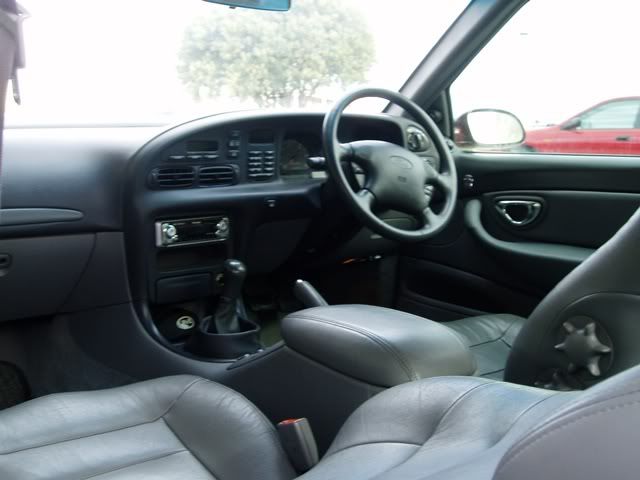 Next thing the diff s**t itself, so off it went to Geelong Diffs where it received 3.55 LSD which was a noticeable improvement over the old 3.23. Then I purchased a rear window Venetian off eBay for $80 and chucked that in. Next thing I decided to do was my brakes. I went with DBA Gold cross drilled and slotted, with bendex ultimate pads, and new Castrol brake fluid. I also changed the wheel bearings as I did the brakes. I also made a custom grille with black mesh and painted the centre bar black.
Then shortly after Christmas my clutch died, So in went a brand new Exceedy heavy duty button clutch and I also got the selectors in the gearbox replaced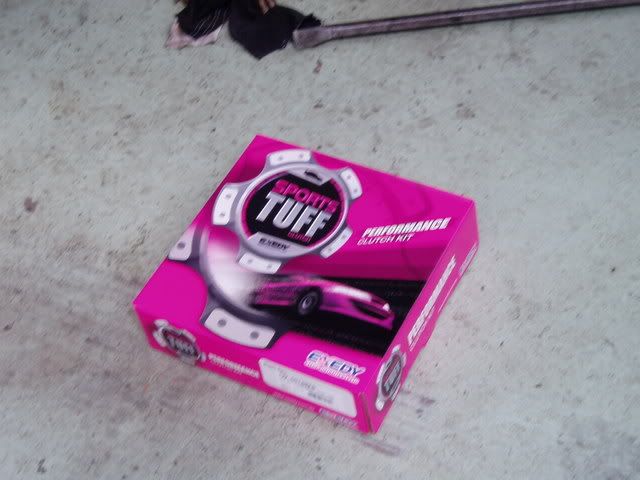 The clutch was awesome, surprisingly light however it had little play in it, so driving in the wet was always a careful task. Next came a new twin 2.5 inch exhaust, it sounded awesome and I was beginning to be really happy with the car. It was a very punchy 5 litre. Was quicker than my mates XR8's and SS's with more mods but at the end of the day it was just a 5 litre, and I was thinking about getting more power out of it.
All Ford day 2009 was approaching and I wanted to do something wild and different. So I put Stewart Warner gauges in autometer chrome cups and mounted them to my bonnet and wired them up 2 days before all ford day and spent the next day getting it ready.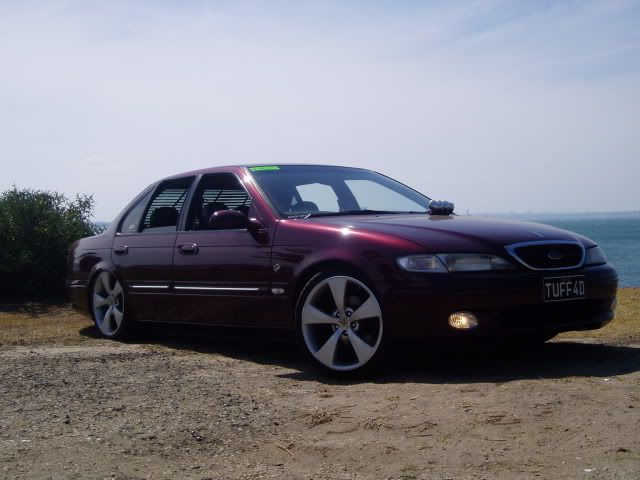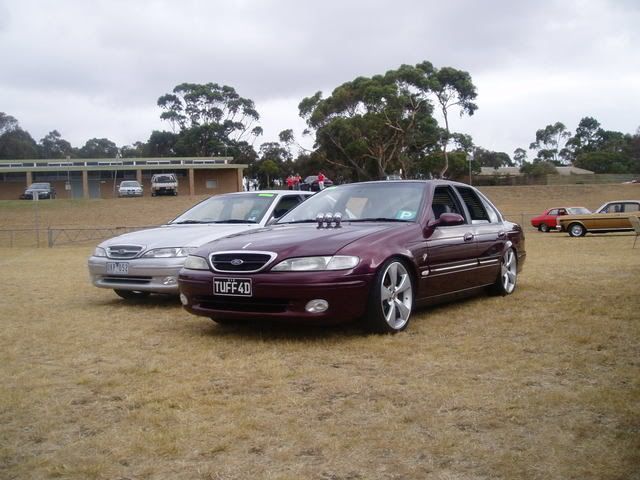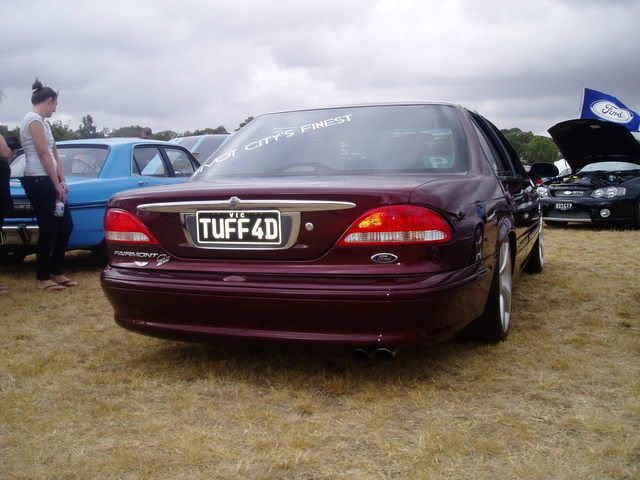 The all ford day was fun, and inspired me to stroke the Fairmont to a 347. However I seen a 1967 HR 186 Special for sale (I know it's a Holden but have always loved the HR's) I purchased that for 2k and decided to sell the Fairmont to fund the HR, and buy a motorbike. So I sold it on car sales for 9k and it left on the day of my 20th birthday. I was sad to see it go but also accomplished that I had a car I loved so much. Since I've sold it the person who bought it had wrecked nearly everything in the whole car including the new diff and clutch which is a shame.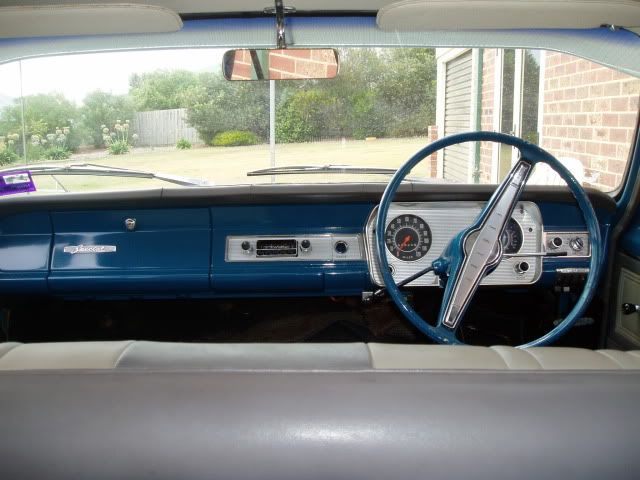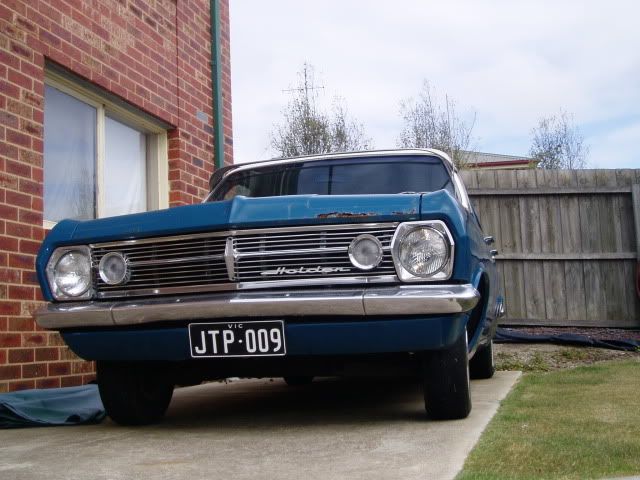 I bought a Suzuki GSX which was originally red; however I sprayed it black and upgraded a few things to make it look better. Its good fun to ride and plenty fast enough for a 250, I'm currently saving now for a Suzuki GSXR 1000 and then after that Hopefully a Harley Davidson Soft ail Custom.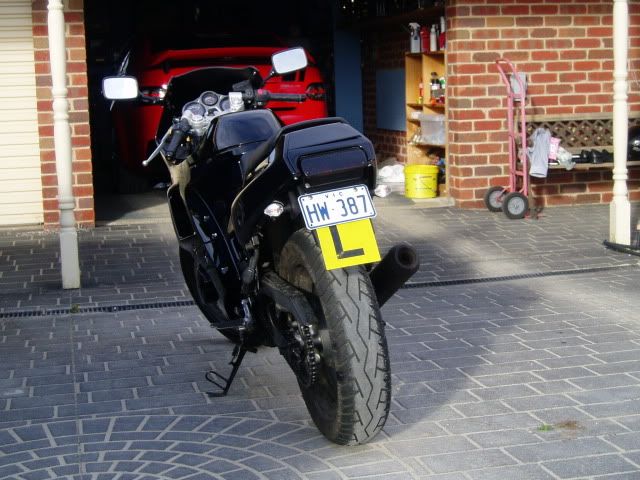 My next daily was a 1995 cardinal red NF Fairlane 5.0, with sunroof. I paid 3k for it and I didn't do anything much to it except buy some LTD alloys and put them on 225 Sumitomos, rear window Venetian and lowered it. I did however change the speakers and take the pinstriped of it. It was also on gas and it was much slower than my old Fairmont 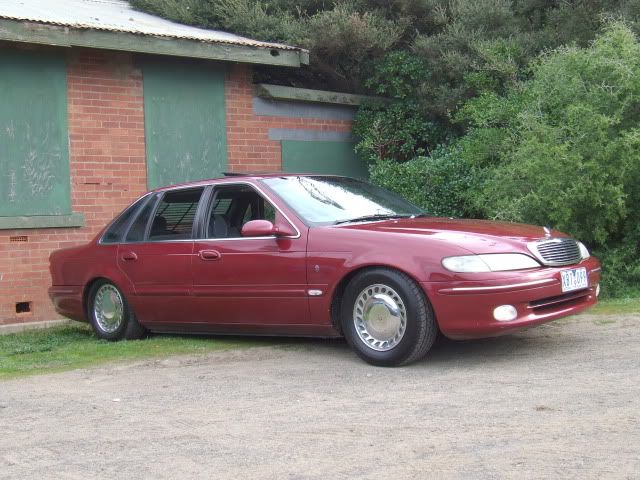 I had the NF, the HR, and the GSX for 10 months, I've been collecting parts and erecting a shed for the HR so it hasn't been touched much yet, motorbike remains the same, but I got sick of the NF, and I also needed a Ute so I sold the Fairlane for $2,900
So two months before my 21st birthday I began looking at cars, I test drove many XR8's XR6T's, and SS's but I purchased a 2005 Black BAII XR8 Magnet Ute, It's a 6 speed manual, and it came lowered on 18 inch FG XR (same as XR5 turbo wheels), hard lid, and all the magnet goodies.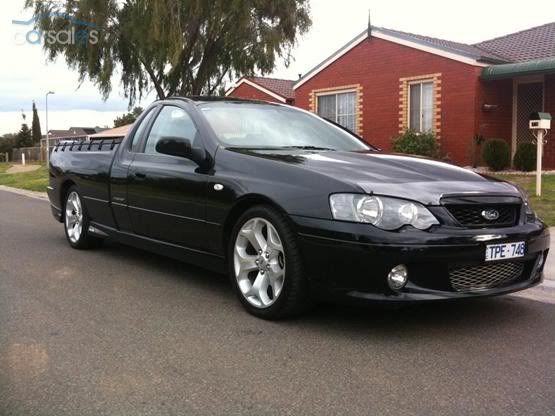 First things I've done to it are removed the bonnet protector, installed an IPod aux cable, TUFF4D plates, Cadience mono block amp and Cadience 12 inch slimline sub, and 20 inch FPV Typhoon wheels (dark agents)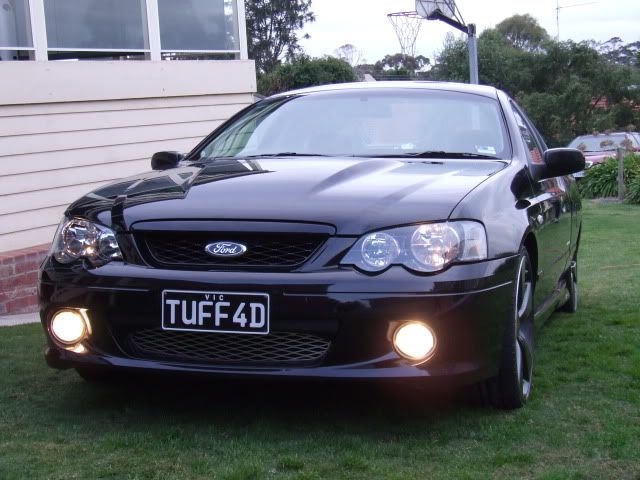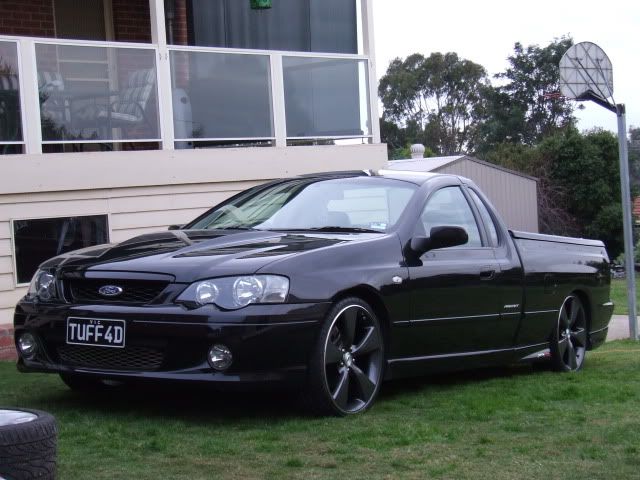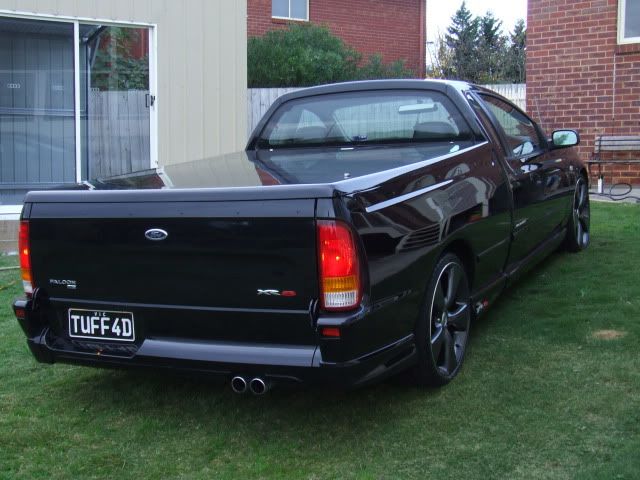 Since those photos were taken I've also got window tint which is two shades darker then legal, an FPV gear knob, and a BA Fairmont Ghia leather console lid. Future plans are for a full exhaust, Blue power CAI, Flash tune, possibly diff gears, underdrive pulleys, billet oil pump gears, and a towbar. I don't want to spend massive dollars on it as the HR is my project car and I'm also saving for a house so half of those future plans probably won't even get done but fingers crossed.
I'm sure I would of left lots of things out, especially with the 2nd Fairmont as I done so many little mods to it I can't recall them all myself but some of my friends will probably mention them for me. I love the XR8 and I turned 21 last week so have money to go towards an exhaust. It feels much different to drive then the old 5.0 litre, it doesn't seem to rev as quick but has much more grunt behind it. I'm looking forward to do doing some new mods to my ute and any recommendations would be awesome. Thank you all for stopping by my garage .
_________________
The Past: EF Fairmont, EL Fairmont 5.0, HR Special, NF Fairlane 5.0, GSX 250-F, BA II XR8, VS3 Ute, VS2 L67 Calais

The Present: FG Egas Ute, ED XR8 Sprint, GPZ 900R
Last edited by Burns on Sat Aug 27, 2011 11:22 pm, edited 3 times in total.