well, the time has come to bring my poor old EA back from the near-dead.
i bought it back on Friday, paying $400 for it.
After driving it to my mates house to use the pit, i proceeded to remove the old exhaust, which wasnt too hard really considering it was in 4 pieces
the centre section pipe was just sitting in the muffler, so i yanked that out with ease
and had to grind the muffler from the tail pipe cos some prat welded it in place
the rear tail pipe was easy to remove as it was broken in half at the rear resonator...
so i put an old Lukey 2 1/2" system on it, sounds quite nice now, has a good crackle to it.
One thing that was mentioned to me by a mate.... was that the prev owner had one night done a 10 minute long snakie up a long straight gravel road, in 1st gear, holding it at about 5600rpm for the 10 minutes. when they stopped, they opened the bonnet and found the whole exhaust glowing red hot, and the head not too far behind it. surely this would have damaged the motor severely? theres no big-end noise or nothing though... it just wont rev past 3.5k rpm, and it backfires a hell of a lot.
next on the agenda:
- take the stupid diff lock out. should be doing that this week
- find out why it wont rev past 3.5k... and why it wont run at all on petrol.
- give it a f**king good clean, inside and out. previous owner worked at an abalone farm and its f**kin filthy inside, and it sat in the weather for 3 months covered in dirt and mud, after attempting to wash it at the carwash, i gave up. might soak it in truckwash overnight.
- get 2 new rear tyres, because the prev owner used it basically for a thrash/burnout car, hence why the motors f**ked.
- get a new console, as the one in it has busted around the shifter area.
- take all the little dents out of it. theyre freaking everywhere.
this is how it is at the moment next to the EL: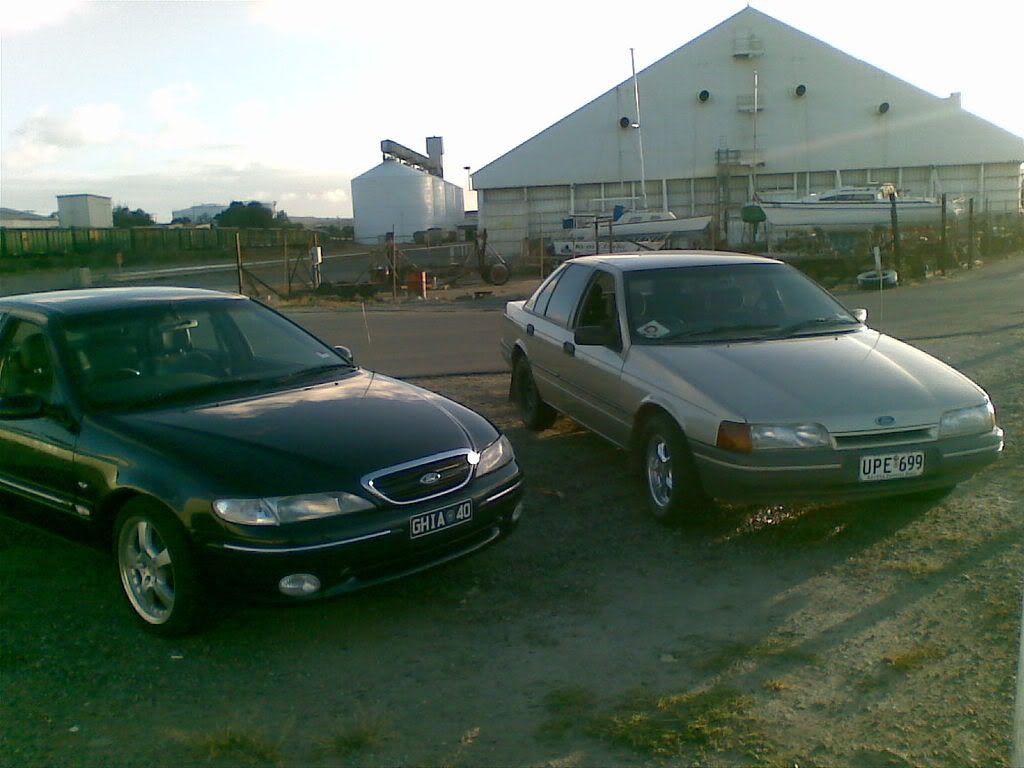 the pic does it a lot of justice, believe me. see the shiny bit of ground under it? it had dumped all its coolant 30 seconds before that photo was taken
thats how it sits at the moment. i'll post up some more pics as this little project moves on.
_________________
11/93 ED OPT20 GLi | Full Boat Spec
Last edited by alfy on Sun Sep 21, 2008 11:04 pm, edited 4 times in total.