Hey guys
Been trawling this site for a while just taking in info and i thought i would make a build thread on my XR6 as it is going to be having a few things done on it in the near future. I was looking on and off for this car for nearly a year. I wanted an ELXR 96 or 97 so no hybrid, in red or white (or gunmetal, hard to find!), 5 speed manual, (preferably) under 200,000ks and no more performance modifications than extractors and exhuast (as i was hoping this would mean it was less thrashed than my first car)
I bought it about a year and half ago with 235,000k's on the clock. Its a 1997 EL XR6 in Hot Chilli Red. It was on gas when i got it, with an IMPCO system. It was a Ford Demo car for the first few years of its life, it has 4 electric windows from the factory! This is how she looked when i got her home the first time (ignore the spares car in the background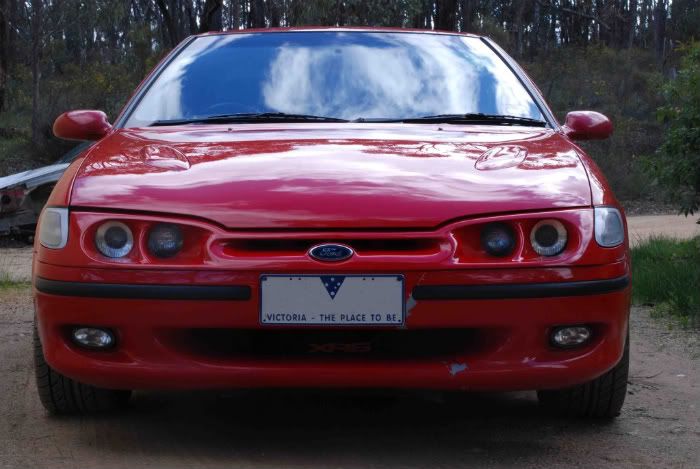 Around Christmas, a kangaroo decided to remodel the LHS of the car, so the front half has been resprayed (you can see the difference front front to rear doors sometimes) and the venom front bar went on.
Current list of specifications is:
Pacemaker 4480
2.5" Mandrel Bent Exhaust with Twin Tips
Hi-Flow Cat
5 Speed Manual (Factory)
Pedders Sport Ryder Shocks (lowered platform)
Pedders Springs (low i think)
Slotted Rotors all round
Bendix Ultimate on front, General CT on rear
Kumho KU31 Front, KU25 Rear
All new bushes in front
Camber Kit
Venom Front Bar
Arctic Blue Headlights
Sony GT550 Headunit
Pioneer 6" fronts
Twin JL Audio 12" subs
This is how she looks now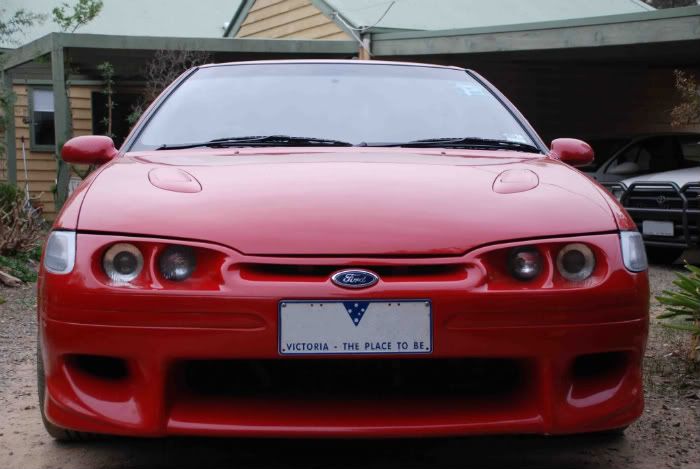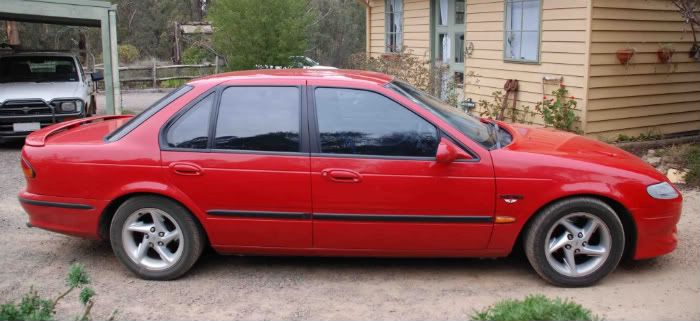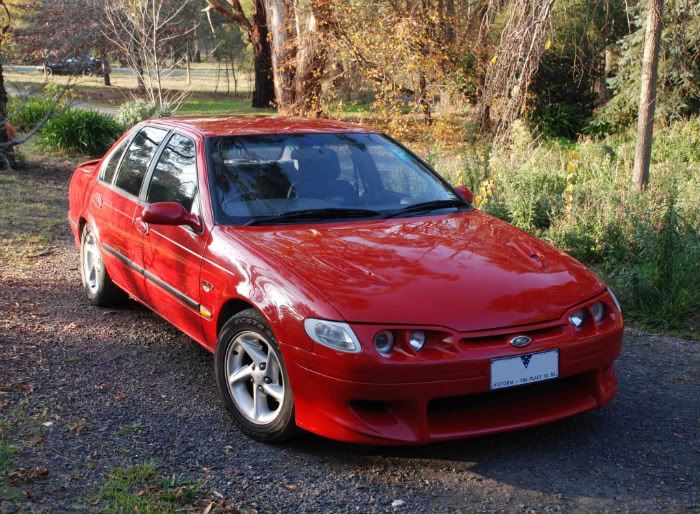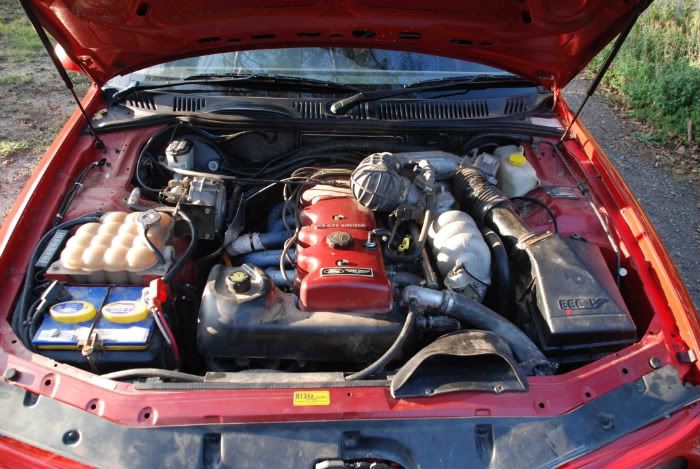 Already lined up are a set of mags, coming very soon, almost finished paying them off. Best part is a havent seen them on any other car on fordmods, theres on BA/BF on fordforums with them in 18's though.
Just this week I ticked over to 290,000k's, and shes starting to get a bit tired, and use a bit of oil (5 litres/10,000k's) so next big project is going to be a rebuild of bottom end. Its partly for the challenge of doing it as much as because the motor is tired though. Im going to do as much of it myself as i can, barring machining etc. I have been planning it for a while, pedal box is badly bent so the dash has to come out so the plan is to take the car off the road for a while and sort motor and dash out in one hit. I just got an ED fairmont to driver in the meantime.
So while the car is off the road the plan is:
Rebuild bottom end of motor with ACL 20thou over kit (il give more details on this, i dont have the spec sheet
Strip engine bay and paint black( in preparation for full spray), hide wiring, neaten up, polish what needs to be polished etc
Relocate battery to boot
Paint dash black
Install climate control
Fix pedal box!!!
Relocate converter and use spring kit to make it feed GRA TB
Fit GRA TB (440 or 480 i think) with boxed pod on RHS of car, fed from bumper and grille
After that is done a have a few more ideas of things to do. The main aims of the build tho are to keep things perfectly legal. I live in castlemaine/Bendigo and the cops there are out to get you!! when i got my licence i got 15k's from vicroads before i got pulled over!!!
So main aim is 100% legal, but pushing the boundaries as much as possible
Making it look as aggressive as possible.
So after i get it back on the road (and the wallet recovers):
CMS Stage 3 Head and 2A Cam to go with bottom end
EF XR6 bonnet vents
Whiteline adjustable swaybars
Black respray
Last edited by rainoffire on Sun Oct 13, 2013 8:53 pm, edited 10 times in total.