Well its only been about 3 months since the new girl was welcomed into the family so its about time a build thread got started on it.
A few days before Christmas last year Donna bought herself an early Christmas present. 1996 EL XR8. It was as stock as a rock , had a full history right back to the original purchaser and was a pretty damn clean and tidy unit.
It still spins a lot of people out that a girl is driving an XR8 and she peddles it pretty well too.
Got it for a steal as it needed a couple of things attended to which were sorted out quick smart.
Came with the optional FTR's and the optional sports seats. Was also already fitted with extractors and a single 3" exhaust.
Dont have any pictures of it from when we first picked it up unfortunately.
As we were getting out of it when it first pulled into the driveway , Donna looked at me and said " Its my car , NO CHANGES OR MODS! Do not f**k with it I want it left standard..............."
My reply was "Yeah ok................."
HAHA like that was going to last!
Second day of ownership saw the Sony Bluetooth MP3 headdeck purchased and installed along with the alarm.
The next day the AUII copies in E series offset from my Fairlane went on it. Donna decided she really liked them so we tracked down a brand new set with tyres for the tidy sum of $700! Guy had bought them to use on his speed boat trailer and they rubbed the guards when in use. They did a total of 70km's on the road before they come off. No rubs or cuts or the rims or tyres so all was good. So now we both have matching wheels.......
Then it was the standard K&N air cleaner and MSD ignition upgrade.
Well we needed to get a wheel alignment done. My theroy was there was no point getting a wheel alignment done with out it being lowered.
Yep in went the Kings springs.
Then it was decided that the standard XR steering wheel had seen better days so it was replaced with a Roman Autotec A-Teck wheel. Not my cup of tea but Don loves it so thats all that matters.
Needless to say the mods are happening!
Here is how she sat on Saturday night when we took her for a bit of a cruise into the city.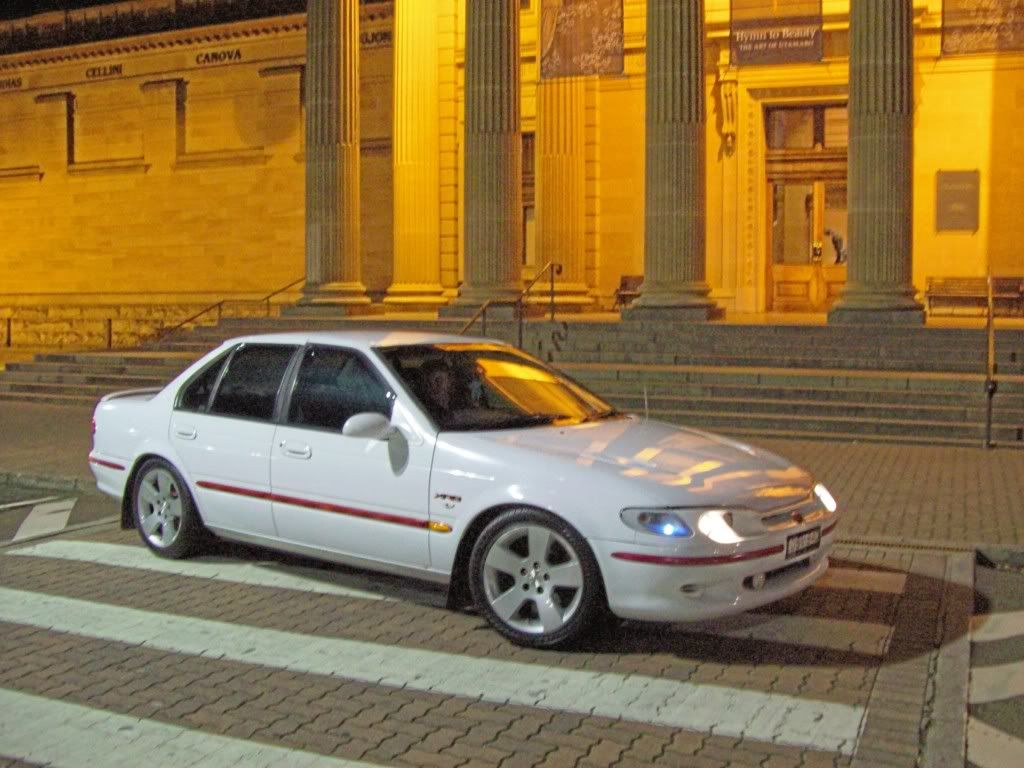 Not a bad ride for the everyday girls car!
Well the fun is soon to start. On Saturday I am picking up an EF 6 cylinder Fairmont. While the car itself is legit the history of it is chequered enough to ensure it would cause major issues to put back on the road so lets just say I am not paying much for it. So Saturday afternoon will be a road trip to Newcastle with the good old U haul trailer in tow.
From the Fairmont we will be removing the trip computer , rear power window gear and doing the fun fun fun job of a climate control conversion................
Have a few other ideas too that will come to light. So the rest of the EF once I work out what I need to hang onto will be wrecked out. If you are after anything in particular let me know!
The idea is to end up with an XR8 that is just as nice and plush inside to get around in as a Fairmont. Yep we are getting old , lazy and both like a bit of luxury now days.
I also still have to paint the lower body kit I picked up from Twason from here and fit it up. I have a few things on the boil to keep me occupied.
_________________
xr6turnip wrote:
More people paid for a ride in a VT commodore then an AU Falcon so the VT is superior.
Based on that fact my Mum is the best around!
Last edited by Matt_jew on Thu Mar 04, 2010 10:36 pm, edited 2 times in total.