I bought this a few months back to replace the KE Laser Ghia I had. Needed a car with a decent boot and that's capable of towing.
Enter $350 EA Fairmont Ghia. The car has a funny past, it's been owned by a few family members. The old man bought it for like $500 bucks, fixed a few things, cleaned it up, then sold it to my girlfriends sisters partner. Well she didn't look after it and it was neglected big time, 3 out of 4 windows didn't work, back seat covered in dog hair, not serviced, not cleaned. So my older brother bought it of her about 12 months later and he fixed it up, serviced it and detailed it. Fitted NC Fairlane seats and door trims, and a front windscreen visor. then like 6 weeks later sold it to a guy in Melbourne.
It turns out that they guy was on my facebook, he owned it 12 months and the auto started playing up. So I went down there with the intentions of converting it to manual (had a conversion sitting in my shed for 12 months). It drove onto the trailer, so when i got it home I did a auto service and adjusted the kick down (as it is a 3 speed auto) and I put a permit on it and have been driving it to and from work to fix the stuff it needed for a roady (was a fairly small list).
Needed:
Brake fluid flush
RHR seat belt (turns out it was just tangled behind the C pillar trim)
Both front window regs (LHS was rooted, RHS window had just popped out of the track)
Wiper blades
Heater tap and hoses
Tail shaft unis
LCA bushes (Did castor rod while is was in there)
Adjust the front wheel bearings, It had brake shudder so I fitted new front RDA rotors I bought of my brother for $50, and new wheel bearings.
I got everything on the roady list done but on the way home on Saturday the auto decided to pack up completely. So now i'm converting it to manual. a EB 6 bolt flywheel is being machined and a Exedy HD clutch is on order. Also a new cable and dampener.
I also bought a set of Pacemaker 4499s and a redback hi flow cat. And as my SVO is going turbo i'll be using the 2.5" mandrel bent exhaust with 3.5" dump tip on this car.
And I have already done my patented airbox mod and fitted a BMC high flow panel filter I had in my shed.
I'm going the grandpa style look with this one. visor, white venetian (which I have ready in the shed), it has the blind spot mirrors on the outside mirrors.
Just gunna lower it, as it's too damn high, and the LHR sits 1" higher than the RHR. I got a set of rear SL springs and short shaft rear shocks already, just need SL fronts.
Anyways, pics
I forgot to mention, it has a EB bonnet, grill and mirrors on it.
when I was about to do the rotors. (I think im a mechanic)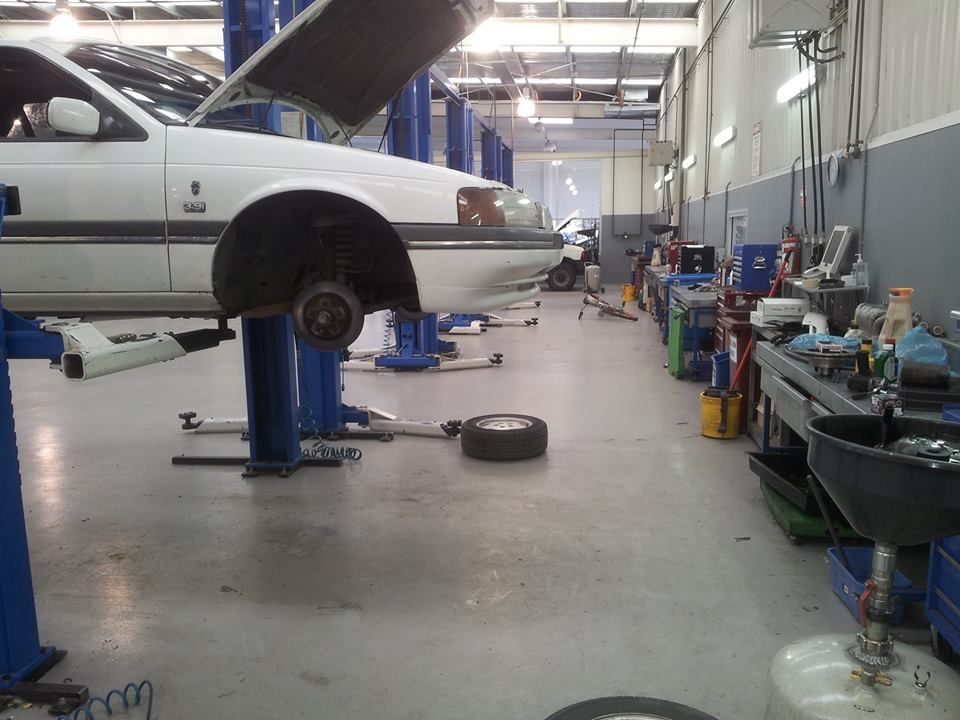 rear height, LHR is an inch higher
_________________
Daily driver: AU2. 5 speed. 19" FG luxos. Full exhaust. Lowered. AU3 XR leather interior, converted to full power windows. 3.45 LSD. IN THE FUTURE: Tickford 6
Weekend driver: EA SVO AU motor. Built BTR. TCE 2800 stall. T76 turbo. Locked diff. On E85. approx 320rwkw. 11.5 @121mph