Hi all
The following is a build thread on a Ford Ute that I have been working on for the last 12 months. It's a grey XH Series 1, with EF XR body-kit and a few other bits and pieces.
This will be my first build thread. In fact I have rarely, if ever, posted on a forum. I do feel that I have left it a bit late to begin writing a thread, and wish (as most authors that I have read do) that I took more pictures during the build process. I will endeavour to add to the thread every few days until I get up-to-date with how the Ute is progressing. I hope that you enjoy the read!
Chapter 1
My X Series Utes
I have always been a fan of X Series Utes and I have wanted one ever since early high school, when I first saw a green XH XR8. However while studying I could not afford/ it was not practical to get one.
This all changed when I left uni and started work. I saved up and dropped (yes this is a bit excessive) 10 grand on a red 1999 XH XR6. Not to go into too much detail this car wasn't too crash hot. It had Redback extractors and a 2.5 inch exhaust system fitted, Koya rims and an awesome hard top.
I was never really happy with the red ute. While it seemed to have a bit more power than my mates, but had some rust/paint issues that quickly got worse. It also had many wiring issues and the loom had been chopped and rewired by multiple leckies. This left me out of my depth when it came to trouble shooting.
I really wanted something with a bit more go, so I looked into ways of making her a powerhouse!
Long story short I installed one of Snort Performance's Sprintex charger kits with a lot of help from Snort himself. These kits are awesome, water cooled monsters that I reckon really set off the engine bay! Well, you make your own minds up: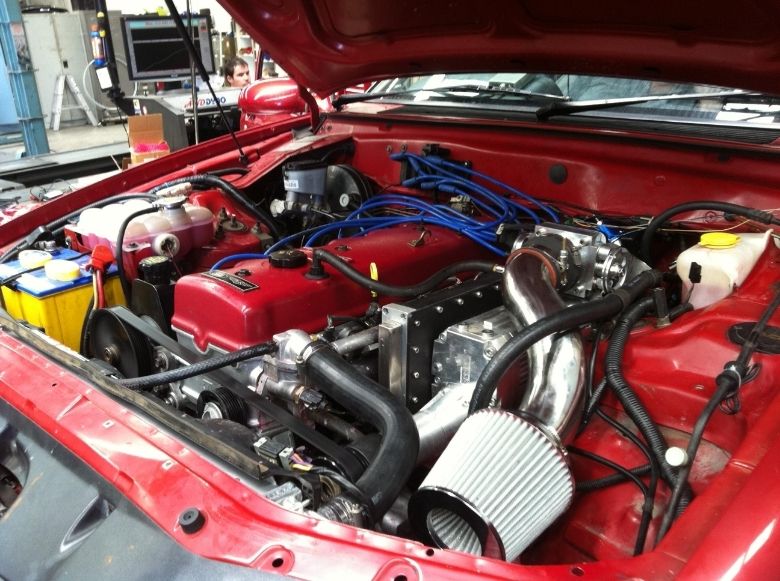 The kit made about 240rwkw on a standard fuel pump and two inch exhaust and had the potential for a lot more with intake temps of just 40 degrees on the dyno!
Next I took the red Ute on a trip from Melbourne to Brisbane and back again. I had a few tune related issues but it was still a great trip and I got to see a lot of the country. For the first half of the trip the car was great on acceleration but very average when cruising. It would foul plugs unless I gave it a good thrashing every few hours (tough I know
)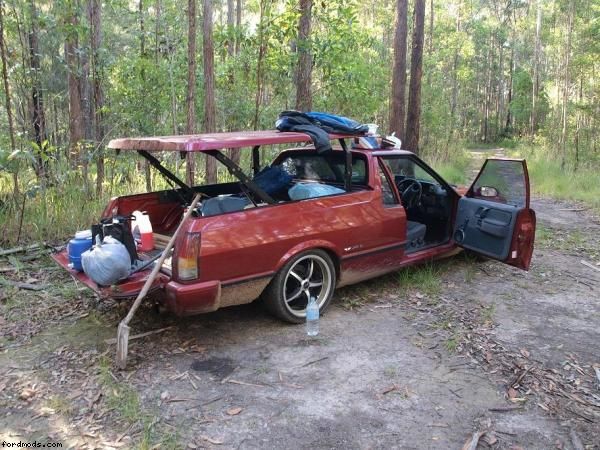 This is somewhere on the road from Sydney to brissy.
For the second half of the trip it became a pig, and to this day I'm not sure why, possibly the fuel pump, possibly issues with the bypass valve. After I got back I adjusted the fuel mixtures on the street with a couple of mates. This only just made her drivable. To be honest I had lost interest.
The next 4/5 months past and i decided to begin the grey ute!
A few pics for the out take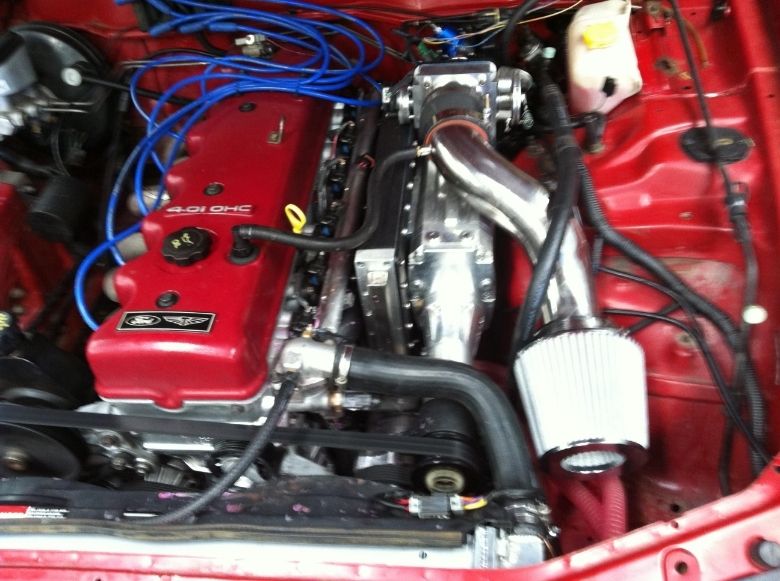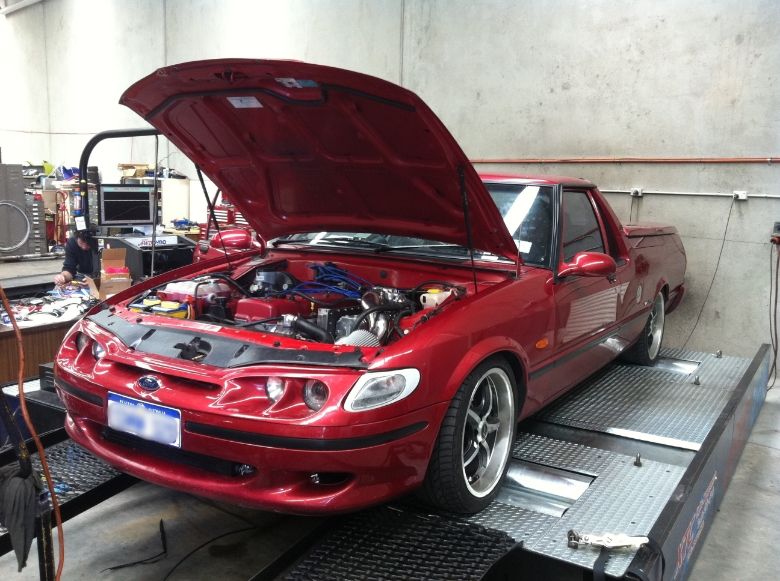 I had kept in touch with Snort over the entire duration of my last build and he had always been there helping me out a giving me sound advice. When thinking about my next project, naturally I gave him a call.
I really wanted to build another ute, I felt like my last build had gotten the better of me and I still loved the X Series shape. Snort said he was up to another crack too so after much discussion we decided on an XH TURBO project.
This wasn't to be a massive dragstrip destroyer, but a 300kw daily driver, capable of taking on the occasional bit of track work while also being capable of pulling the trailer on a weekend trip away or work around town. I also didn't have the cash required for driveline upgrades if we had gone BIG power. (these seem to be more expensive than ever!!)
In summation I started looking for a new blank canvas. Enter the Grey XH Series I!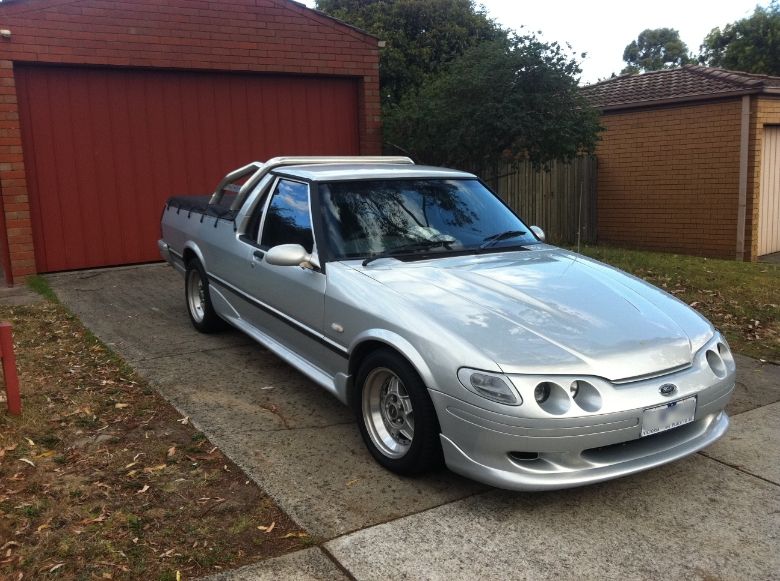 This picture is actually 4 months after I got her but you get the idea
As your keen eyes have no doubt already detected the ute is…
… Grey silver.
Just kidding. It has a b series bonnet bulge, full body kit, simmons b45 rims (my personal fav) and an EF XR6 front end. Yep, I said it, this is actually a dressed up standard XH Ute. A bit of a poser really with its s**t extractors, standard motor and diff, and disgusting try-hard twin muffler exhaust. I suppose I saw this as a challenge, to build this POS into the modified powerhouse it was pretending to be.
Actually there is more to it.
I found it in Canberra. After having major rust issues with my last build I was looking as far away from the coast as possible. After many weeks (about 3 weeks of intense activity on the Google machine) I found an advertisement for the aforementioned grey poser; "Silver ford xh xr6 $4000". I had a chat with the bloke on the phone and he assured me the car was running and had only recently gone out of registration, the car was rust free and he'd even put it on the hoist for me to expect. Too good to be true right?
The following Monday I took some pre-determined sick leave and flew up to Canberra. While in town I grabbed an unregistered vehicle permit and a fifty dollar cab ride to an industrial estate in Queanbeyan, $3500 in hand.
Arriving at a factory there the thing was, looking like s**t, unwashed for eternity in the back corner of the parking lot. The hard top was completely f**k and she needed a jump start. After about 20 minutes I found the owner who told be the transmission was a little tired but the car goes hard, "still does a good burnout" a fact I had already attained from inspecting the rear tyre wells. There was a hoist in the factory where the owner worked but it was in the air and the car it supported wasn't going anywhere soon.
Next we popped the bonnet. Inside was a nice clean bay, I found no signs of rust nor could I detect any oil or water leaks. It was a pity the bay housed a standard xh motor with log style manifold.
After asking the bloke why he got me to fly all the way to Canberra to pick up a car that wasn't even an XR he apologised citing the fact that his mate "said it was an xr6". f**k me I was p****d as I had grilled him about it in a fair bit of detail. I wished so hard I had asked him for a picture of the engine bay.
In the end I gave him 3500 in agreement he would re-register it for 3 months so that I could get work done without movement permits. This also never happened, the Lying Snivelling C*nt.
After this I drove her back to Melbourne without any real issues. The car drove great, actually felt like it had as much power as the old red ute (before forced induction I mean!!!). He hadn't lied about the body, there was no body rust nor signs if it developing which believe me is not common in the 1997 models. The L.S.C. had also been truth-ing about the cars burnout potential
This is the only photo I've got of her when I got home: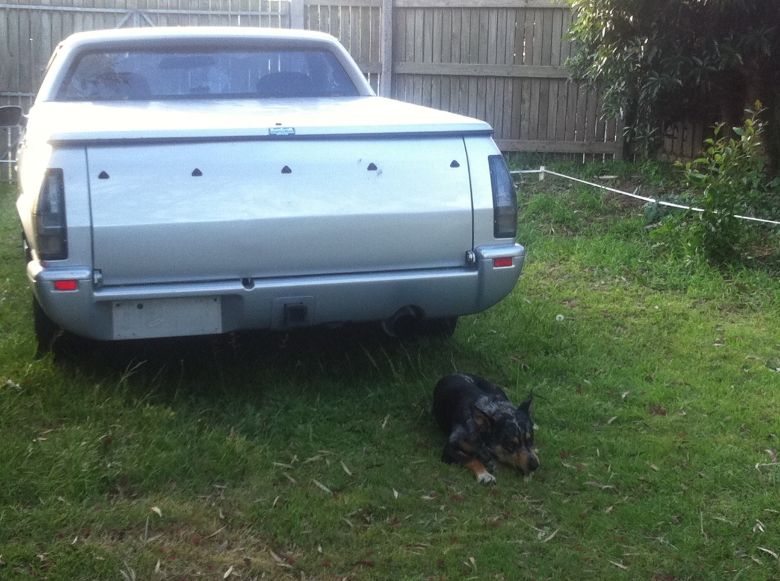 The Pros
- Cruise worked, yay
- Power Steering was fine (I was weary as i knew one of the things they "fixed" in the series two was high speed power steering issue).
- The Audio  awesome sound, really top notch
- The body. Tidy as f**k, straight as a die, good paint
- Near new rear leaves
The Cons
- s**t teenager speck HID lights installed (I say installed I mean shoved in with no effort or brains)
- f**k transmission & differential
- non XR
- Plently of rattles and squeaks
- L.S.C had installed a sub in the area reserved for the spare fuel tank, he had cut a 10 inch hole to do so and I really wanted to install a secondary fuel tank for long distance drives
Last edited by street_xh on Mon Nov 18, 2013 2:38 pm, edited 1 time in total.