Well... Been trying and trying to find someone who will sell me ED engine mounts so I could fit the motor to the new body I have there (bugger motor, but enough for a mock up)... After having 3 or more people promise to get to back to me and chasing down numerous ebay posts and gumtree posts of people who are wrecking early E series, I cracked it and decided today to pull the engine mounts out of the red car to mock up the silver car...
What a proverbial pain in the bum... Hardest bolts to get to in the world... Anyway got them out... Got them on the spare motor, manage to use the hoist to drop the spare motor in the new body... Only just worked too I might add...
Here's some photos once I'd taken a bonnet clearance measurement and mount the 80mm TB to the new manifold plate... Even hooked straight up to my B series intake pipework, so looks pretty good... May go with a boxed pod one day... Can't be bothered for now... The panel filter will flow enough air I'd think... Might even put it to the dyno one day...
Coil are just sitting there, but somewhere there is their destined location...Bypass is a perfect fit to miss everything critical as well... Even with the pipework behind the plate for the intake bend, I'll still have more room behind it than with the BBM...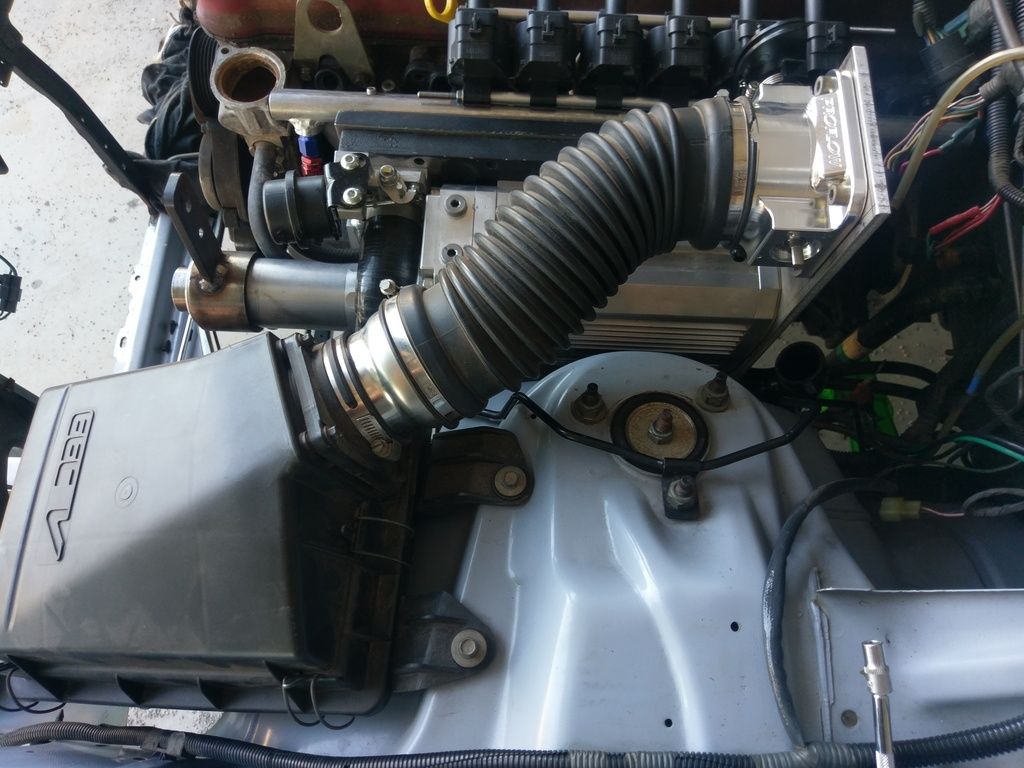 Lot of hour of work to get one measurement from the top of the blower to the bonnet...
Done anyway, and now I can get the intake pipe welded up... Back into it... To be fair, the last month I've been setting up the Christmas display... I made a 4m christmas tree that I hoist about 7m off the ground up the concrete antenna pole I have... Has around 50m of leds in it and draws about 20amps at 12v... It's a bloody ripper... I did start it last year but ran out of time before Christmas... So I finished it off for this year...
It does some pretty nifty chaser stuff too that I programmed into it, but I'm having trouble uploading the video to photobucket...
Cheers,
Tim
_________________
93 Red ED 5spd Manual Build Thread

Performance: Complete AUII VCT Wiring & Power Train, Pacey Headers, 2.5" Exhaust, Exedy Clutch, DBA Rotors
Visuals: FG XR Wheel, XR Front, 17's, BA 5 Spd Shifter, BA Ghia Window Switches, NL Cluster
Tunes: 8" Pioneer Sub, JBL Speakers, Clarion Double DIN Headunit