huggiebear wrote:
starter motors from EA onwards are the same. well not the same but fit. AU onwards use a reduced gearing starter. which will start the car using less power. and the units themselves are smaller and lighter.

power steering pump no. not unless you do the serpentine belt conversion (requires new aircon pump alternator power steering pump water pump timing case and thermo conversion.

however the high pressure line (which is most likely your issue) can be swapped over
So starter motor is OK? sweeeeeeeet.. saves me a few skins.
And high pressure line is the metal line right? with the rubber ridged hose type thing around it (dunno if that explains it right
) at least I think its metal, if so that where its leaking from. I cant see exactly where its coming from but the fluid does all run out the bottom of the rubber hose that surrounds it.. So I'm guessing you would be right about that being the problem. It is a pretty bad leak too, because I filled it up with fluid and it was empty again within half hour.
I can take anything I want from the wrecked car anyway so there's no harm in trying the high pressure line out.
Thanks again for the help mate.
NCIILANE wrote:
G'day upperkuts, welcome to the LWB tank family mate
If you need any more inspiration, check out the Fairlane & LTD thread........mostly NA/DA - NC/DC big girls, but plenty of pic's to wet your appetite!
viewtopic.php?f=15&t=57861
Cheers,
Mick
PS. Good luck keeping it stock after joining this site
Yeah thanks mate, I would never have thought i would own a Fairlane.. I've always had Commodores (I know, I know.. you don't need to tell me) up until recently. I swapped my VP Commodore wagon for a Mighty Boy... which turned out to be a POS and impossible to get parts for then I decided to look for a new car and this was the first thing that popped up, at first I overlooked it because of the problems it had but soon realised it would be worth it in the long run, i weighed up the pros and cons and the pros outweighed the cons so it was decided, I would be buying a FORD.
I'm glad i did buy this because you guys on this forum are extremely friendly and jump at the chance to help, unlike some other forums
(not the mighty boy forum, those guys are equally as nice, there's a member on this forum that helped out a lot when i had problems with my MB)
About the car staying stock... stock isn't even on the cards anymore
after seeing some of the cars on here I wont be able to help myself. Its funny how things work, my wagon was going to stay stock too until shaved door handles, side indicators, aerial and tailgate, matte black paint and ultra lows, happened. Lets just say maybe it wont be stock but I'm not going to the extent I did with the Commodore
... Things do get a little out of hand once you start modifying cars though
Here's a couple of pics of my old wagon if ANYONE is interested............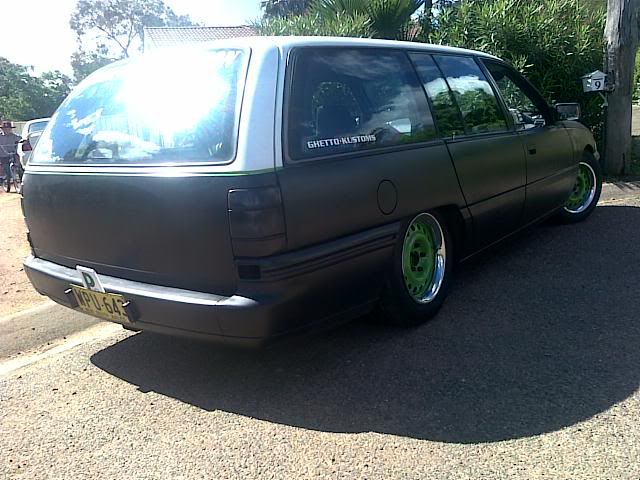 I liked it better with the green rims..
_________________
SIGNATURE REMOVED, signature pics must not exceed 120x500 pixles