Right I haven't been here for a while as I have been a "away".
I have spent the last 12 Months completely rebuilding a ute for my wife. No I didnt rebuild a Ford though. I actually completely rebuilt a Holden. No I haven't changed sides, just the original deal was one I couldn't refuse. Now I am posting this so that I can show people what I have been doing. If you've got no constructive criticism then I don't want to hear it. Comments like "All Holdens are pieces of s**t" do no one no good. A man much smarter than me once said " A nice is a nice car, generally it's an owners attitude that stuffs a car". Anyway enough ranting, on to some pics.
The original ute. It's a WB one tonner, 202 three on the tree with a 10 bolt salisbury diff. Alloy wheels all round with near new tyres and it ran pretty well. Total cost: One box of West End Draught cans which I helped consume.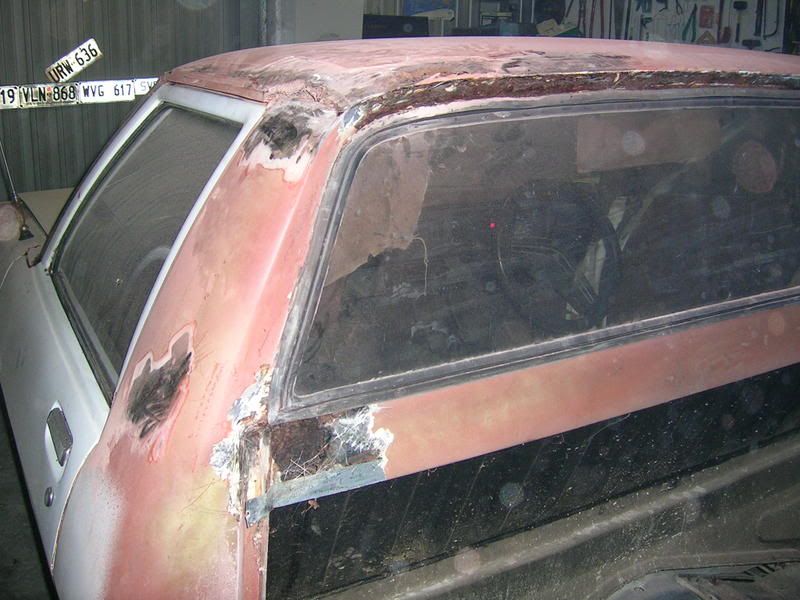 The cab after removal. Tinworm had had a huge party so the cab was deemed stuffed so I sourced another.
This was how we had to bring the other ute home. Lucky we only had to tow it a short distance.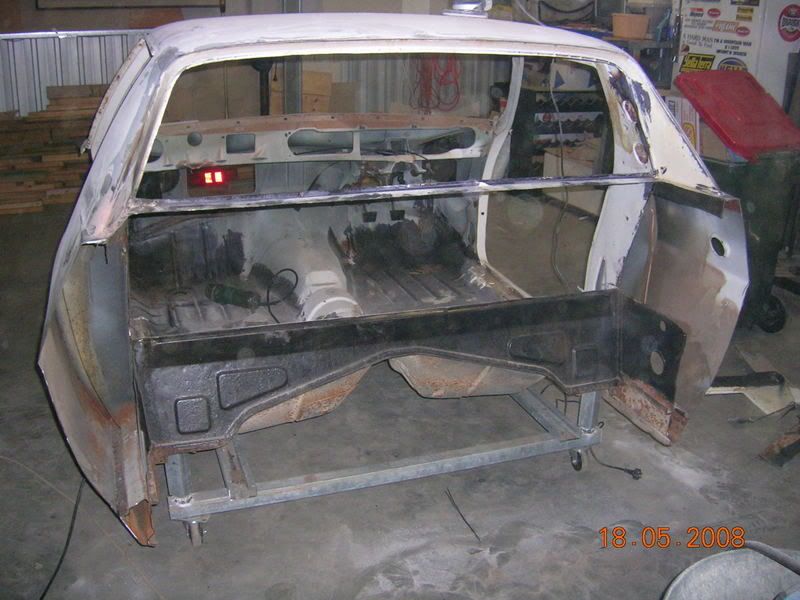 I cut the tray off at the back of the styleside wings and boxed the rear in creating a kingcab. Before this process was completed though, an EF fuel filler flap and associated panel was sourced from a wreck. I welded this in place and wired up the electric solinoid for popping the flap open. All rust (what little there was) was repaired.
Work could then start on the chassis.
This was completely stripped, and every suspension bush was replaced. Shocks were replaced and the rear springs were replaced with ute items rather than one tonner units. This was to make it ride a bit better. Everything was detailed as it was replaced.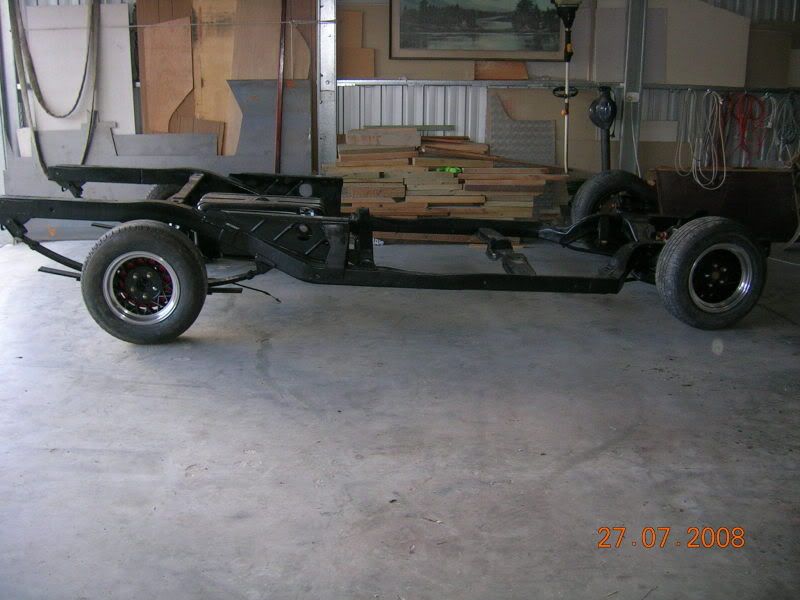 Next work began on the front sheetmetal. As it was dismantled it became apparant that almost all the front end panels and radiator support were beyond repair. The decision was made to junk everything but the stonetrays, the bonnet and one inner guard. A WB Statesman front clip was acquired for the princely sum of $325. This turned out to be reasonably rust free and was repaired fairly quickly.
Time to think about a driveline. I've always had a softspot for the 253 and a chev was out of the question financially. Also this was to be my wifes shopping trolley to try to keep the ks down on my Turbo. So I sourced a blue 253 from ebay. Cost: $150 and it came with everything except extractors. A mate was selling an Aussie four speed from bellhousing back so this was acquired for $100. Then everything was rebuilt. As I am an engine reconditioner by trade this was second nature to me BUT I didn't do it. My wife did all the cleaning and assembly except for the porting of the heads and the fitment of the geardrive. Choice of colour was also hers.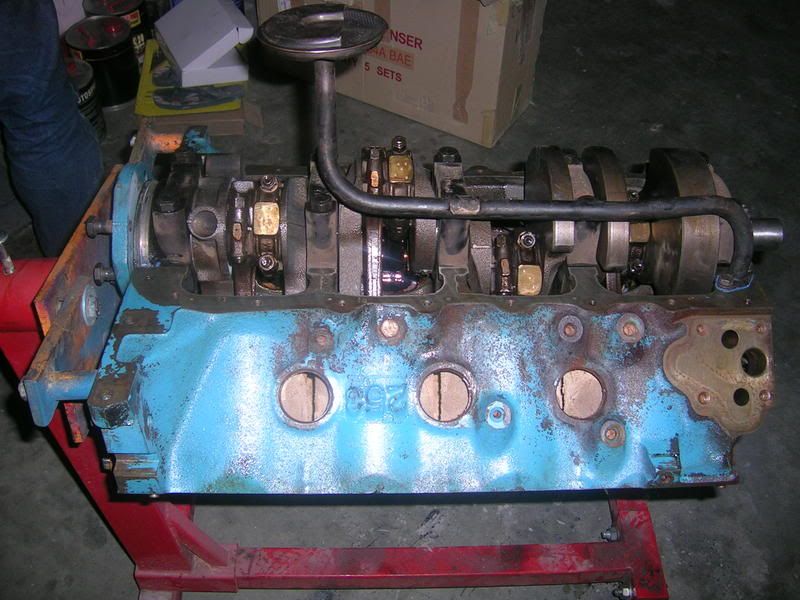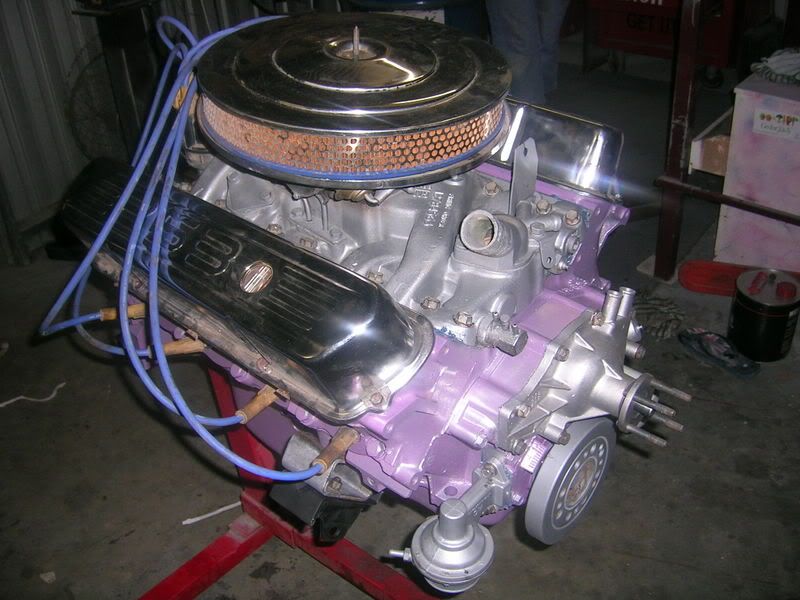 Paint time. Colour is Ford Mercury Silver and was sprayed by a good mate. Cost of painting: two bottles of Beam which I helped consume.
Engine meets Ute for first time:
Front end goes back on:
Time to find an interior. The original bench seat was binned and Commodore executive seats shoe horned in. A complete Statesmen dash complete with aircon was persuaded to fit. Finishing it off is a BA interior light. Beleive it or not, the steering wheel was unbolted from a TC cortina complete with boss kit and bolted straight onto the Statesman column.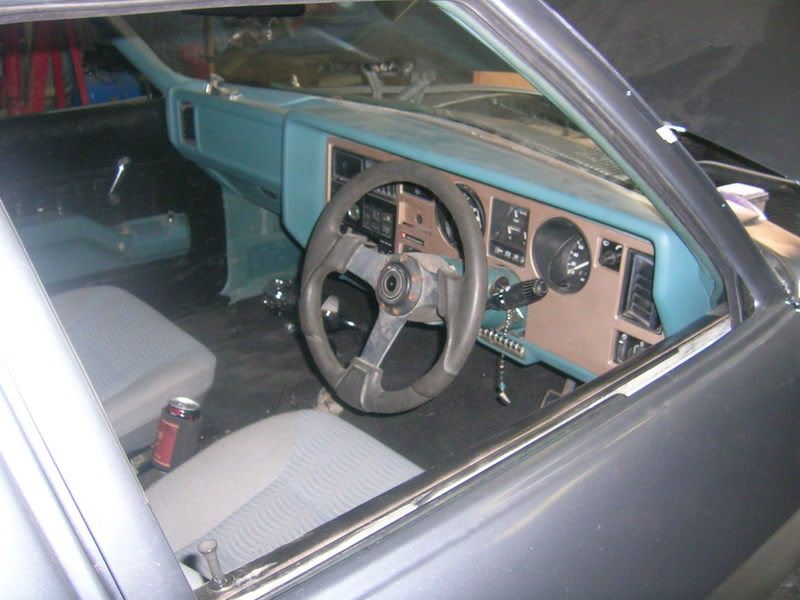 And it gets a tray. Completely custom made. Sides still to come.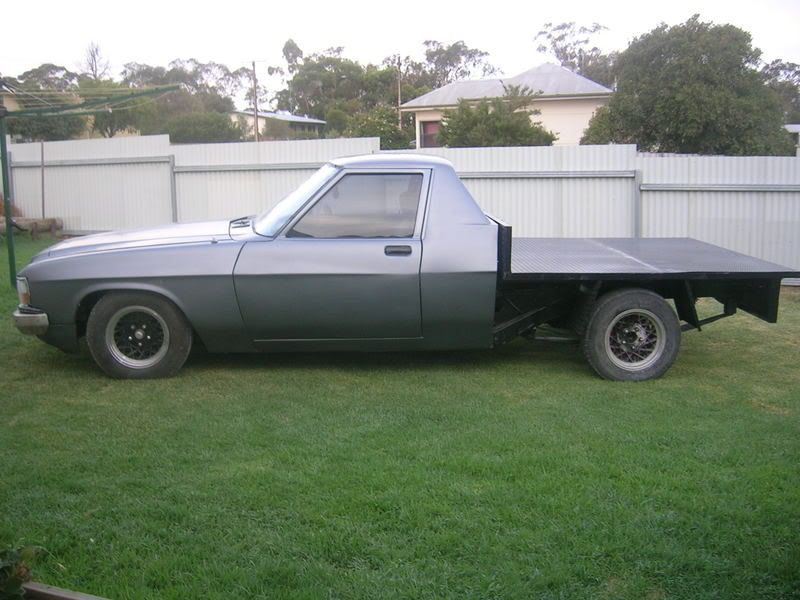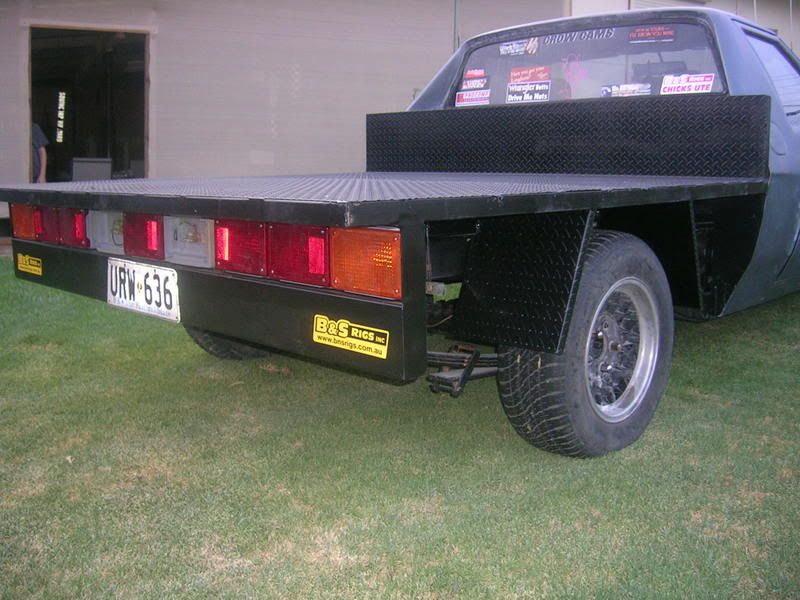 At this stage it needed colour sanding and the exhaust manufactured. This has been done, but I have no photos at this stage. The most impressive part of this build is that the whole lot was done in my 3 car shed out the back and nothing was farmed out. Also my wife did much of the grunt work including the welding, grinding, cutting, swearing and drinking. Total cost to date has been about 4k. Still on the shopping list is a 5 post bullbar. Waiting in the shed to be fitted is a 4 inch rollbar, stoneguards and mudflaps.
Will update with photos as they are taken.
_________________
You'll ride a black tornado across the western sky

You'll rope an ol' blue norther and milk it 'till it's dry

Bulldog the Diamantina pin its ears down flat

Long before you take this cowboy's hat
Last edited by The Dog on Wed May 20, 2009 9:37 pm, edited 1 time in total.