I picked this gem up locally for the missus back in December of 2007 for $350. It's a 1985 RA65 Toyota Celica. 22R 2.4L 4 cylinder, 4 speed auto, RWD, IRS, approx 300,000kms. It kinda sat in the backyard until October of 2008 when the motor in my EB started to give in so i got a mate with a RWC license to make a list of stuff wrong.
For a RWC it needed:
Drivers side front seatbelt (old one didn't retract or lock)
1 tyre (bald on outer edge)
speedo o ring, trans pan gasket and extension housing seal
Tailshaft centre bearing
Rust fixed on the underside of the LHR quarter
Oil leaks cleaned down
Nearly the whole exhaust system replaced
Then after sitting there for ages it had a charging system problem. It'd kill a battery after a few days of sitting. I replaced the battery, no improvement. Then did a test with a multimetre and the charge rate was bad so i put on a new alternator, it improved but wasn't the best. I spoke to a mechanic mate at Toyota in town and he said they had engine bay earth problems. So i improved and cleaned those and it's all good.
Early January (with help form Rudd's Christmas bonus) we got the old girl rego'd and roadied. It's a nice little car to drive, quick too.
Stereo:
It's got a Pioneer head deck with Auxilary input
4" Sony 2 ways in the front
4" VDO Dayton splits in the back
A 300w Pioneer amp with LPF
and a Kenwood Cyclone sub
being a small car the stereo goes well
While the EB is off the road getting a new engine and everything i'll be driving this around. You may see me about!
Pics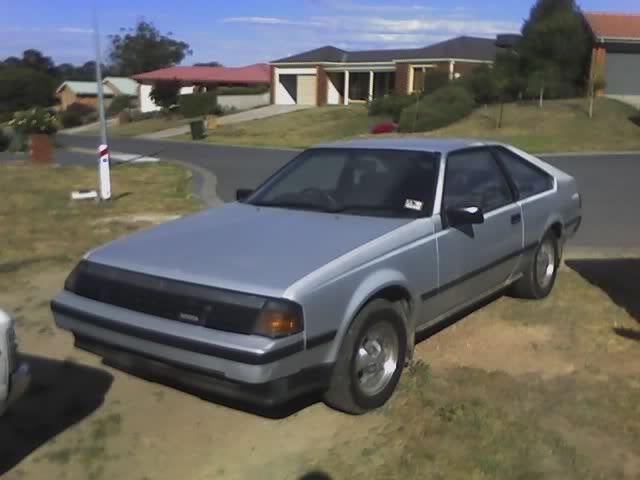 _________________
Daily driver: AU2. 5 speed. 19" FG luxos. Full exhaust. Lowered. AU3 XR leather interior, converted to full power windows. 3.45 LSD. IN THE FUTURE: Tickford 6
Weekend driver: EA SVO AU motor. Built BTR. TCE 2800 stall. T76 turbo. Locked diff. On E85. approx 320rwkw. 11.5 @121mph