Few months ago i went shopping for a cheap ute as i was building my house and needed a ute for all the dirty work. I was after any XF ute in average condition as it was only going to be a work horse and was not going to be driven daily (i had an EL Ghia for that).
I only had max $2k to spend but could not find anything that was in my opinion worth that much and the good ones were above my budget. After a couple of months of looking all over VIC and even interstate i saw an ad in trading post for an XE ute 5 minutes away from my house. I thought an XE would be good as i know the cars well and have lots of spares for them already, but i knew that there aren't many in good nick left either so i was prepared for a rust bucket but went anyway. The seller wanted $2k.
I got there and as soon as i saw it i thought here we go, the thing was sitting in near waist high grass and you couldn't even see the tyres. The mirrors were both broken, same as both door handles, the windscreen cracked, the door locks didn't work properly, the rear view mirror missing, engine was covered in thick grease all over from a leak somewhere, tarp was ripped, rear lights cracked, one rubber bumperette was ripped and nearly falling off, and it was a 3 seater with a 3 speed manual on the tree which was less than ideal. It was also unregistered, and has been sitting in the grass for 3 years. It wasn't looking good.
The interior was surprisingly in good nick though, and it had an s-pak dash but no tripmeter (?). It also had LPG with the tank mounted underneath and the LPG was installed 3 years ago just before it was laid off. It had the 14 inch steel wheels with good tyres all around and was sitting up high like a 4x4. I moved all the grass out of the way and inspected the whole car for rust including tray, doors, fire wall, rear and front quarters and ..... nothing. I spun out, and when the seller saw how surprised i was he told me that she had been rust treated regularly, whatever that means, but it worked. The thing had next to no rust, couple of bubbles on the roof of all places, one dot under the rear screen, and a bubble near the back of the driver's side door down the bottom....AND THAT'S IT. I poured buckets of water on the windscreen and nothing leaked inside. Got the battery jump started and the engine fired up straightaway! I was impressed.
After a bit of negotiation i bought it for $1k! Next day i picked it up and took it home, spewing i never took any pics of it when i first got it but i think i've painted enough of a picture. On the same day i had a new windscreen put in and the rearview mirror put back on, bought two new side mirrors, two second hand genuine rear lights, outside door belts, new battery, two new door handles, a new antenna, new tarp, new rocker cover gasket and lots of degreaser. Then i installed the whole lot, on the same day. I washed the engine bay, taped the bumperette with black tape for now, replaced the huge factory steering wheel with a sports one i had lying around and fixed the locks. Those simple things already made a big difference.
I had a set of genuine tickford wheels, so i got some bridge stone Turanzas put on them and put them on the ute, looked much better. Then off to get the RWC done and she passed with flying colours, every single bush and balljoint on that car looked like it had been replaced recently and the brakes were near new. Two days later she was registered. It owed me just over $2k by then including rego.
It should have stopped there, but one day i was looking at the ute next to my ESP and thought, i actually have everything to turn this ute into an ESP replica, except the interior. It's certainly a good base to start a project with, I already have a V8 and used to have a an XR6T and loved it so the plan for a Turbo ESP ute was in place and i decided to give it a go.
Then the hail storm happened and my EL was written off so the ute became my daily which was sort of not what i was planning, oh well it'll just have to be a slow build, better for the budget anyway.
After about a week of driving it with manual steering and three on the tree, i got the s**t big time, so started shopping for a T5 and a power steering setup. Found a whole running XF with a T5 and power steer for $500, bargain! It was perfect because everything i would need for both conversions was right there. Got everything out of it and got rid of it for $150, worked out well.
A couple of days later the ute was sporting a 5 speed and power steering, much better to drive.
Next was the interior. Here's the bench seat which is now sold.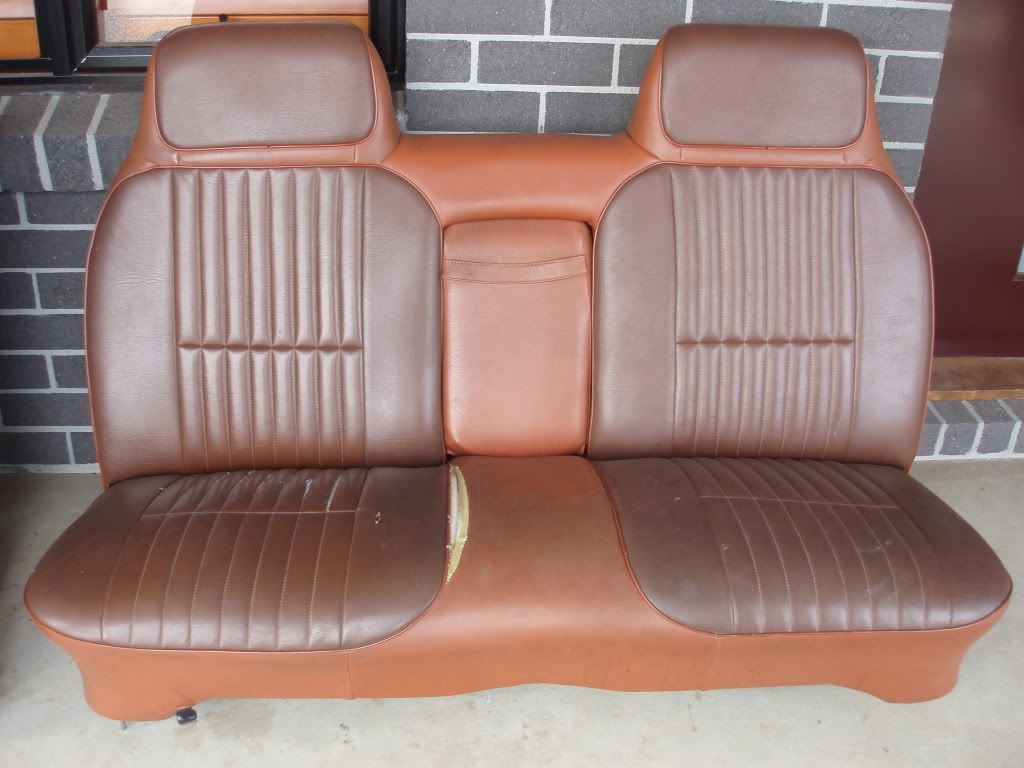 Found a nice grey manual console out of an ESP, so that meant the whole interior would follow the ESP grey interior theme. Out came the factory brown coloured kick panels and plastics.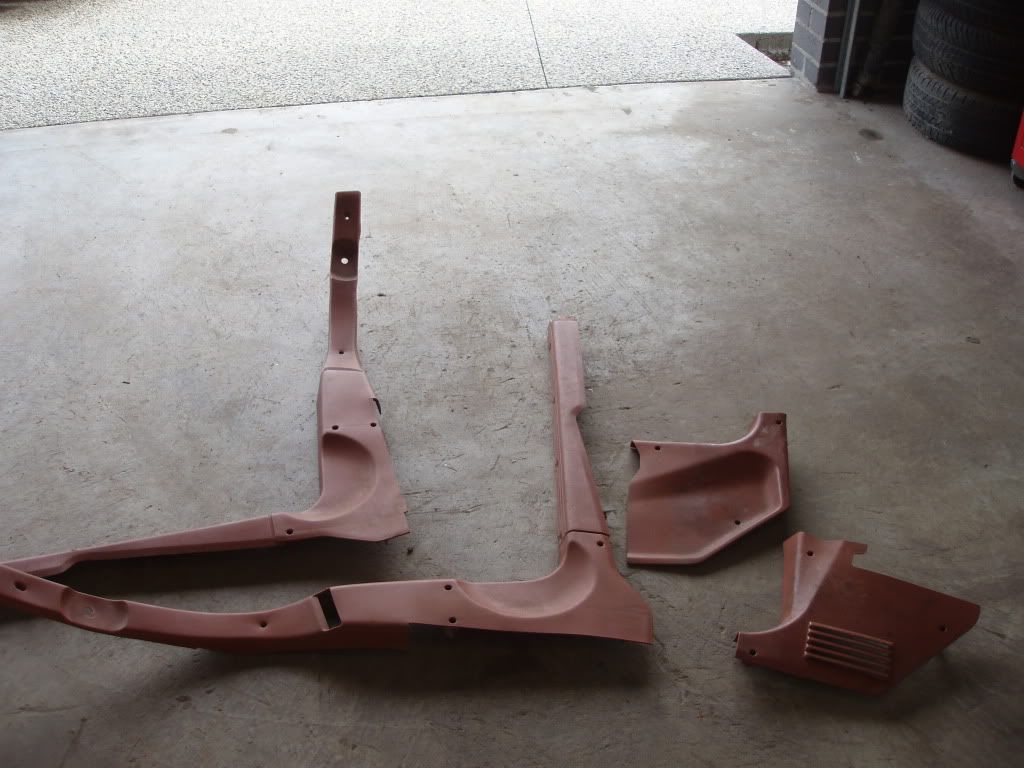 As the ESP scheels are impossible to get for a realistic price it kind of put me off them and i reckon i can get something nicer anyway for less money, i managed to get hold of a couple of SAAS buckets black and grey in colour...price? $250 of a friend. And they look awesome!
Got a Sony head unit and a couple of four inch Sony speakers to replace the factory speakers, and that gave me some kind of sound as i had nothing before that! so i'm happy for now, won't win any prizes but i ain't done yet.
Bought the grey kickpanels and interior plastics and fitted them, got a nice AC fascia and gave the whole dash a quick clean, the interior is coming together nicely. No pics of the interior yet will take some on the weekend.
Still need to get grey ESP door trims, they are real hard to get for wind up windows, but i'm patient and in no hurry. Also need to get new door seals with the grey pinchweld, and ESP grey carpet (has rubber at the moment). Car is also booked in to get the ESP velour roof lining fitted next month.
Got a set of second hand but hardly used front and rear pedders shockers and front springs and will get them put in when the cash is there to also have the rear springs reset, wont worry about putting in lowering blocks.
That's it for now, here are some pics of the car as of yesterday. As you can see it's a bit HIGH and is bit dirty too, been to the tip a few times last weekend..