Hi all,
Over the past couple of years, I've been tuning my series 1, EL XR8 (6DFC) with a Tweecer and Binary Editor. I purchased a Tweecer and had it tuned by a workshop and was very disappointed with the end result. My EEC wasn't compatible with the Tweecer and it was replaced with a 6DGD, which was. It ran like a pig, didn't idle properly and stalled all the time.
I started doing lots of reading and asked a few people on the forums who I saw were doing their own tuning. On this forum, Trent (XTT909) and Jaysen were both very helpful when I was just starting out. I got a lot out of
http://www.eectuning.org
as well. I still do! At this time I was still using CalEdit with the Tweecer. To say it's average software/strategy would be an understatement.
I was reading about everyone in the US using Binary Editor and how it's a much better program than CalEdit. I wanted to use that, but as far as I knew, we didn't have any strategies available to suit my car, here. After speaking to Clint Garrity, the developer of Binary Editor, he told me that if there are any TunerPro defs available for my car, he can convert it to a Binary Editor strategy. I knew just where to find one of those - Thanks guys at TI Performance
. I wouldn't say I stole it, as I only ever used it to run my car. I worked with this and BE for quite some time, but wanted to be able to utilise the datalogging capabilities that are available with Binary Editor. By this time I was using a Tweecer RT that I bought from another forum member.
After asking lots of questions on eectuning.org I was told to PM one of the members (sailorbob, aka Derek) who created strategies for a lot of Mustangs and other cars in the US. Binary is his second language. I got onto him and asked if he could get datalogging working with my strategy. I sent him a copy of the strategy and my binary. He then proceeded to create a new strategy - NVMG84 - to suit Binary Editor. I also gave him a 6DFD.bin, for which he created another strategy - NVMG85. At this time I also purchased a Quarterhorse, as Derek told me that he knew the workings of this very well and knew not much about the Tweecer, which should make getting datalogging working much easier.
After many, many months (close to a year) of working on this, Derek finally got datalogging working in the middle of February this year. I've not had the chance to sink my teeth into it yet, as the day he got it to me was the day before I flew out to work for this swing. I did test it out that evening though, and it all looks good, which I'm very excited about.
For those who are interested in tuning their EL V8s with Binary Editor, these strategies are available to view as read only files on Clint Garrity's website -
http://www.eecanalyzer.net
- on the Downloads page. Sometimes it takes a while for the strategies to load, but they do. From there, if you choose to register the strategy (after registering Binary Editor - US$80), email
sailorbob@uk2.net
and it'll cost you around US$20. To run the datalogging, you'll require a Moates Quarterhorse, under $350 to your door -
http://www.moates.net
. The Quarterhorse is a great piece of kit, as it allows you to make changes on-the-fly, without having to turn the engine off to write a new tune, as well as see everything that the EEC is seeing/doing.
If you're curious as to how many parameters have been defined in these strategies, there are 615 Scalars, 105 Functions and 30 Tables, as well as a few hacks that are available in the Mustang strategies. Here's a screenshot, showing this at the bottom-left corner.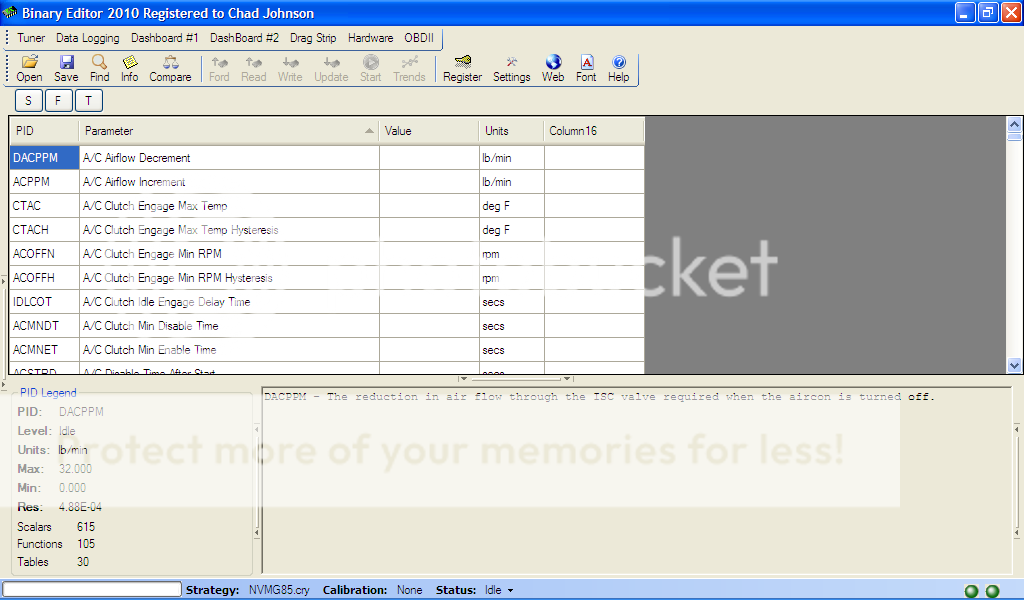 One other strategy has been created by Derek, which is the 2DCA. This is an EB GT EEC and as far as I know, it should run most of the ED V8s. It doesn't run the non-Smartlock EBs.
I'm really keen to get him to create more strategies, but at this stage he's not going to unless there is more interest and these strategies begin to be registered by more people than me! If anyone is interested in tuning their 8s with something like this, then please express your interest in this thread and state your catchcode. If we get enough people chasing the same strategies, then he may look at creating them.
At this stage, I don't know exactly what's compatible with what, but am going to make an effort to get my hands on as many EL V8s as possible to see what works and what doesn't. I'll list what I know for now and, if possible, will update this when I know more.
NVMG84 - 6DFC (s1 EL XR8), 6DGC
NVMG85 - 6DFD (s2 EL XR8), 6DGD, 6THC (EL GT), 6TJC (EL GT), 7TAA (XHII XR8)
2DCA - 2DCA (EB GT), 2DDA (EB GT), 3DFA, 1DEC, 1DDC
_________________
Trickflow Street Heat top end kit, 70mm BBK TB & EGR, 24lb injectors, Underdrives & 3.73s: 275rwhp - 13.15@105mph NA / 12.37@116mph N20

When injustice becomes law, resistance becomes duty
Last edited by Scaffy on Tue Mar 08, 2011 5:10 am, edited 2 times in total.