Vic wrote:
I know that the AU MAF has a different plug to my E-series setup.
So what is the solution here?

If I change the AU MAF with my stock MAF then I lose the calibration already built into the AU TB setup as well as the benefit of the larger MAF. That doesn't sound good. Is the only other solution to add an adjustable fuel pressure regulator? Is there no other way of retaining the AU MAF / TB setup as it is with its calibration, like perhaps changing my E-series plug to match it?
the MAF calibration is matched with the injectors not the TB ,so using an AU TB will not make any miscalculations in the ecu, correct me if I am wrong ,but the maf is just a hotwire that heats up to 200deg C ,and when air passes over it, it requires more voltage to retain the heat, therefore by using a bigger TB the maf will have more air to pass over it requiring more Volts, as long as the maf has enough "headroom" to monitor the extra flow.
the 65mm is all I currently run (now) and I believe it has plenty of potential for the engine that you described. You would benefit much more by upgrading you're cam, the stocko leaves a lot to be desired!
thats just my opinion, but I am speaking from experience with the same combo.
_________________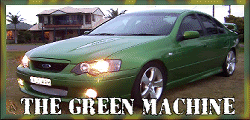 IF YOU HAVE IT UNDER CONTROL
YOU SIMPLY DON'T HAVE ENOUGH POWER!!!
Detroit 8V71 for sale, taking offers