for the low cost for a re-bore & hyperutectic pistons I would replace the lot, If you have any more than .003" wear in the sleeves you will lose compression, have piston slap, wear out the new rings a lot quicker & only be compramising an engine.
Thats only if you're bores are worn or out of round, Honing should never be used to remove lips, only glased surfaces & minor scratches.
when a block is bored to suit oversize components, it should be machined to suit to pistons ,not just general specs.
I hope this doesn't sound too extreme, but from personal experience it works out cheaper in the long run.
cheers ;kenny
_________________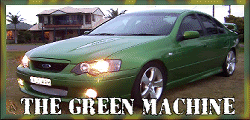 IF YOU HAVE IT UNDER CONTROL
YOU SIMPLY DON'T HAVE ENOUGH POWER!!!
Detroit 8V71 for sale, taking offers