Found this new Rear bar to suit EA - ED falcons.
Its only a 3/4 bar meaning you have to glue it to your old bar, buts its a new design that i havn't seen before.
Not a bad price either.
Ill copy and paste the add so it can still be rear after the ebay auction ends.
Item number: 150346593031 use this number to search for it on ebay.
----------------------------------------------------------------------------------------------------------
http://cgi.ebay.com.au/Ford-Falcon-EA-E ... |294%3A200
Seller: pmcc62 (ebay)
Starting bid AU $229.00
Item location: VIC, Victoria, Australia
Item Specifics - Car Parts & Accessories
Makes that the part fits: Ford
Condition: New
Exterior Accessory Type : Rear 3/4 Bumper Bar
Manufacturer : Ford
Product Type : Rear 3/4 GT/Group A Style ( No Flares )
Condition : New Hand Laid Fibreglass
Makes that the part fits : EA, EB, and ED Falcon
Model : GP Sportscars GT/Group A Race Road Style
FORD Falcon EA, EB, and ED Model Rear 3/4 GT/Group A Race Road Bumper. ( Car in photos to show what part looks like when on car )
Condition: Brand New.
Made By: GP Sportscars.
Material: White Gel Coat Exterior Finish - Unpainted.
Hand-Laid Fibreglass, Hand-Sanded Internally.
Features: Scolloped Rear Section from Full Exhaust Outlet at RHS across to the LHS of Rear.
Raised Profile at Bottom of Bumper - When viewing from side, the bottom gradually tapers up from the ground from the Wheelarch to the rear 3/4 corner before
running parallel to the road at the bottom rear, as the FORD EB Group A Race Version does.
Bottom has a Return Lip running from LHS Wheelarch to RHS Wheelarch for added strength.
This 3/4 Bumper was made to be a cross between the FORD EB Group A Racecars Rear Bumper, and the FORD EB GT Road Rear Bumper, but without the Flares needed for fitting.
By not needing to fit the FORD EB GT Road Flares, the reasoning was to save customers the expense of not having to then add the cost of Flares, Wider Wheels, and Wider Tyres to fit.
Fitting Method: These Rear 3/4 Bumper/Skirts are manufactured to slot into the 'S Highlight' strip indentation at the top 1/4 of the Bumper running from the LHS Wheelarch to the RHS Wheelarch.
The Bumper is held in place by using Sikaflex Automotive Glue ( Available at Windscreen Fitters / Suppliers - the same glue used to hold in the vehicles Windscreens ).
You can hold the 3/4 Bumper in place whilst the glue is drying by either using Counter Sunk Rivets, later filled over with Automotive Body Filler, or held by Tape, until glue is dry.
This 3/4 Bumper is made so you can use your existing Ford Falcon Bumper with its support and fixing brackets on the original Ford part, but you will need to trim the original Bumper to clear the
Exhaust Outlet section, and bottom of the original Bumper. This is easily done with a hacksaw, and sandpaper to smooth the edges.
This part will need to be painted to match the vehicles exterior colour it is being fitted to, but can be painted later, as it will not rust being Fibreglass.
These parts normally are sold for $ 495.00 alone, Unpainted before Fitting, as a New product, but are now only made to order, with new prices increasing, so are extreamly hard to get.
Should you need further information, happy to answer questions.
Item Location for Pick-up: Croydon, Melbourne, Victoria.
Other Fibreglass parts also available on order on request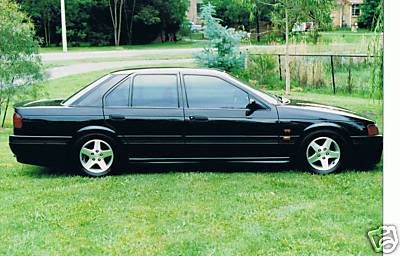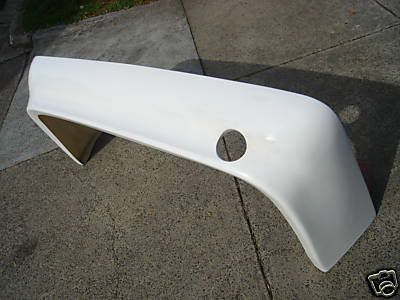 Regards,
Michael.
_________________


FOR SALE-------- ford-parts-for-sale-f17/fs-qld-ea-eb-ed-parts-t76152.html

Build Thread-- commercial-sponsors-forum-f53/mick-s-itlookslikeaxr6-ed-build-power-windows-finished-t76191.html