Hi guys,
I am slowly changing my dash lights from factory orange to Clear LED's in my ED.
While sourcing information i noticed most of it is for EF and EL application, so i have put together some information in regards to EA - ED's. I have chosen not to use links as once they expire they are useless, putting the ebay user name into a search will not work but you can search for sellers somewhere, best to try and enter the description in part or full. I am yet to complete all of this but will post pictures for necessary parts (i.e. not simple cluster removal).
I brought all LED's off of Ebay as there cheap from Hong Kong and if you buy from the same person post is reasonable in price and time.
Check all LED's work before putting everything back together as some types only work going in the right way. So for any that don't work take the bulb out, turn it 180, and put it back in, then see if it works. With the LED's not in a holder the longer piece is the positive side also called Anode, the other short end is like an negative known as Cathode. If it still doesn't check to see if you got the appropriate thing turned on i.e.. your parkers turned for the cluster lol. I Think that the difference between the T5 and the T10 is the width of the wedge piece, being 5mm or 10 mm but im only guessing. There are many different types with single or between 4 - 8 LED's in a single wedge. Some even have them pointing side ways, they call them a Refractor Wedge Bulb. A lot depends on how much you want to spend and how much you look around for bulk sellers.
Cluster, Clock & Console rear light.
These are a straight swap T10 12V Wedge LED. This part is still in trail as the bulbs i got are not bright enough but still usable for now. I think the ones i got are not suitable as there 24V not 12V
Current ones being used
Ebay seller: virtualvillage-au-alpha
Description: 10 White LED Dashboard Side Light Bulbs T10 168/194 24V
Price: AU $0.59 EA
Next option, waiting to arrive
Ebay seller:minierace
Description: 10 X Car White 4 LED T10 168 Bulb Wedge Light Lamp 12V
Price: AU $0.20 EA
Installation
As mentioned above once you remove the cluster (11 screws) you twist out the bulb holders remove the bulbs from the holders and slide in the LED wedge bulbs. Check they work before putting everything back together as they only work going in the right way, so take the bulb out turn it 180 and put it back in and see if it works now, if it still doesn't check to see if you got your parkers turned on lol
Aircon
Being the amiture i am, i did not know you needed resistors when using plain LED's not already in a holder
Like these,
Ebay seller: sitedv88
Description: 20pcs 5mm White LED Diode Bulb Light Lamp 15000MCD New
Price: AU $0.05 EA
So after buying some and fitting them to the A/c holders they blew...... As i already have the led's im going to d**k Smiths to ask what resistors i need and get some to fit them in a modified manner(pictures to come).
Any way, while looking for other bulbs i came across these little baby's which look like they are the ones needed for a straight swap. I measured the factory ones and they seem to be 11.4mm wide so the 12mm (T5) ones should be the goods. Only 3 are needed for the non C/C A/C.
Ebay seller: p0o0ohbear
Description: 4x Neo Wedge LED Bulbs T3 T4 T5 White Blue Red Green
Price: AU $1.73 EA
Installation
The bulbs are at the top of the A/C unit, unscrew it and carefully pull it forward a few CM till you can see the top. You will see 3 black plastic bulb holders twist these and lift them out.
Pictures
A/C bulb holders left factory and right with LED, need to redo this with a resistor shouldn't be to hard as there no limit to the depth the bulbs a resistor should only add another 5mm
Rear Demist
This is the hardest one as there is no straight swap and soldering will be needed for a proper job. I will be using the LED's mentioned earlier combined with the right resistors, as the picture on the switch has an orange tinge with won't be a clear white, to test this just use a LED torch or a really white light and you will see what you will get. Ill go ahead and fit the LED but it i wont like the look ill just leave the light out as its not needed, it shows on the cluster if its on or off and i know where it is anyway.
Ebay seller: sitedv88
Description: 20pcs 5mm White LED Diode Bulb Light Lamp 15000MCD New
Price: AU $0.05 EA
Installation
Pictures
Factory Switch dissembled
Foot wells & Boot
I decided To use these as there are flexible making for an easy install. I used 2 in the boot and 1 for ea foot well is plenty enough, again maybe even over board. The way these are made you can cut a couple of LED's off the end thus providing less light.
Ebay seller: sylvia-biz
Description: 24CM LED Car 12V Lights Strip Flexible Grill White Blue
Price: AU $1.15 EA
Installation
I decided the most appropriate way was to splice them into the stock wiring via the Fairmont series center console loom. Meaning, they only come on when the doors are opened or turned on with the factory dash switch. The boot LED's are wired straight into the factory wiring using some spade terminals for + and - so they also only come on when you open the boot.
Roof
The standard GLi unit uses a "36mm - 44mm bayonet" Bulb, these are available in LED versions but tend to have only 2 - 4 led's not giving much light, but in most cases it's enough. This light panel came with 3 choices of fittings Festoon Bayonet and Wedge. They also come in different sizes, not knowing how bright they would be i went for the larger one that filled most of the roof lens. This light seriously makes daylight of the interior at night!!! So i recommend going for a smaller panel then the 48 LED.
Ebay seller: virtualvillage-au-alpha
Description: White SMD 48-LED Light Panel for Festoon Bayonet Wedge
Price: I offered AU $7.49 and they accepted so offer less!!
Installation
Using the provided bayonet fitting to wiring is simple but getting the panel to sit in place without it just sitting on the lens is up to you. The panel comes with some quality 3M tape attached but i couldn't find a use for it.
Picture
Top left 3 bulbs for T5 fittings for cig lighter and ash tray, need resistors still
Top right demister switch with LED Still needs Resistor
Bottom left T10 LED and T10 Factory bulb
Bottom center 2 T5 Neo Wedge bulbs
Bottom right LED and bulb after removed from A/C bulb holder.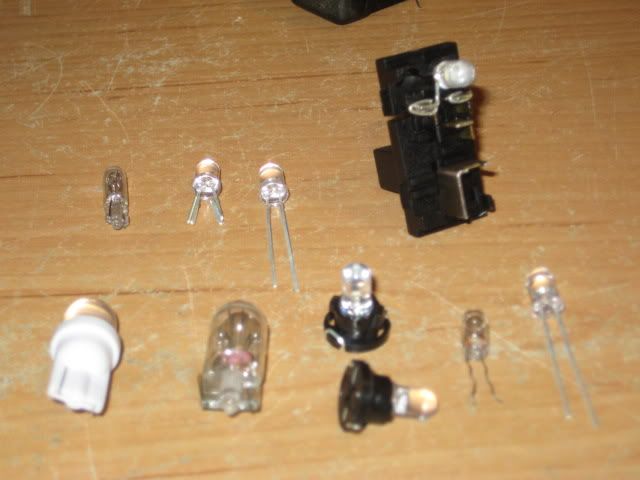 _________________


FOR SALE-------- ford-parts-for-sale-f17/fs-qld-ea-eb-ed-parts-t76152.html

Build Thread-- commercial-sponsors-forum-f53/mick-s-itlookslikeaxr6-ed-build-power-windows-finished-t76191.html