Hi all,
Last week I discovered my wifes (dual fuel) EF had a huge hole top and bottom in the plastic intake plate on top of the rocker cover. Not having a spare EF one, I put the entire intake and mixer assembly from my EL onto her car as we have three kids to shuttle around and the EF wagon can't be out of commission.
This required me to assemble and "innovate" a replacement arrangement for my car late on a Sunday arvo with what I could find around the house..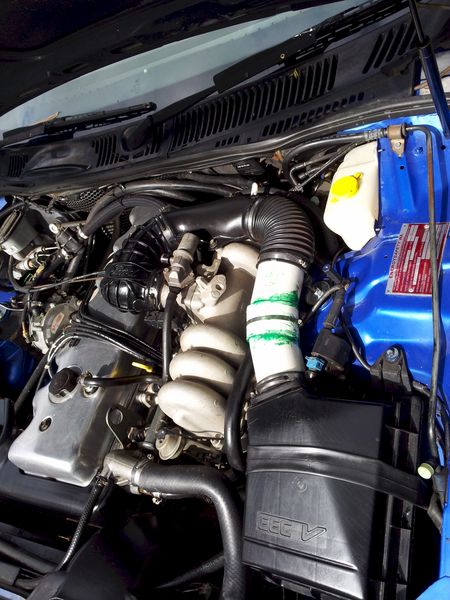 (just FYI, my PVC assembly is 75mm round all the way so it's a dramatically better flowing than the original so I'll be cleaning it up and painting it black and leaving it in place.)
Anyway, her LPG system with my mixer seemed to work well enough.. better throttle response as my mixer was less restrictive than her old one. However.....
I was taking her car for a drive on LPG to evaluate it... and I stopped and idled at a traffic light for about a minute and a half. When the light turned green, I put the boot in a little bit and the result was a huge intake backfire and the car stalled.
When I started it again... it would not idle on LPG properly... seems the backfire caused the LPG idle speed to drop 200rpm or so.. just borderline idling and it would die in about 10 or 15 seconds of struggling along. Petrol it still works fine.
The balance hose and all over connections are fine.. no looks or holes or hoses off are apparent.
I am assuming the backfire after idling was caused by a too rich mixture of gas?
Can anyone tell me what in an LPG system effects idle speed that could have been changed by an intake backfire?
regards
Frank