For sale is my complete Snort Performance M112 supercharger kit to suit EA-AU with some extras thrown in.
Paid $4500, selling for $3000. It's done around 30,000kms since I bought it new from Snort. These kits are no longer available and I don't know of any other positive displacement supercharger kits available for these engines.
Kit includes:
- M112 supercharger
- Manifold
- Billet fuel rail
- 60lb Siemens Deka injectors
- Turbosmart FPR800 fuel reg (I'm throwing this in, wasn't provided by Snort)
- Billet 90mm throttle body
- Throttle cable
- "Billetflow" modular pulley set from the US including 3 different sized pulleys for 10psi, 12psi, and 15psi (I'm throwing these in, weren't provided by Snort)
- Idler pulley with bracket
- Custom built airbox and 90mm intake piping with pod filter by Autotech Canberra(I'm throwing this in, wasn't provided by Snort)
- Drive belt
- All nuts and bolts and fuel hoses/connections
- May provide Bosch 023 in tank fuel pump with customised cradle if I've had time to replace it by the time this sells
Kit worked flawlessly in my car and is still in as new condition. Reason for sale is that I'm parting my car out because of lack of time and money to fix other issues with it. This is a positive displacement type supercharger that gives full boost regardless of RPM, so there's no waiting til revs climb to feel the shunt in the back. My car made
250.4rwkw at 10psi, and 600nm torque from 2000rpm upwards
with this kit. It was THE most responsive, torquey car I have ever driven, so much fun. It will be a shame to see this kit go. The whine from the blower when on boost is brilliant. The blower has a bypass valve operated by vacuum so you can still drive as if your car is completely stock when you need to. The kit is easy to fit, I'm a novice home mechanic and had no trouble on my own.
I'm also selling my Wolf V550 with dyno tune to suit this setup in an EF
here
.
Located in Canberra, prefer local sale but may ship if can't sell locally.
Photo 1
Photo 2
Dyno printout
Snort Performance link
Attachments: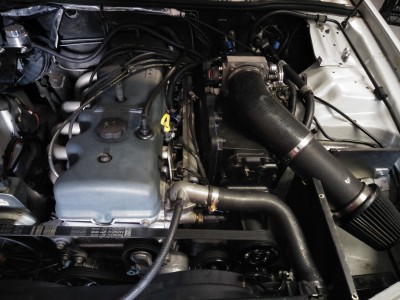 M112_2.jpg [ 418.57 KiB | Viewed 278 times ]